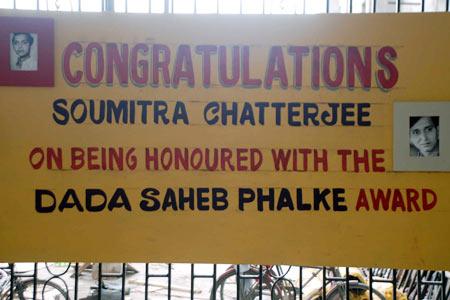 He turned down a National Award 11 years back but legendary Bengali actor Soumitra Chatterjee is proud to receive this year's Dadasaheb Phalke award, the highest recognition in Indian cinema. 
"I am happy and feeling good. At least this award is away from any competitive politics. I have been working for more than 50 years and I feel really happy that my work has been recognised," Soumitra said from Kolkata. 
The 77-year-old actor had turned down the special jury award for best actor in 2001 to protest the bias of national film awards committee in selecting mainstream cinema. 
This time, however, the jury chose Soumitra over veterans actors like Pran, Manoj Kumar and Vyjantimala. 
Considered one of the finest actors India ever produced, Soumitra is known for his long association with legendary Satyajit Ray, starring in 14 of his films. He made his film debut in Ray's 1959 film
Apur Sansar
and went on to act in several other of his masterpieces like
Devi
,
Charulata
and
Ghare Baire
. 
Some of his finest performances came in the role of detective Prodosh Mitter (Feluda) in Ray's
Sonar Kella
and
Joy Baba Felunath
as also a school teacher fighting against a despot king in
Hirok Rajar Deshe
. 
Soumitra
credits Ray for making him what he is today. "Ray made me what I am today. Had the director not been a
great artist like Satyajit Ray, I wouldn't have been able to perform so well," said the veteran actor. He later went on to work with directors like Tapan Sinha and Mrinal Sen, the legends in parallel Indian cinema.
Soumitra, who continues to be active in films and theatre, feels that despite the technical advances, the soul of cinema will remain same. "I am confident that future of cinema is bright. It can never be what it was in the past but despite all the technical advances, the soul of cinema will be same." 
Soumitra, a Padma Bhushan recipient, is also known for his passion for the stage, where he has acted, written and
directed plays. "I love directing plays. The responsibility of directing a bringing together a play on stage excites me the most." 
The actor does not follow Bollywood much but is a fan of Shyam Benegal's films. "I do not follow Hindi movies but I like the work of Shyam Benegal. He is indeed a master of his craft. I don't have any issues with mainstream cinema as it is a very powerful medium. For instance,
Sholay
is the classic example of good filmmaking," said the actor.
Photograph by: Dipak Chakraborty