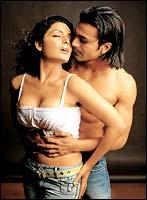 The only thing people may recall about this Friday's release, Nazar, is Pakistani actress Meera's kissing controversy.

 

But Soni Razdan says that there is more to Nazar than just that.

 

Married to Mahesh Bhatt, actress-turned-director Razdan spoke to News Editor (Entertainment) Syed Firdaus Ashraf about the controversy her film has generated and why she thinks banning dance bars is wrong. Excerpts:

 

I have never understood why such a big deal was made out of this kissing controversy. It was a trivial issue that suddenly became so important. In this age, I don't think kissing is such a big issue to make a hue and cry about.

 

 

I read it on the Internet and Pakistani papers. Everybody has read it. A militant group has threatened Meera and said she must not enter Pakistan.

 

People asked me whether this was a publicity stunt. Why do we need to do that?

 

I am upset because Nazar will not be released in Pakistan, even though it is an Indo-Pak production. By doing so, the Pakistani government is only encouraging video piracy. I am sure things will change in the future.

 

The idea of this film came from Mahesh Bhatt and Meera who met up in Pakistan. I came into the picture very late. It was only when I agreed to do the

film that I decided to give my inputs.

 

I had directed a short film called Girvhi earlier, on child labour. It was a fictional story. At that time, I realised I could direct a film if given a chance.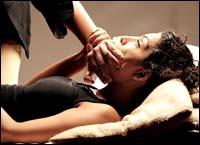 The (idea of) direction came when I wanted to give up acting in television serials. I just didn't feel like doing that any more because I would get tied up with a project for 25 days in a month. I wanted to do something different.
I was getting bored with acting (in television). But let me make it clear that I can never get bored acting in films. I did some in between, like Page 3 and White Noise.
I was not nervous while making Nazar because I was well prepared. I took three months to prepare. When I went on the sets, I knew what I was doing.
This film has become a reality because of Meera. It was her determination because of which the project took of. She is the person who, you can say, is the bridge between Lahore's film industry, Lollywood, and Bollywood.
Nazar is a story of Divya, a pop singer. One day, while shooting, she goes through a bizarre experience. She sees strange things and she feels paranormal experiences. She goes to a doctor and he says it may be an accident.
But at the same time, there is a serial killer who is killing bar girls. Divya happens to meet a cop who is investigating the case and then the story unfolds.
While researching the subject, I visited bars. I found out that bars are not terrible places so I don't understand why they are being targeted. The media is only reporting Home Minister of Maharashtra R R Patil's side. Not much is written about bar girls. I believed people deserved proper information so I went for their cause to highlight their problems.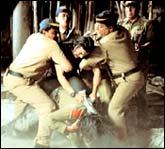 Now, I think people are sympathetic to bar girls.
People opposing dance bars claim that a lot of money is wasted in bars. I want to ask them why not target five star hotels too where a lot of money is spent? People burn their money on firecrackers, booze and cigarettes too. Why not ban them?
You cannot control the spending habits of people. It is a free society after all, and people should have right to spend their money as they wish. Who is to judge one is better than the other?
Nazar has a thriller aspect and it is in the Vishesh (Mahesh Bhatt's company) genre of films. I guess they know this is what sells and therefore, they chose this subject.
On May 20, I plan to go around theatres and see how people will react. When you watch the film with the family or media, they don't give honest opinions. Live audiences are of a different kind.
Mahesh told me that I have made a good film. I don't know whether it was the best compliment he has ever given me. I asked him whether he was being nice. He replied, 'Why should I be good to you?'