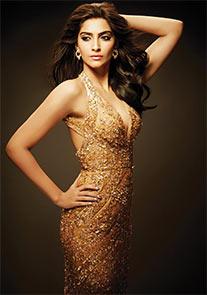 'I don't compete with anyone but myself.'
Sonam Kapoor speaks her mind.
Sonam Kapoor steps into Rekha's Khubsoorat shoes in her next film, and admits that it made her nervous.
But the outspoken actress claims her character is quite different from the original Hrishikesh Mukerjee-directed movie.
In a candid conversation with Sonil Dedhia/ Rediff.com, Sonam talks about her Pakistani co-star Fawad Khan, her equation with her star parents Anil and Sunita Kapoor, and also confesses to being a huge Salman Khan fan.
What inspired you to remake Khoobsurat?
The reason we are making this film is because it's an ode to Hrishikesh Mukherjee (who directed the original, starring Rekha).
All of us are fans of his work. I love the original film. I have watched it many times but when we planned to make the film, I decided not to watch it so that I could keep the character fresh.
Our film is a classic romantic comedy.
What was it like stepping into Rekha's shoes?
It was a big shoe to fill. Initially, I was a bit nervous.
I had some doubts because I was aware comparisons would be made with Rekhaji. She was brilliant and I knew that people would question whether I could pull off such an iconic role.
But after reading the script, I was a bit relaxed. I need not emulate Rekhaji because my character is quite different from the original.
The basic idea is the same but the story is different. The premise of the story is the same as the original Khoobsurat -- a girl comes and changes the atmosphere and thinking of a family.
Has Rekha seen the film?
Even I haven't seen the film (laughs). We are going to make her watch the film.
When I told her about the idea of remaking Khoobsurat, she gave me her blessings.
Was it ever a concern that you are sharing screen space with a newcomer Fawad Khan even though he is a star in Pakistan?
I don't think like that. For me, it is always the script and my character that are important. The director, my co-stars, the budget are all secondary.
When I read the script of Khoobsurat, I really wanted to be a part of it irrespective of who my co-star was.
Fawad is a talented actor. His television show has made him popular in India too and I am glad his popularity is increasing.
The song Abhi Toh Party Shuru Hui Hai has caught on. There is a line in the song 'Party chalegi till six in the morning'. In real life, do your parents allow you to party all night?
(Laughs) My parents are a weird combination. They are very liberal where my work is concerned but at the same time, they believe in discipline.
If I am shooting in the morning then they prefer that I don't go out and drink in the evening.
I have been working in this industry for 10 years and I know how it works.
When I was young, I always wanted to go out, but my mother wouldn't allow me saying that I was shooting the next day. I feel they are strict for the right reason.
Who is the stricter parent?
They always act as a unit. So if one is strict, the other one tries to calm things down.
Would you tell your parents if you were dating someone?
Of course! My parents would be completely fine if I am dating someone.
They wouldn't allow my boyfriends to stay over at my place or go on a holiday with me.
I don't have a reputation of having boyfriends. I am quite conservative so I don't think they would have to tell me what to do.
You have been an assistant director. Do we you see you becoming a director?
Yes, of course. I don't know what I want to direct but it will happen in the next couple of years.
I don't know if I'll remake any of my father's films. Right now, I am into acting and love my job.
If I feel the need to take a break from acting, I'll get into direction.
When do we see you working with your father?
He refuses to work with me. He thinks it is better that way.
Honestly, right now, even I don't want to work with him.
I don't want to use my father's name. I want to find my own path and make my own name.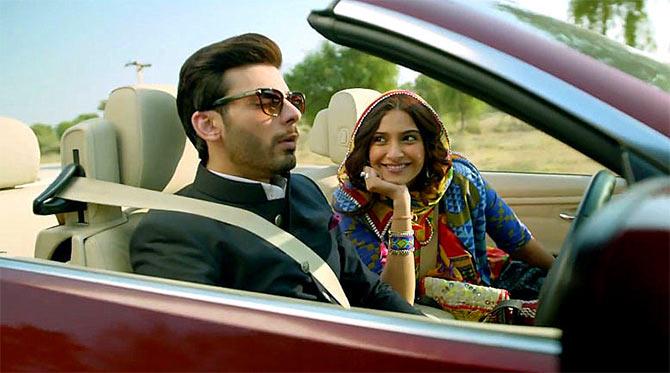 Tell us about your sister Rhea Kapoor.
Rhea and I are partners in whatever we do. Actually, we are partners in crime (laughs). She is my business partner and my best friend.
We work together and stay in the same house and we have our share of arguments.
We are different personalities. I am more creative and she is more practical and pragmatic so the marriage of our two distinct personalities is really interesting.
Is it true that your mother Sunita Kapoor did up your chalet when you were shooting for Prem Ratan Dhan Paayo at N D Studios in Karjat?
Yes, kind of. Actually all she got was my bed sheets and quilts (laughs).
We were shooting for Prem Ratan Dhan Paayo and the chalets in which we were staying were pretty basic.
Usually when I am shooting away from home, I like to carry my own pillow and blankets. It gives me a homely feeling.
It was really a sweet gesture from her. My mother is the most important part of my life. I don't do anything without consulting her. She is the best mom ever.
You are paired opposite Salman Khan in Prem Ratan Dhan Paayo. How has been your experience so far?
When I was younger, I was obsessed with him. I have known him for so many years and I am a big fan of his.
He is an amazing guy. I have never seen him being nasty or rude to anyone.
He has never misused his stardom. He has immense respect for women and contrary to popular belief, he is extremely hard working. He is one of the best actors I have worked with.
Growing up, were you a big fan of Sooraj Barjatya's work?
Working with Sooraj Barjatya and Salman is weird. At the same time, it's very nostalgic for me because I grew up watching Hum Aapke Hai Koun and Maine Pyaar Kiya.
The idea of being romanced by Prem (a fictional character in Sooraj Barjatya's films) is so wonderful. At first I was like 'Oh my God. Prem is romancing me' (laughs).
With younger actresses like Alia Bhatt, Parineeti Chopra, Shraddha Kapoor doing some fantastic work, do you feel the competition is becoming more intense?
I don't compete with anyone but myself. I don't like to be lost in the crowd.
If you are in a race it's better that you concentrate on your work. It doesn't matter if my film doesn't collect Rs 100 crores. In the end I should be satisfied with my work.
If someone is doing something then I don't do that. I want to have my own identity.
I don't want to conform or be a typical heroine.
Are you open to doing television?
Television is at a very nascent stage. Very few shows are showing good content.
With 24, my father started the trend of good work. It is the only show that I have liked on television in recent times.
I grew up on sitcoms like Sarabhai vs Sarabhai, Zabaan Sambhal Ke, Hum Paanch and Office Office. These shows were really amazing and are no longer being made today.
If something as special as 24 is offered to me, I wouldn't mind doing it.
Ram Lakhan is being remade. Who do you think can pull off the role of Lakhan, originally played by your father?
I think it has to be Arjun Kapoor or Ranbir Kapoor.