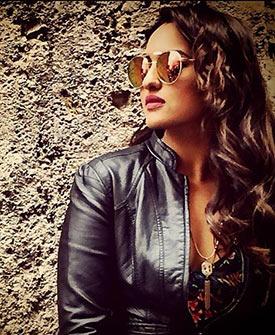 A look at the top 10 tweets from your favourite Bollywood celebrities:
Sonakshi Sinha recently finished shooting her part in Prabhu Dheva's upcoming film Action Jackson in Austria.

She shared a picture (left) and wrote: 'Last day of shoot for me on #ActionJackson! 1 more film done - Mad fun! Thank u @ajaydevgn, @PDdancing and team AJ!'

The film will also star Ajay Devgn and Yaami Gautam.
Shekhar: Sushant Singh Rajput can do anything

Buzz is that Shekhar Kapoor is reportedly unhappy with Sushant Singh Rajput's acting skills in Paani.

However, the director puts the record straight by tweeting: 'Sushant Singh Rajput. Probably one of the best young actors we have 2day. i'm really looking forward to working with him. He can do anything.'

Musicians pay tribute to Mandolin Srinivas

Musicians took to Twitter to pay tribute to renowned Mandolin player Uppalapu Srinivas, who passed away.

Lata Mangeshkar wrote: 'Mujhe abhi maalum hua ki bohot acche mandolin player U. Srinivas ji jinhe log mandolin Srinivas bhi kehete hai ,unka kal raat ko swargwas hua ,ye sunke mujhe bohot dukh hua,maine wo jab 13/14 saal ke the tab television pe unka performance dekha tha ,wo bohot hi accha shashtriya sangeet bajate the.Mandolin pe is tarha bajaana sach mein bohot mushkil hai. Aise kalakar ko main Shraddhanjali arpan karti hun. Bhagwan unki aatma ko shanti de.'

Zakir Hussain tweeted: 'Today mother India cries, today a part of Indian music died and we are orphaned, RIP my dear brother Mandolin Srinivas.'

A.R.Rahman also paid tribute and wrote: 'Emotionally shaken to hear of Carnatic shining star Mandolin Shrinivasji's demise... May God bless him with happiness in the next world.'

RGV takes a dig at Mahesh Babu

Filmmaker Ram Gopal Varma, who watched Mahesh Babu's latest Telugu film Aagadu, took to Twitter to praise him in his unique way.

'Just watched Aagadu nd now going to watch Dhookudu, Businessman and Pokiri nd I sincerely think Mahesh also should do the same. Am told Aagadu is a 75 crore film. In sheer comparison Maghadeera looks like a 750 crore film. My comparison between "Aagadu" and "Magadheera" is mainly because they both are the most expensive films for their own individual times,' RGV tweeted.

Ali Zafar wishes luck to Fawad Khan

Pakistani actor Ali Zafar took to Twitter to wish his contemporary Fawad Afzal Khan, who makes his Bollywood debut in Khoobsurat opposite Sonam Kapoor.

'I'm sure @_fawadakhan_ is gonna to Kill some Dils in the theatres tomorrow in a #Khoobsurat way. Everyone must go and support our hero!' he tweeted.

Zafar will be seen next in Kill Dil.

Ranveer Singh gets chatty

Ranveer recently took some time off to chat with his fans on Twitter. Replying to a query, he tweeted: 'we wont be waiting long to release the songs- they are really something- SEL n gulzar saab in scorchin form!'

On working with Govinda in Kill Dil, he wrote: 'it was a dream come true! but no one holds a candle to him in dancing - he truly is the baap of baaps!'

The film will release on November 14.

No coffee for Nargis

Fitness enthusiast Nargis Fakhri is famous for unique regime and diet plans. The Rockstar actress is now avoiding coffee.

'I quit Coffee 7days ago & OMFG, it was crayCray, I thought I was gona die from these withdrawals! Geezus Hell! I mean really!? I DARE u 2 try it. Quitting Coffee is No Joke,' she tweeted.

Ameesha resumes shooting for Desi Magic

Amessha Patel has resumed shooting for her much-delayed film Desi Magic.

She shared a picture and wrote: 'Desi magic at the airport ..off 2 thailand for a 10 day schedule..thanks 4 all the gud wishes..god bless .we will rok.'