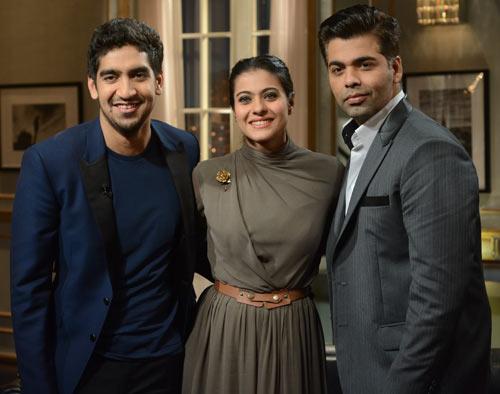 This Sunday, Koffee With Karan will feature Kajol and her cousin director Ayan Mukherjee.

And it promises to be quite interesting.

Here's presenting excerpts from the show:

Karan: Suddenly you are in the fashion pages Kajol. I thought two things wouldn't happen -- that I would make an action film which I havn't and you would...

Kajol: And you would act?

Karan: Me acting, that I could expect from myself but you being in the fashion pages is something none of us expected!

Kajol: That's true. Neither did I. Even I didn't expect it!

Karan: You are on high heel confidential and designers want to send you their garments now. Why has this happened? I really want to know. Apart from the pressure that Manish (Malhotra, designer) and I have put on you there has to be some real tangible reason for this happening.

Kajol: Well tangible reason is just the fact that, I did think of it from the point of view that there is so much focus on it today as well that was yes one consideration. But the second consideration, 80 percent of the fact that is the part of my personality that I need to develop.
That I needed to pay attention too.
I needed to figure out what it was because from the age of 16 somebody has always told me what to wear ad how to wear it.
So I have never really had either an opinion or never really cared to have an opinion and I wanted to know what my opinion was on it.

Karan: So now there is so much talk about Kajol wanting you back in the movies and everybody like you have a whole fan base which keeps...This word comeback is so overused and abused and with you... like are you being extra choosy, are you being extra particular or you just want that big movie star, big mainstream vehicle to really do a film?

Kajol: You know I don't think it has anything to do with mainstream, it doesn't have anything to do with big but it has to do with good! And it has to do with me being..picky, choosy. I don't want to work with someone who is not going to bring out the best in me, I don't want to work with somebody who is gonna depend on me to do the 90 percent of the work.

Karan: Is comfort zone that important?

Kajol: Yes, it is. It is that important. I feel communication is important more than comfort. If the director can't talk to me, and tell me what he wants or explain to me that this is where it's going wrong and this is the kind of thing we are looking at. There is no way in hell that we will have a good working rapport. 150 days on a film with the people you don't like is hell.