"I'm glad that I released my film in 2009 and not five years ago," laughed Sooni Taraporewala, while talking about her debut film, Little Zizou. The film, made at a modest budget of Rs 2 crore, is one of the many "small, independent films" that have hit the screen this year. The film was released recently with just 29 prints in select cities like Bangalore, Mumbai, Delhi, Kolkata, Ahmedabad, Pune and has already grossed Rs 50 lakh.
Small-budget films for a financially challenged world. With the liquidity crunch in full force, filmdom has done a mid-course correction. This year, a majority of the films being released will be in the budget of Rs 2 crore to Rs 20 crore. Almost a dozen of such films have already been released in the last six months, an equal number is set for release and a still greater number is ready to go on floor.
"It's going to be an interesting year to watch. The industry has been witnessing a change for the past four or five years. It seems everything is culminating in 2009," said Rajat Kapoor, director of films like Mixed Doubles and Mithya. "I can't make big-budget films simply because I don't feel the need to have Rs 30 crore to tell my stories."
Many big-budget filmmakers have reversed their views and are now thinking like Kapoor. So, this year, audiences will find less big budget films releasing, with immense concentration on "strong content and an intense storyline" as director Karan Johar at the recently-concluded Ficci Frames 2009 explained.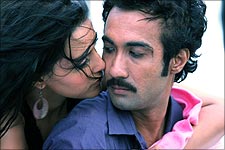 Little wonder then that from the house of Dharma Productions, we have Wake Up Sid, a relatively small-budget film by Karan Johar standards, which boasts of an unusual pair: Ranbir Kapoor and Konkona Sen Sharma -- a perfect merger of art house and commercial cinema?
"It's wonderful to see theatre actors and superstars coming together in the same frame in one movie. As a director, it's a satisfying experience," said well-known director Deepa Mehta (Fire, Earth, Water etc). Her new film, Videsh -- Heaven on Earth, showcases Preity Zinta and Vansh Bharadwaj (a theatre artiste) as an onscreen couple.
"It was gratifying to see that Zinta was very happy to star with Bharadwaj, while Bharadwaj, on his part, didn't get intimidated with Zinta on the sets or in the frame. They were just working sincerely," she added.
There's no denying that 2009 will see audiences throng multiplexes and single screen theatres to watch big-budget flicks -- in the Rs 30-40 crore and above bracket -- like London Dreams (Vipul Shah), My Name is Khan (Karan Johar), Kites (Anurag Basu), to name just a few.
But the top stars, especially newcomers like Neil Nitin Mukesh, Imran Khan and Kapoor, are not shying away from handpicking unusual scripts at the very beginning of their careers. While Mukesh will be seen in New York (Yash Raj Films' only release this year) and Madhur Bhandarkar's Jail, Khan has already wrapped up Delhi Belly, "an adult comedy," as he describes it, which caters to a niche audience.
Recession has made Bollywood producers think smart.
Powered by