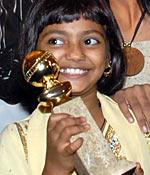 Slumdog Millionaire child actor Rubina Ali has mostly skipped school for the last two months.

A member of Rubina's family told rediff.com that the little girl does not appear interested in studies and no one in her family ensures she attends school regularly.
"She plays the whole day," the relative, who did not want to be identified for this report, said, adding, "No one in her family checks if she goes to school or not."

When this reporter called her school in Pali Chimbai in Mumbai's  northwest Bandra suburb, a staffer there confirmed that Rubina has not been coming to school.

Slumdog Millionaire director Danny Boyle is likely to meet Rubina and her family on October 29 to sort out her housing problem.
After the film's success, Boyle set up the Jai Ho Trust to help the slum children who featured in his Oscar-winning movie, in particular Mohammed Azharuddin and Rubina.

Azharuddin's family accepted the apartment they were offered in suburban Santacruz, but Rubina's father and step-mother refused to move out of their home in a Bandra slum.

When this reporter contacted Rubina's father Rafique to ask about her school attendance, he said, "Rubina has not been going to school because she injured her leg. We went to Kerala to shoot an advertisement, therefore she was absent from school for a long time."

He clarified he had no intention of withdrawing his daughter from school. "I want my daughter to study in an English school and I will see that she completes her studies," Rafique said.

"I liked a house for Rs 35 lakhs (Rs 3.5 million) in Bandra. I have told the Jai Ho Trust to increase their budget from Rs 25 lakhs (Rs 2.5 million) to Rs 35 lakhs so that we can move into that house," Rafique added. "I hope Danny Boyle will help us."
Asked what had happened to the house the Maharashtra government had alloted his daughter, Rafique said, "The government gave us only a 225 square feet house and that too very far from the city, in Malwani (in the northwestern suburb of Malad). We didn't want to move that far, so I told them I don't need the house. We would be happy if we get a house in Bandra (West) because Rubina's school is nearby."