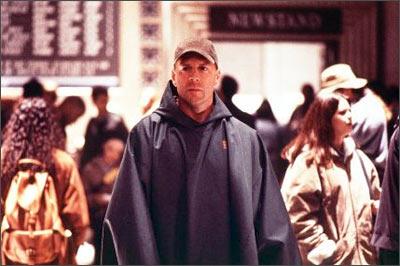 It's hard to believe that it's been nearly a decade since we saw Bruce Willis and Samuel L Jackson square off in M Night Shyamalan's Unbreakable, the Indian-American director's fourth feature film.
And now comes news from an MTV report that Shyamalan still desires to shoot the film's sequel, Unbreakable 2. Of course, it's just a thought at the moment, so there are still a lot of details to work out.
"I don't know where all the parties are in the world. Sam [Jackson] is like 'Mr. Comic Book' now," Shyamalan reportedly said at a press conference last week. "And Bruce, I don't know what he's up to. I don't know where Disney's at in their head and what kind of movies they're up for making. But yeah, I love that movie."
But don't take this as a flippant, off-the-cuff comment from the sci-fi maestro, either. Last year he reportedly said, "I want to write it right now, but I want to write it for the right reasons. I want a story to pop into my head that is organic and expressive of who I am. You know, these are all kind of journals of where I am emotionally, so it's kind of hard."
Still, it's not certain if the project will ever materialise, as the decade between Unbreakable and the proposed Unbreakable 2 has been mostly unkind to Shymalan. After 1999's Sixth Sense, M Night was quite possibly the hottest name in Hollywood. But a string of movies received mediocre reception and reviews -- culminating in last year's The Happening  -- taking much of the lustre off of M Night's name, and removing many from his once burgeoning bandwagon.
This is all speculation and pie-in-the-sky thoughts, for the moment, as Shyamalan has more pressing matters on his mind. He's currently knee-deep in work on his upcoming 2010 release, The Last Airbender, which stars Slumdog Millionaire's hero Dev Patel.
Image: Bruce Willis in a scene from Unbreakable.