'She's the best actor in the family,' her dad, arguably the finest actor in all of Bollywood, said later.
A day before he turned 76, Amitabh Bachchan got to tell the world that there is another writer in the family after his beloved, celebrated, father, the late poet Harivansh Rai Bachchan: His darling daughter Shweta Bachchan-Nanda.
Shweta has just published Paradise Towers, a novel about a seemingly perfect building in suburban Mumbai, housing its imperfect residents.
Paradise Towers was launched at the Nehru Centre, Worli, south central Mumbai, about a 90 minute drive from the Bachchan homes in suburban Juhu.
While her parents Jaya and Amitabh Bachchan were present, her brother Abhishek was away in Chennai for a kabaddi match along with wife Aishwarya and daughter Aaradhya.
Nikhil Nanda, Shweta's husband, and children Navya Naveli and Agastya were missing at the event as well.
Nevertheless, there were countless well-known faces in the audience -- we spotted Shabana Azmi, Tina Ambani, Kajol Anand, Zoya Akhtar, Maheep Kapoor, Anu Dewaan, Pooja Shetty, Tanya Dubash... Naina, Shweta's cousin, and her husband actor Kunal Kapoor were present too.
Karan Johar (Mrs Funnybones got KJo for her book launch too), conducted a Q&A with Shweta and Raja Sen, who Rediff.com will no doubt remember from his elegant movie reviews.
Scenes from the event: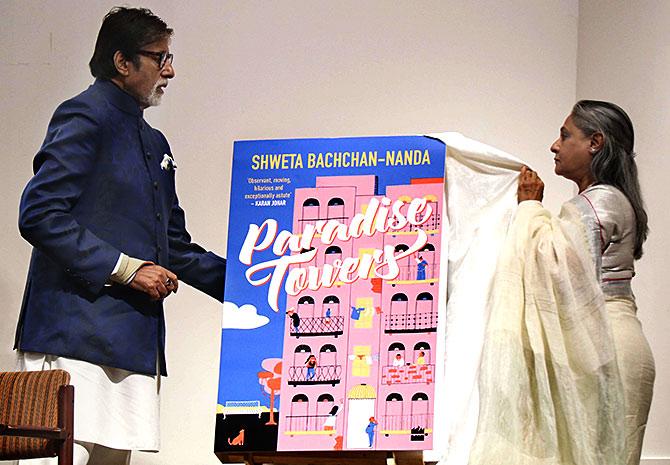 Amitabh and Jaya unveil Shweta's book.
It was a proud day for the author's parents, especially Jaya, who was the only member of the family to read the manuscript before it was published, and couldn't take her eyes off her firstborn.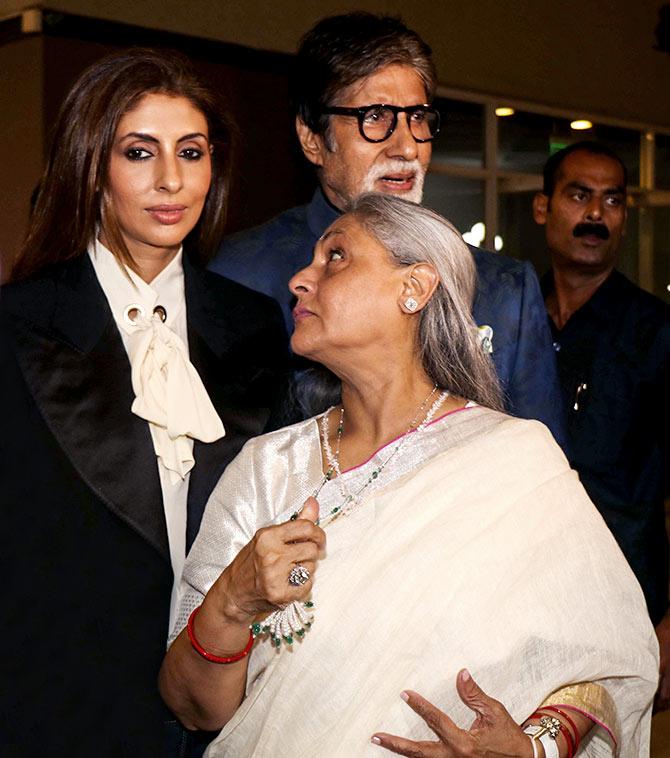 "I always knew she would be a writer. Mother's instinct," Jaya announced to the audience.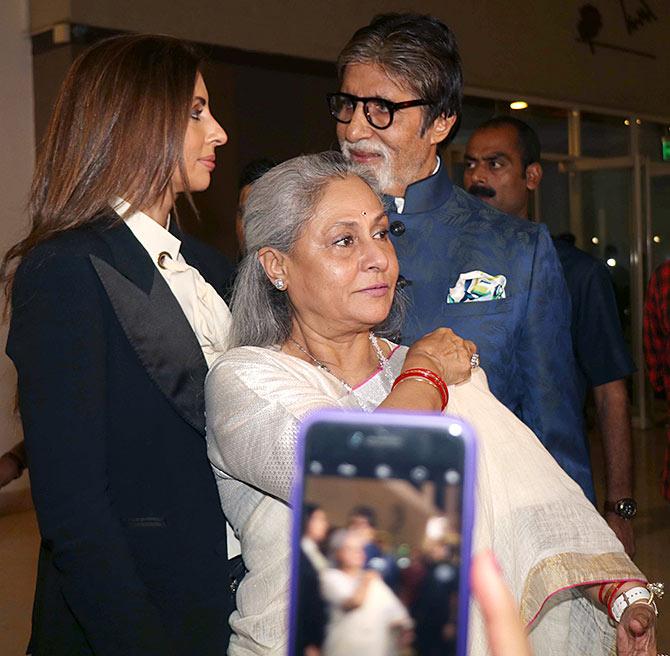 "She's the best actor in the family," her dad, arguably the finest actor in all of Bollywood, said later.
"There's always a family meeting at the end of an event, and she takes over and does a take off on everyone who was present. I do look forward to this evening when she will do a take off on tonight's event."
Did you know who okays Mr Bachchan's scripts before he signs a film?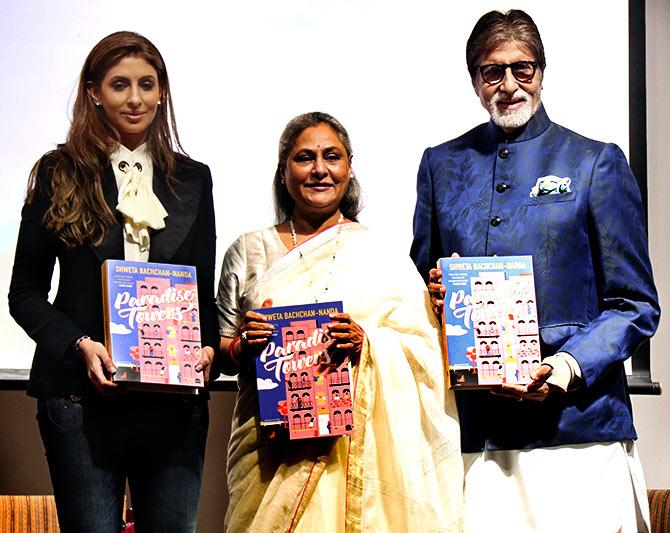 Does Shweta look nervous?
Wearing a black jacket, ivory top and blue jeans, Shweta looked poised as she took on questions.
But as she said on stage, she was very nervous.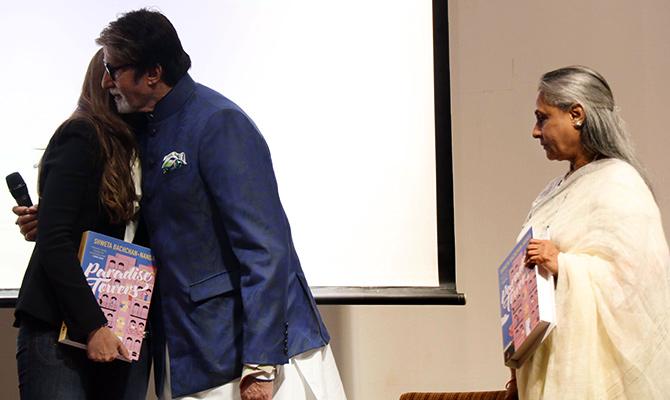 Shweta finds solid support in her Pa.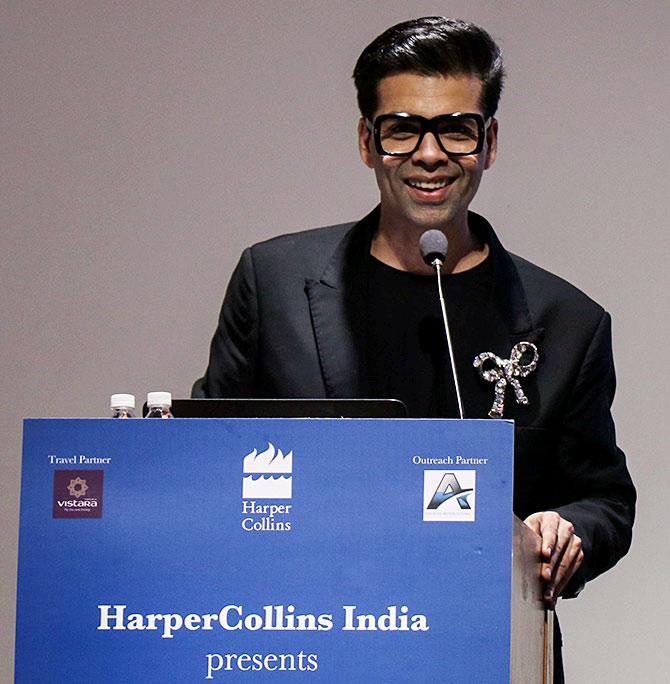 Karan began the evening on a light note when he shared the moment Shweta and he bonded as children.
"We were tied to a tree trunk," he said, thanks to one of Abhishek's unending tricks!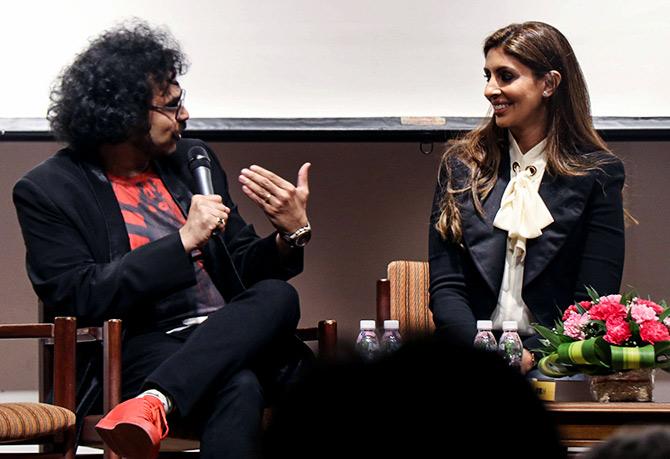 It isn't easy to make a shy girl like Shweta talk, but Raja (we are so proud of him) asked all the right questions.
Shweta tells us the first time she ever wrote were Get Well Soon cards for her father after the Coolie accident.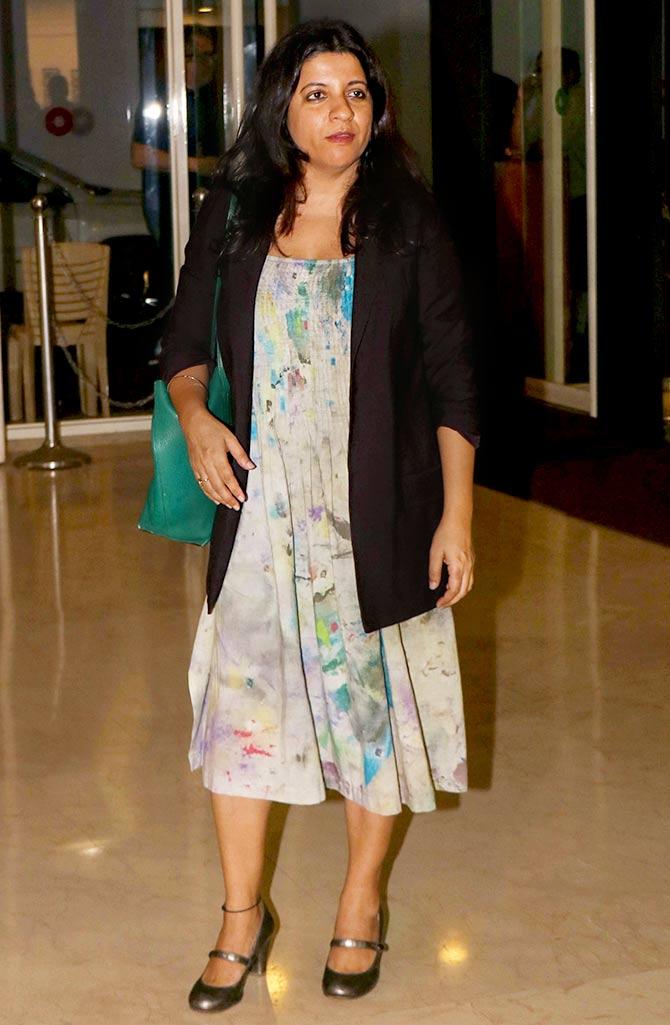 What if Paradise Towers were to be made into a film?
Would it be a Karan Johar film or a Zoya Akhtar film, Raja asked Shweta, putting her in a spot.
"Neither," Shweta recovering quickly enough to answer. "It will be a crossover."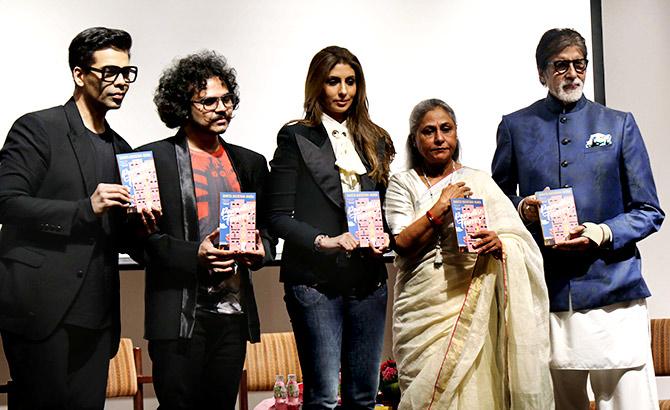 Introducing the book, Paradise Towers.
Proud Pa read an interesting excerpt from Paradise Towers.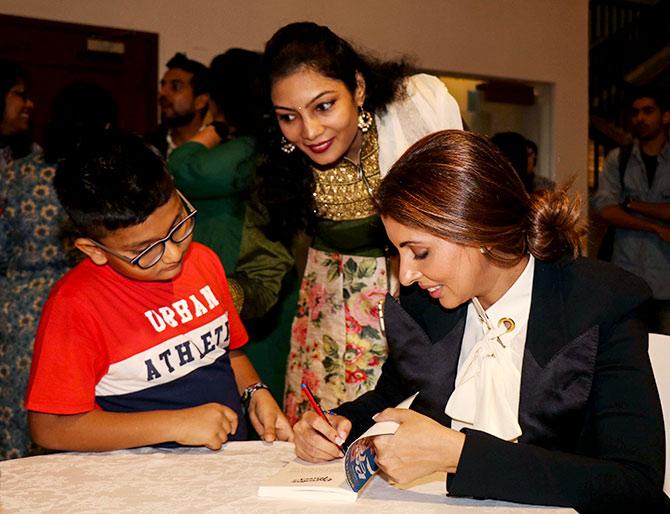 Shweta with young fans.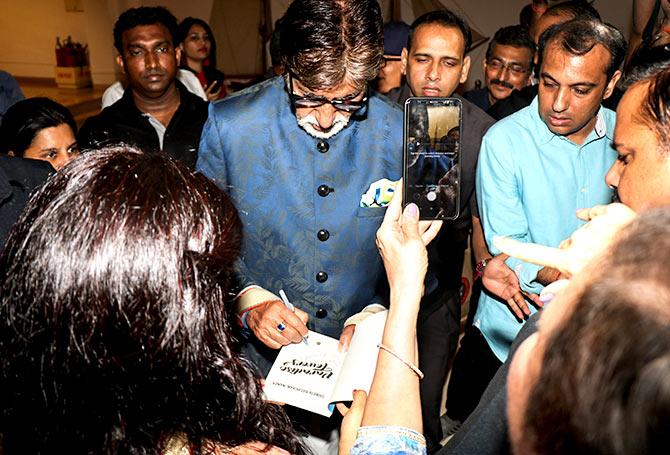 Mr B with his fans.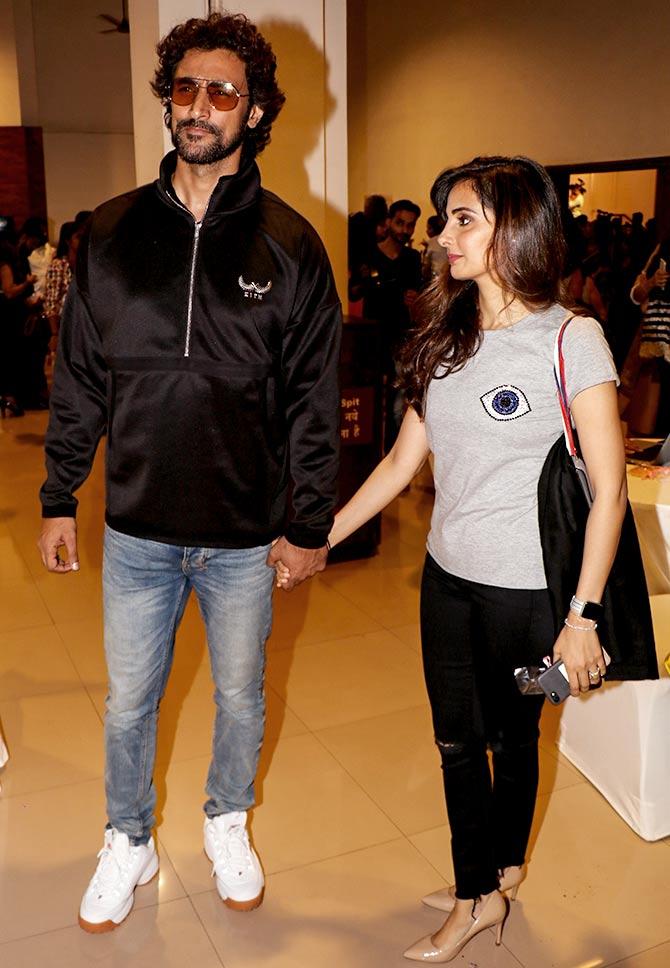 "She's a born actor and keeps everybody entertained," Kunal Kapoor revealed as he stepped out with wife Naina, Shweta's cousin.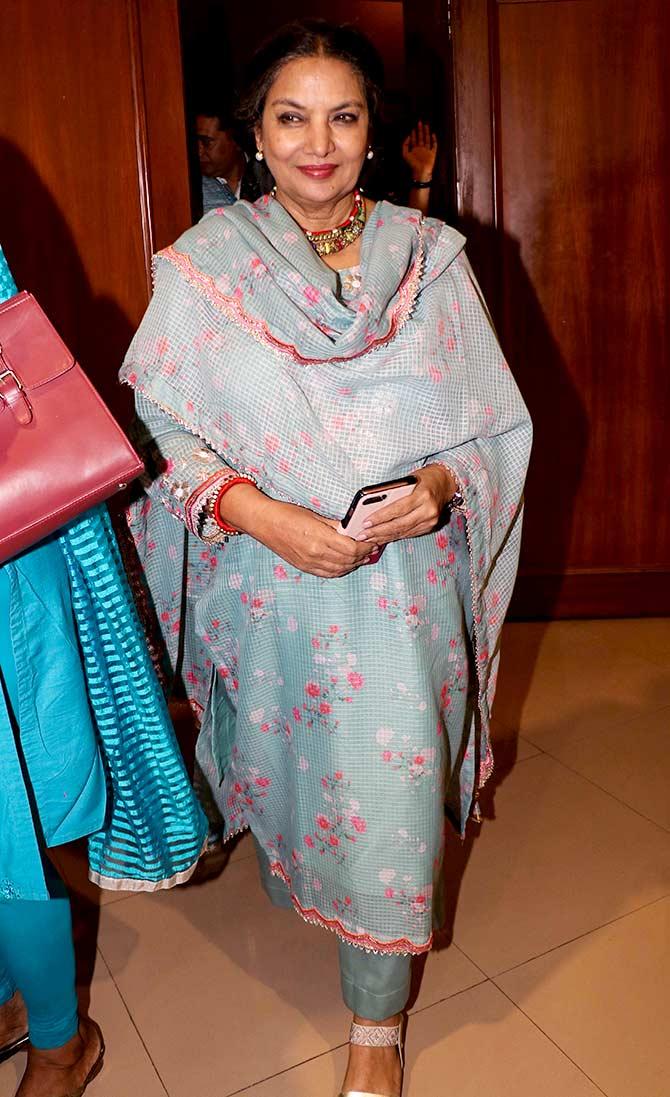 Shabana Azmi, all smiles.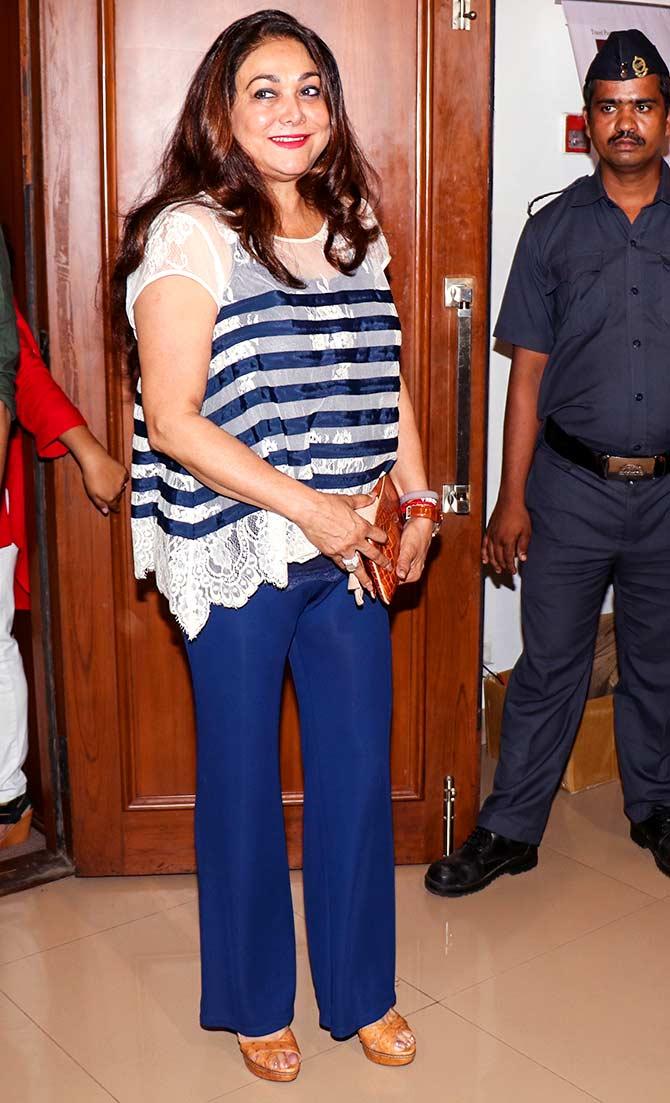 "I've not had a chance to read the book yet, but I expect it to be quite entertaining," Tina Ambani told us.
"She is dedicated about what she takes up. She has a sense of humour that people close to her know about and she has written before."
"It's like as they said, Shweta is shy, but she is very observant about everything around her."
Text: Ronjita Kulkarni/Rediff.com. Photographs: Hitesh Harisinghani/Rediff.com