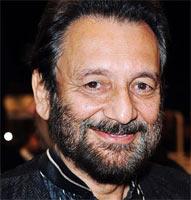 Prayers and condolences have been pouring in ever since the news of Bollywood legend Dev Anand's passing away got out.

Filmmaker Shekhar Kapur, who is the late legend's nephew and debuted as an actor in his ambitious project Ishq Ishq Ishq in 1974, remembered several interesting anecdotes and incidents from the film's set as he wrote a post on his blog, remembering the late legend.

He recounts the mutual affection between Dev Anand and his leading lady Zeenat Aman, the lively and determined taskmaster that he was on the sets and admires his tendency to look at what lies ahead instead of moping about failures.

His most favourite Dev Anand story happens to be from the time Ishq Ishq Ishq released.

He writes, "Dev Anand had put all his own money, almost everything he owned into Ishq Ishq Ishq. Money had no value to him, except to make films. On this evening he was talking calls from the press and the distributors. As always they started with excited congratulations and jubilations."

"His face sparked with excitement and joy.

But over the next two hours, the tone changed. I could not hear what was being said, but I saw it on his face. His voice going softer. That spark that was Dev Anand dimming. In a couple of hours and a hundred calls later the reality overcame the dream. The film was a disaster on the box office."

Dev Anand was visibly sad and reflective. But only for a moment. He excused himself to the suite bedroom for ten minutes and exclaimed after ten minutes, "Shekharonios, I just thought of a great plot for my next film!!"

Kapur further writes, "Thats the Dev Uncle I knew. But the Dev Uncle I did not know. The Dev Sahib , the Dev Anand that the world did not know, was the man coming to terms with himself in 10 minutes in that room."

Also Read: Meeting Dev Anand
Watch: Remembering Dev Anand through his songs

Please post your tributes to Devsaab here.