'He was God's good man and a beautiful human being beyond anything else.'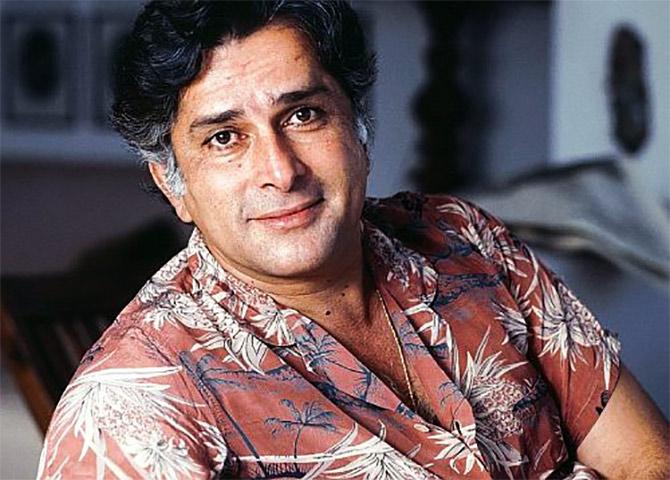 IMAGE: Shashi Kapoor. Photograph: Kind courtesy ANI/Twitter
Shashi Kapoor, the romantic screen icon of the 1960s, 1970s and 1980s who captivated millions of fans, passed away on December 4. He was 79.
The actor-producer passed away at the Kokilaben Dhirubhai Ambani hospital in Andheri, north west Mumbai.
"He had a kidney problem and was on dialysis for several years," his nephew Randhir Kapoor, son of Shashi Kapoor's elder brother, the late Raj Kapoor, told PTI.
The funeral will be held on Tuesday morning, he added.
"Shashi Kapoor expired at 5.20 pm on December 4 at the Kokilaben hospital," Dr Ram Narain at the Kokilaben Dhirubhai Ambani hospital told PTI.
Director Shyam Bengal described him as 'God's good man' and a beautiful human being.
"He was God's good man and a beautiful human being beyond anything else," Benegal, who worked with the late actor on Junoon and Kalyug, told PTI.
Born on March 18, 1938, to the illustrious and formidable theatre and film actor Prithviraj Kapoor, Shashi Kapoor hit the spotlight at the age of four, acting in plays directed and produced by his father.
Named Balbir Raj Kapoor, he started acting in films as a child artiste in the late 1940s.
His best known performances as a child actor were in Aag (1948) and Awaara (1951), where he played the younger version of the character played by Raj Kapoor.
Shashi Kapoor made his debut as a leading man in the 1961 film Dharmputra and went on to appear in more than 116 films until the mid 1980s.
Some of his memorable films include Deewar, Junoon, Kabhi Kabhie, Namak Halal, Kaala Pathar, In Custody among others.
Apart from directing the 1991 Amitabh Bachchan starrer Ajooba, Shashi Kapoor also directed a Russian movie Vozvrashcheniye Bagdadskogo Vora in 1988.
He was honoured with the Padma Bhushan in 2011, received the prestigious Dadasaheb Phalke award in 2015 and won three National awards.
Recalling that Kapoor had produced her first directorial venture 36 Chowringhee Lane in 1981, director Aparna Sen remembered how Kapoor used to take care of every single technician of her team.
"I still remember that against the initial agreement to pay me Rs 30,000 for the film, he had paid me Rs 60,000 when 36 Chowringhee Lane was completed. I asked why he doubled the amount, he said please keep this amount with you," Sen said.
She said he had last met Kapoor two years ago. "As he was seated on a wheelchair I went near him and introduced myself. He had a blank look and once I said can't you recognise the director of 36 Chowringhee Lane, his face lit up."
"He used to call me Coppola, after (film-maker) Francis Ford Coppola, while I used to call him Sethji. We knew the end will come, but it was shocking," she said.