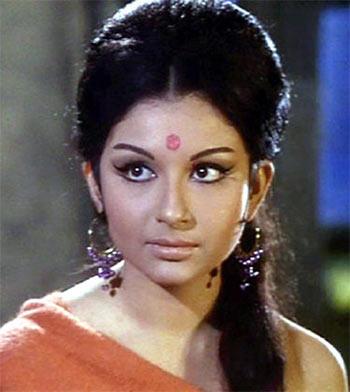 The late Nawab of Pataudi's widow wants the current residents on family property in Bhopal evicted.
Sharmila Tagore has filed a complaint on behalf of the Bhopal royal family against the occupants of a prime residential property in the picturesque Koh-e-Fiza area in Bhopal.
Sharmila -- or Ayesha Begum Sultana as she came to be known after her 1969 marriage to cricket legend Mansur Ali Khan Pataudi -- has claimed ownership of the property.
'Tiger' Pataudi was the heir of the royal family of Bhopal's princely state as he was the grandson of the last Nawab of Bhopal, Hamidullah Khan.
"A couple of months back, Sharmila Tagore claimed ownership on the land of Dar-us-Salam, a residential property in Koh-e-Fiza, and urged to get this property evicted. We have now served notices to the present occupants -- Azam Khan and Nawab Raza -- to furnish their replies. These persons were named by her," Tehsildar, Bairagarh circle, Ajay Pratap Singh Patel said.
The administration, Singh said, was awaiting Khan and Raza's replies.
In her written complaint to the district administration, the actress reportedly said that Syed Nawab Raza and Azam Khan had trespassed into her property.
In her complaint, she also alleged that they, along with some anti-social elements, broke the locks of the house and stole some precious antiques, articles, furniture etc.
Tagore -- whose son Saif is now the Nawab of Pataudi -- has also accused the duo of forging property ownership documents.
Dar-us-Salam, the property in question, was the official residence of the chief justice of the princely state of Bhopal, the late Justice Salamuddin Khan.
The property is reportedly occupied by Azam Khan, the husband of the late Mahira Salamuddin, Justice Salamuddin's granddaughter.
After Mahira Salamuddin's death, Azam Khan reportedly put the property on sale citing a hibanama or gift deed from the Nawab of Bhopal to the Salamuddin family as a ownership document.
When contacted, Azam Khan said he was yet to receive any notice. "I have not received any notice so far. I cannot talk more," he told PTI over the phone.