'People won't think Shankarabharanam is an old film. It is a family entertainer, different from what I have done before,' Nikhil Siddhartha tells Radhika Rajamani.
Nikhil Siddhartha has every reason to smile.
His last three films -- Swamy Ra Ra, Karthikeya and Surya versus Surya -- were hits.

He is now ready with Shankarabharanam, which is slated for release on December 4.

In this exclusive interview to Rediff.com contributor Radhika Rajamani, he gives us a peek of the film, named after K Vishwanath's classic Shankarabharanam.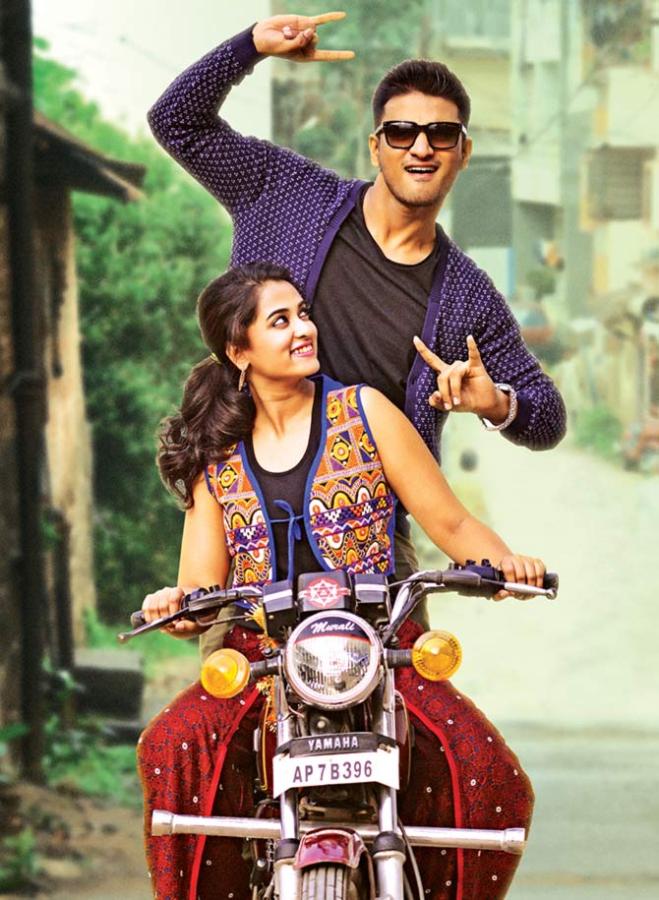 Image: Nikhil Siddhartha and Nanditha in Shankarabharanam.
You seem to be doing crime comedy and crime thrillers of late. Is there any reason for this? Does Shankarabharanam fall in this genre as well?
Swamy Ra Ra was a crime comedy while Karthikeya was a mystery thriller with some fantasy in it.
My last film Surya versus Surya was a love story with a disease in it.
Shankarabharanam will take me closer to the family. People won't think it is an old film. It is a family entertainer, different from what I have done before. This is the best chance to impress aunties, uncles and the kids!
The title is taken from K Vishwanath's classic film. Why was this title chosen?
It is a marketing strategy done by writer Kona Venkat. He had done that with his earlier film Geetanjali (he used the same title as Mani Ratnam's film).
Kona Venkat took permission from Vishwanathgaru and in fact, Vishwanathgaru released the songs. We have kept up the standard and made a good, enjoyable film. Kona Venkat is known for his clean entertainers.
Isn't Shankarabharanam a remake of the Hindi film Phas Gaya Re Obama?
It is an official remake of the Phas Gaya Re Obama. The central point has been retained but the script has been changed entirely. There is more fun and entertainment in this adaptation.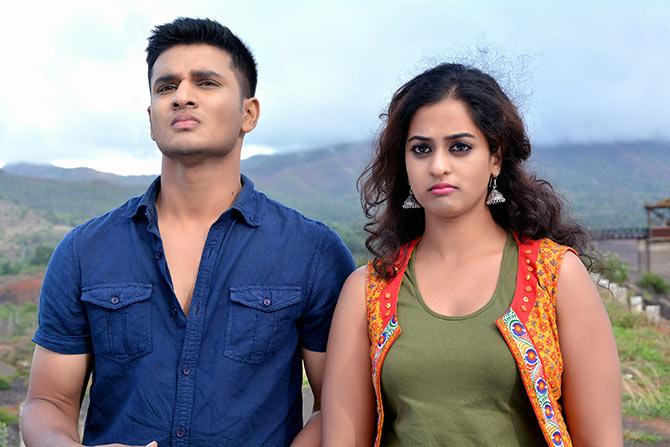 Image: Nikhil Siddhartha and Nanditha in Shankarabharanam
You play an NRI and seem to have prepared for this role by staying in the US for a few days and observing the NRIs. Did it help?
Yes.
I shopped for clothes. I had a haircut. I kept observing people who didn't know they were being observed. I was looking into their accents as I have to get it right. The NRIs have a different way of saying things. I couldn't make the accent sound fake.
I stayed in the US for 45 days. I stayed in New York and New Jersey and travelled across the country.
I think you took about 15 days to dub for the character. Why did you take so long?
Yes, if the people disconnected with the character the film will go for a toss. So getting the voice right was important. I took 15-20 days for my first film Happy Days and 15 days for Shankarabharanam.
Nanditha shares screen space with you for the first time.
Nanditha, being a Telugu girl, is the biggest plus.
Working together was easy. There was no prompting as Nanditha spoke Telugu. She helped me, and is a good performer. She has been successful with her films Prema Katha Chitram and Lovers.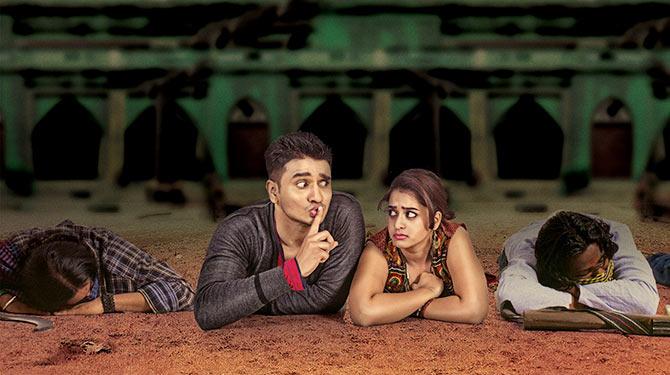 Image: Nikhil Siddhartha and Nanditha in Shankarabharanam
How was the shooting experience?
We shot on live locations, including Wai and Ahmednagar (in Maharashtra). There were no sets. Even though this is a commercial film, it was shot with authenticity.
It was tedious to do this film. Every day we had travel for four hours. Since these were small places, there were small hotels. There was a problem with the food. But these were small problems.
I was motivated about the story and excited about the locations. In fact, I used to spend the first few minutes clicking photographs.
Your last three films have been hits. How do you feel?
I am happy as these films turned out profitable for the producers. Now, more producers will come forward to make such experimental concept films. Such films also have a fresh and a never-seen-before kind of feel.
How do you select your films now?
I see the story. The core should be interesting, and it should have a director who has the capacity to execute it.
What are your forthcoming projects?
I will be doing a film to be directed by VI Anand. The story is different.
A sequel of Karthikeya is on with the same director and cast.