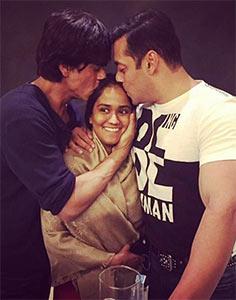 The patch-up between Shah Rukh Khan and Salman Khan at Arpita Khan's sangeet ceremony was apparently not just an occasion for a historic photograph. It was a real patch-up.
"This was not just a camera-created camaraderie. This was a real patch up, and this time Shah Rukh and Salman have decided to let bygones be bygones. The reconciliation is for real this time," says a source.
The Khans reportedly even danced together during the celebrations at Salman's Galaxy apartments residence.
"Sadly, no one clicked the happiest moment on Sunday evening when Salman and Shah Rukh broke into a dance at Arpita's request," the source adds.
Shah Rukh has been invited to Arpita's wedding in Hyderabad as well, and the superstar apparently agreed.
Aamir Khan has also confirmed his presence at the wedding.
Looks like the wedding will be a truly grand event.
Photograph: Arpita Khan/ Instagram