'I remember Yashji telling me till the time I don't play a loverboy, nothing will happen. I did not want to be a loverboy, as I am not good with romance.'
'I felt I was not good looking enough to play a loverboy.'
'But Yashji kept telling me if I don't play one, my career will not move ahead. I just went by his belief and it paid dividends. Yash Chopra has single-handedly made my career.'
Shah Rukh Khan gets candid about those who inspired him.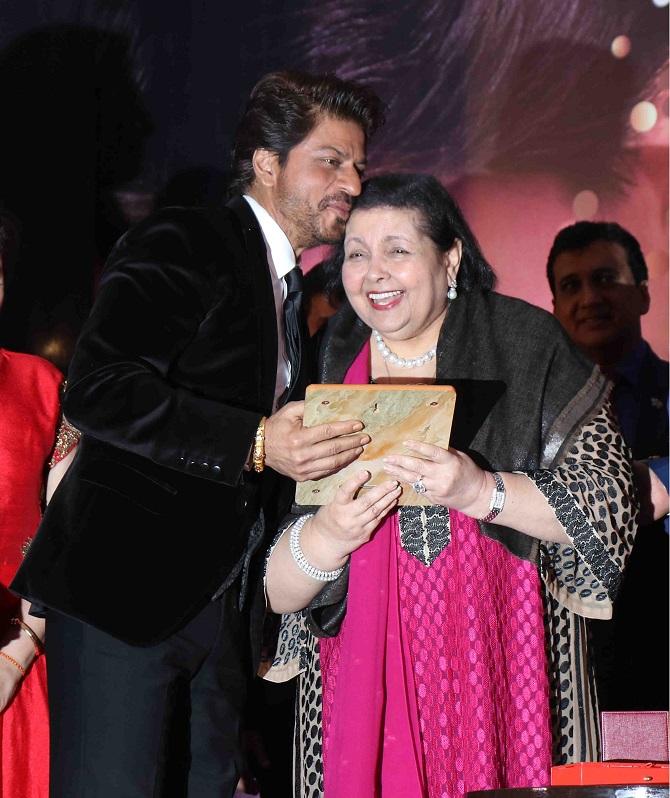 IMAGE: Shah Rukh Khan with Pamela Chopra
Shah Rukh Khan was awarded the fourth Yash Chopra Memorial Award, instituted by T Subbarami Reddy in association with Anu and Shashi Ranjan. The award carries a citation, a gold bracelet and a Rs 10 lakh cash prize.
The award was presented by the gorgeous Rekha, Governor of Maharashtra Vidyasagar Rao and Pamela Chopra. Quite a few celebrities attended the event like Shatrughan Sinha, Simi Garewal, Padmini Kolhapure, Venugopal Dhoot and Jaya Prada.
Previous recipients of the award have been Lata Mangeshkar, Amitabh Bachchan and Rekha.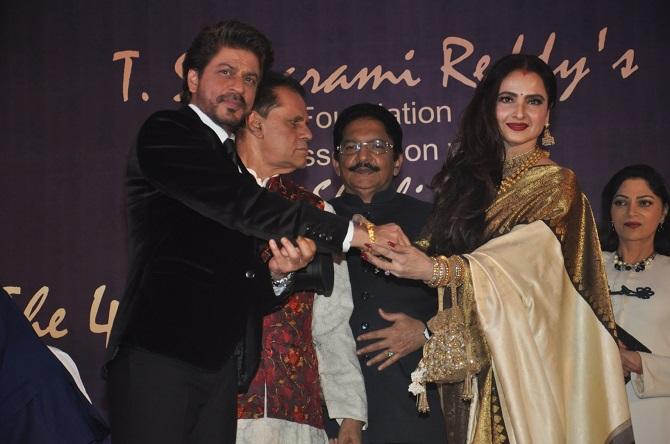 \
IMAGE: Rekha presents Shah Rukh with the gold bracelet.

When Rekha put on the gold bracelet on Shah Rukh's wrist, he joked, "This is a special night but the least I expected was to get a rakhi tied by Rekha! It has to be the saddest moment of my life!"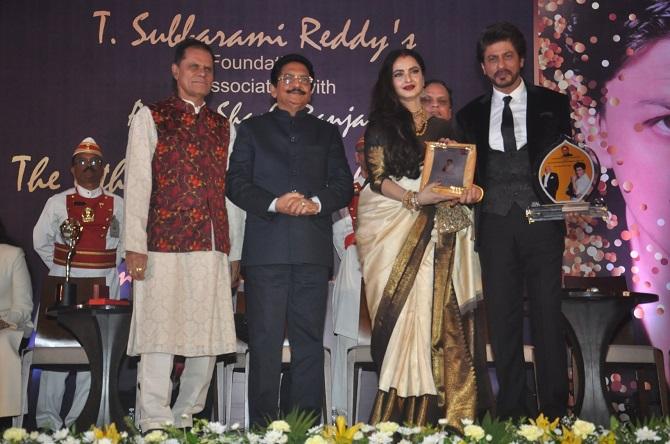 IMAGE: Subbarami Reddy, Governor of Maharashtra Vidyasagar Rao, Rekha and Shah Rukh Khan.
"I have been working since 25 years. All I know is how to wear make up in the morning and do my job (of acting)," Shah Rukh said. "Sometimes I get it right, more often than not, I get it wrong. There is extreme love from the film industry. When I came to Mumbai, I had lost my parents. My sister was unwell. I had no family. Before I knew it, from the first day onwards, some of those who are present and others who aren't, adopted me. Today, I have a family of more than a billion people."


\
IMAGE: Anu Ranjan, Jaya Prada, Shah Rukh Khan and Pamela Chopra
Shah Rukh was charming as usual at the event and acknowledged the various people present.
"I have to say this to Jaya Prada. All my young life I have had the hots for you but never got the opportunity to say it," he said with a smile.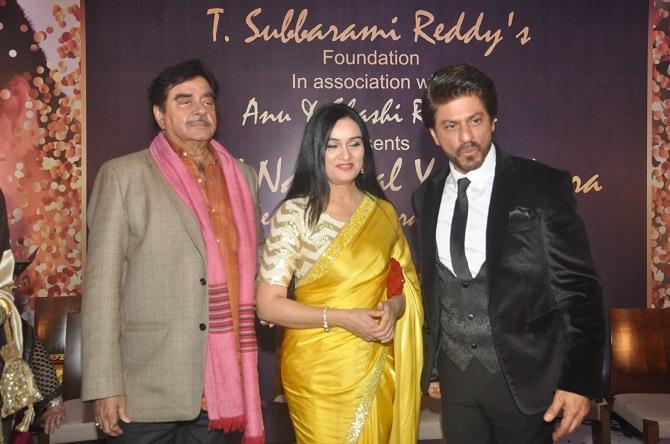 IMAGE: Shatrughan Sinha, Padmini Kolhapure and Shah Rukh Khan
"If I get into a panga in future, I know whom to call -- the person you call 'Khamosh,'" Shah Rukh, gesturing towards Shatrughan Sinha.
"I have known Padminiji for years. She is one of the most beautiful actresses. At a very early age, she set herself apart through her performances. She has always met me with immense love and kindness," he said.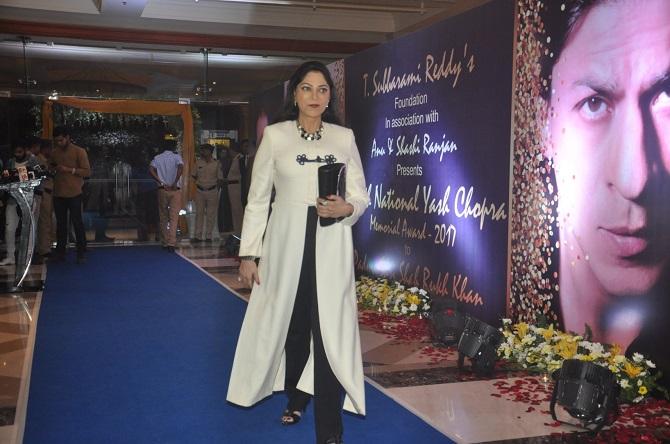 IMAGE: Simi Garewal
"Simi and I share a very old relationship," he continued. "I was nobody to be featured on the Simi Garewal show. It is generally (for people who) have arrived and become a big star. She had called me and my wife, who had delivered her first baby. I became an overnight star because I was on the Simi Garewal show!"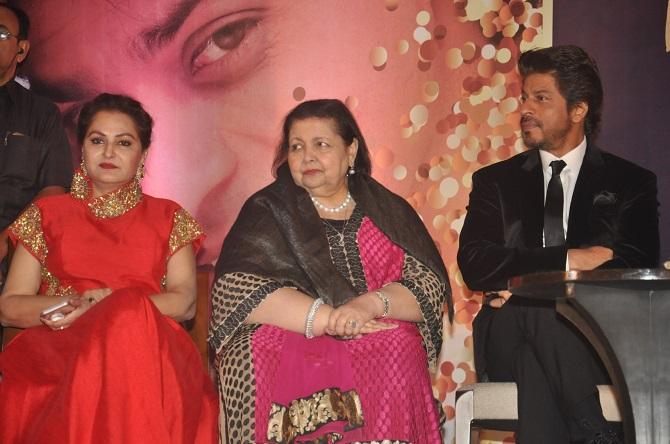 IMAGE: Jaya Prada, Pamela Chopra and Shah Rukh Khan

Shah Rukh attributed his success to Yash Chopra, with whom he has made so many films.
"Pam aunty is like a surrogate mother," Shah Rukh said, about Yash Chopra's wife Pamela. "I have grown up with her. Everyone, who works with Yashji, knows I am like their child. I had the fortune of doing the maximum films with him, including his last. Pam aunty treated me like a child when I was nobody. "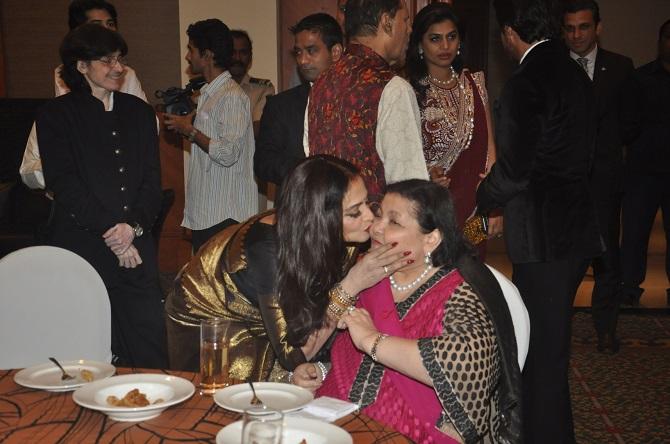 IMAGE: Rekha kisses Pamela Chopra
"I started working with Yashji with Darr in which I was a bad guy," he continued. "I remember Yashji telling me till the time I don't play a loverboy, nothing will happen. I did not want to be a loverboy, as I am not good with romance. I felt I was not good looking enough to play a loverboy. But Yashji kept telling me if I don't play one, my career will not move ahead. I just went by his belief and it paid dividends. Yash Chopra has single-handedly made my career."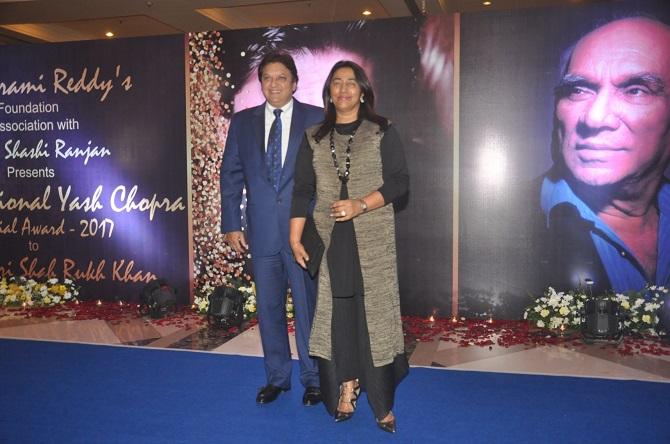 IMAGE: Shashi and Anu Ranjan
Shah Rukh revealed that the one location he did not want to go was Kashmir, as his father would always say that they should visit Kashmir together.
Shah Rukh finally went to Kashmir with Yash Chopra's last film Jab Tak Hai Jaan.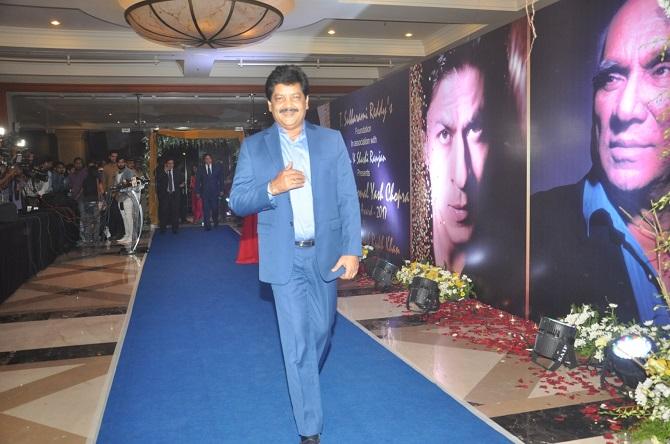 IMAGE: Udit Narayan
"My father's mother is a Kashmiri," he said. "My father had told me that don't go to Kashmir without me. So I never went. I did not go till the time Yashji decided to make Jab Tak Hai Jaan. For me, it was like visiting the most beautiful place with my father and family. I thank him for that."
Video: Afsar Dayatar