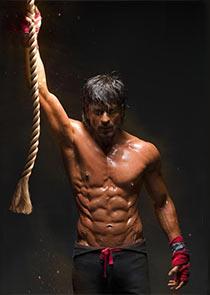 Here's a look at the top 10 tweets from your favourite Bollywood celebrities:
S
hah Rukh Khan,
who showed off his fab abs in Farah Khan's
Om Shanti Om
, has done it again for her upcoming film
Happy New Year.
This time, he sports eight pack abs!
He shared the picture clicked by Dabboo Ratnani (left) and wrote: 'I feel shy to talk about my body, but this is only for @TheFarahKhan. Cos of @prashantsixpack my trainer for 20 yrs & Aryan for inspiring me.'
Happy New Year will release on October 23.
Sunny Leone starts shooting for Mastizaade
Sunny has started shooting for Milap Zaveri's sex comedy titled Mastizaade.
'Had an amazing 1st day on @MastizaadeFilm @zmilap @RangitaNandy @TusshKapoor @thevirdas looking forward2everyday on set & laughing all day!' she tweeted.
The film also stars Tusshar Kapoor, Vir Das and Riteish Deshmukh.
Happy birthday Asha Bhosle!
Veteran singer Asha Bhosle celebrated her 81st birthday today, September 8.
Thanking her fans, she tweeted: 'Thank you for kind greetings. Without your support I wouldn't have achieved my goals. Walk a bit longer with me & we'll find the perfect note.'
Huma Qureshi prays for her family
Huma
's relatives are caught in the
floods in Jammu and Kashmir
. Praying for their safety, she tweeted: 'Half my family in Srinagar .. Many stuck on 1st floor of their own houses.. Efforts underway to move them to safer areas underway..Praying.'
Qureshi will be next seen in Sriram Raghavan's Badlapur.
Shahid Kapoor prays for Kashmir
Meanwhile, Shahid Kapoor is also praying for the people, who are stuck in the Kashmir floods
'Prayers for all those stuck in Kashmir floods and
respect to the army for all they are doing,' he tweeted.
What made Shilpa Shetty cry
Shilpa Shetty, who recently watched Mary Kom, praised Priyanka Chopra for her performance.
'Jus Saw #MaryKom all actors performed so well but @priyankachopra u rocked it. Omungs done a fab job. Cried my eyeballs out..Must watch tweetos. What an honor to kno Mary Kom personaly, wht a struggle, wht a success wht a story and wht a legend:) deserves so much more. Mary u r my hero,' Shilpa wrote.
The only film that Gandhi saw
Mahesh Bhatt took to Twitter to share some facts about Vikram Bhatt's grandfather Vijay. He also praised Vikram for his upcoming horror flick Creature 3D.
'In 1943 Shri Vijay Bhatt made a film by the name of "Ram Rajya". This was the only film that Gandhiji saw in his entire lifetime! 70 years later Vikram Bhatt his grandson, is the only one who has made a film who's main villain is crafted by computer graphics imagery. Creature 3D is made without the assistance of any foreign Vfx studio. Vikram has used the new technology & created a BAAP of all VILLANS. CREATURE looks more credible than all the works done in Hollywood,' Bhatt wrote.
Remembering Bhupen Hazarika
Shatrughan Sinha took to Twitter to remember Bhupen Hazarika on his 88th birthday anniversary.
'Remembering music maestro Dr. Bhupen Hazarika on his Birth Anniversary. His melodies will remain in our hearts forever,' Sinha wrote.
Thank you, says Priyanka
Priyanka Chopra seems pretty happy with Mary Kom's box office collections.
'What a weekend for #MaryKom . Thank you all.. I truly home that the story of our true champ @MangteC has a wonderful run at the box office!' she tweeted.
Karan Johar remembers his father
Karan Johar remembered his late father Yash Johar on his birth anniversary on September 6.
'Dad's birthday today...his stand was always to put relationships over films...a tall order to follow...I still try...miss him more than ever,' he tweeted.