S
hagufta Rafique
has a unique story.
Once a bar dancer, she has now changed tracks to being a film writer, and has written the script for Mahesh Bhatt's Woh Lamhe.
An adopted child of Anwari Begum, an actress who worked in Hindi cinema in the 1950s, and a foster sister of actress Saeeda Brij Sadanah, Shagufta has seen the best and worst times. She was left to fend for herself after Saeeda died in a tragic incident in 1990.
"Till the time my sister was alive, my mother and I were dependent on her," Shagufta says. "But I didn't know what to do after she died. Then I met Mahesh Bhatt and became his assistant director in the 1990s."
She worked on films like Tadipar and Sir, but she felt more interested in writing than direction. Hailing from a Muslim family, her command over Urdu was good, and she saw many Hindi films to learn more about cinema. She also read Russian novelists like Tolstoy and Dostoevsky to sharpen her story telling skills. Then, she decided to establish herself as a writer.
Thus started her life as a struggler. Directors wanted to see if her writing worked on screen, and since she had nothing to show, she could not get a break. She had to make do with writing television shows for Doordarshan.
Her personal life was in crisis too; her mother was diagnosed with cancer. A friend offered her a job as a singer in a Dubai bar, and Shagufta agreed reluctantly.
"I owe my life to my mother," Shagufta says. "I had to take care of her. Writing was not paying me enough even for my survival. I thought that if I made enough money to save and sustain myself, then I could come back and become a writer."
Did she ever feel that she was not in a respectable job, I ask. She retorts, "Aren't people who give licenses to run beer bars and policemen who see that they run not doing a respectable job? I never felt bad that I was a bar girl. In this world, who is worth respecting? There are only few people, whom you can count on your fingers, who are respectable."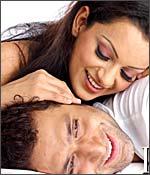 "Sexual exploitation of women is present in every field," she adds. "You cannot deny that. It is present in beer bars too. But it is up to the woman how she wants to lead her life. Nobody forces you to do anything wrong. Women have their personal freedom and choices. There are bouncers and bodyguards to protect you. In fact, who decides in our society what is right and wrong? There are pubs and discos where women come half-naked but nobody says anything to them. There is no easy answer to this question."
After making enough money, she quit the bar and tried her luck again in the film industry. She returned to Mahesh Bhatt and asked for work. To her surprise, Bhatt had forgotten her.
After Shagufta told him about her life, Bhatt seemed interested and promised her a break.
"Writing is all about understanding life," Shagufta says. "If you don't understand life and its hardships, I don't think anyone should become a writer."
After a stint with writer Jay Dixit, who wrote Bhatt's Kalyug, Shagufta got another assignment from Bhatt.
In January 2005 when yesteryear actress Parveen Babi died, Mahesh Bhatt decided to make a film on his relationship with her. He roped in Shagufta to write the script.
"The film's director Mohit Suri wanted a lady writer and that is why he chose me," says Shagufta. "He felt a woman can bring emotions into the character of Parveen Babi."
Shagufta met psychiatrists and schizophrenics to understand them better, as Parveen Babi was believed to be schizophrenic. After two months, the first draft of the script was ready.
"Woh Lahme is based on fiction as well as reality. I have put my best in it and I hope that people will appreciate my work. The challenge for me was to make this script interesting for audiences and make them be able to relate to Parveen's character in today's context," says Shagufta.
After Woh Lahme, Shagufta will work on two films called Aawarapan and Dhoka.
When I ask what the best gift she has ever given herself was, she replies after a pause, "I have managed to come out from the dark tunnel of my life, years of humiliation and loneliness. I took care of my mother when she needed me the most. And I have become a writer."