Malaika Arora will be seen in her first leading role in the upcoming film, Shaadi Ke After Effects.
Ashok Kheny, CEO of Nandi Infrastructure Construction Enterprise (NICE) is the producer of the film, which is directed by Kannada film director Indrajith (of Thuntaata and Monalisa fame).
The filmmaker, who recently won the Film Fare Best Director award for his Kannada film, Aishwarya, starring Deepika Padukone, will direct Malaika's husband Arbaaz Khan, Johnny Lever, Tara Sharma, and model Madhuri Bhattacharya in this comedy film.
The film also introduces Kannada artists Ramakrishna, Bhavya and Komal.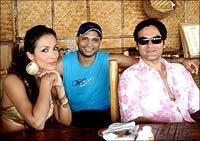 Besides the actors, the film has technicians from the Kannada film industry like top cameraman Krishna Kumar, who has worked for several blockbusters like Upendra, Raktha Kanneeru, Amruthadhaare and Monalisa, and costume designer Gandasi Nagaraj, who has more than a hundred films under his belt. Indrajith is assisted by young editor Vinod Manohar.
Ashok Kheny claims that the basic theme of the film is marriage and infidelity.
"It's a common occurrence that many married couples are attracted to their neighbour's spouse after a period of time. After some years of marriage, they start thinking that the neighbour's wife is more beautiful than their own and start neglecting their own. But here, the woman decides to teach her erring husband a lesson," the newly turned producer adds.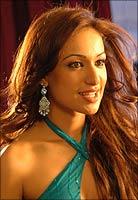 Indrajith, meanwhile, is confident that the film will do well on the basis of the script and style.
"It is a full length comedy film high on entertainment," he says. "This film exploits Arbaaz Khan's potential and after seeing him in this film, I'm confident that he will be in demand.
"Madhuri Bhattacharya is a revelation while Tara Sharma has done a once in a life time role in this film," Indrajith adds.   
The film was shot extensively in Bangalore except for a song, which was shot in Goa.