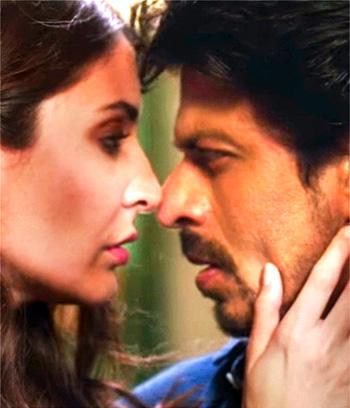 Syed Firdaus Ashraf checks out the teasers for Jab Harry Met Sejal.
If you have sex on your mind, what would you do?
Just do it? As the signature line for a certain shoe brand tells us in a different context.
But wait.
Sejal from Jab Harry Met Sejal believes in signing an indemnity bond for her sexual needs.
Dunno what it means?
We located this explanation: 'An indemnity bond is a bond that is intended to reimburse the holder for any actual or claimed loss caused by the issuer's conduct or another person's conduct.'
Nahi samjhe??
Watch the teaser then for Sejal's explanation.
In the two teasers for Jab Harry Met Sejal, Anushka Sharma tries hard to get a Gujarati accent right -- without quite hitting the correct nasal note that would please say the best known two Gujjus in the land.
And SRK? The Emperor of Bollywood Romance tries to play a lech for the first time in his career.
Not a role that comes easily to a man who can make women go weak at the knees just by crinkling his eyes.
But ham as he might, SRK just doesn't get The Lech right (at least from what we saw in the teasers).
Also, do lecherous men advertise their intent? Tell women that they are 'cheap'?
SRK's Harry does just that -- declare his lechy intentions to Anushka's Sejal.
We are intrigued. Does he get the gal after all that yucky non-PC conduct?
In the first film they did today, Surinder Sahni had to shed his clerkish avatar, become a cool dancing cat, to waltz off with Taanji into the Japanese sunset.
Will we see another role reversal in JHMS? Lechy Harry turning into Sanskari Hari?