'It is ironic that the guy who set the standard of stardom was forgotten. It was his death that made us remember him again.'
Rajesh Khanna would have been 72 on December 29, 2014.
Gautam Chintamani discovered Rajesh Khanna by being a fan of Amitabh Bachchan. The two stars's careers were interconnected and there were many parallel moments, until Bachchan's angry young man persona overtook Khanna's romantic hero.
In his book Dark Star, The Loneliness of Being Rajesh Khanna, Chintamani tracks the superstar's career from a theatre actor to his solid hits and downfall.
Chintamani, a journalist and columnist, gives Rajesh Khanna fans and those who may be discovering him for the first time a solid tour of the man's life. And we see it through the star's films -- the major hits and the flops.
The book published by Harper Collins just entered its second print run. Aseem Chhabra spoke to Gautam Chintamani on Rajesh Khanna's 72nd birthday.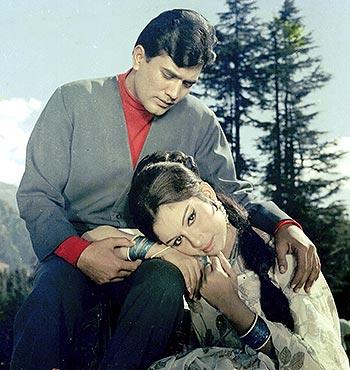 Image: Rajesh Khanna and Sharmila Tagore in Aradhana.
Gautam, you started to work on the book after Rajesh Khanna's death. Had you been thinking about a book on him?
I wasn't planning to write a book on him, but I was very interested in that period -- the end of the '60s and the '70s. I had written a few articles following his death, obituaries for a couple of papers and portals. My editor got interested and said why don't you string around that, not just Rajesh Khanna, but that period, and the idea of the hero in Hindi cinema.
It is kind of ironic that the guy who set the standard of stardom, even 40 years later, he was at his peak and then forgotten. It was his death that made us remember him again.
After his death and the sea of humanity that turned up for his funeral that triggered the urge to search for the superstar.
But in the process you start to track the superstar through his work from the late 1960s. How old are you, by the way?
I am 37 and people ask me how come I got interested in Rajesh Khanna since I never witnessed his peak.
My generation grew up on Amitabh Bachchan. But you cannot separate his career or filmography from Rajesh Khanna. They were two big superstars and their lives were so intricately connected.
They did two films together (Anand and Namak Haram) and those two films essentially established Amitabh Bachchan.
You think Zanjeer is the first time you see Amitabh's angry young man, but it is in Namak Haram (both film were released in 1973) that the angry young man finally comes into his own.
So a fan of Amitabh Bachchan would have to follow Rajesh Khanna also, who remained a busy actor through the 1980s. And in certain films he made more money than Bachchan in the 1980s.
It was just that in the first three years of Rajesh Khanna's career he had 17 hits and they had such an impact on the fans, that you don't want to think of him after 1973.
When was the first time you saw a Rajesh Khanna film?
When my mother was expecting me, she used to be a very big Rajesh Khanna fan. Two or three weeks before I was born she saw a lot of his and Sanjeev Kumar's films.
I have kind of grown up on these films. But the first film I would remember is Aradhana, watching it on television in 1981. And then perhaps Namak Haram.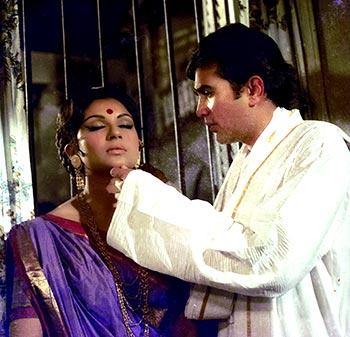 Image: Rajesh Khanna and Sharmila Tagore in Amar Prem.
So it was not Anand for you? I saw Anand at the Regal theatre in Delhi.
I liked Anand. You would have to be very insensitive not to be moved by the film. But for me when I think of Rajesh Khanna the images that come to my mind are Amar Prem, Namak Haram and Aap Ki Kasam.
When you started writing the book, how many films of Rajesh Khanna did you see?
Many of them. I divided his life by decades -- the '60s, '70s and '80s. One got an idea from the '60s by seeing Aradhana, Baharon Ke Sapne and Aakhri Khat. But there is a film between Raaz and Aradhana called Aurat. It has Padmini as the lead.
That is the first time you see Rajesh Khanna's traits that will make him a big star -- excellent timing, giving space to his co-stars and a lot of modulation in his dramatic scenes.
The film is on YouTube and worth watching. He has long scenes with Padmini who was a throwback to '50s cinema. She is very theatrical and rolling her eyes. But you should watch it muted and see how comfortable Rajesh Khanna is in those emotional scenes.
So I did revisit the usual suspect films for the key points. They were etched in my memory. But then I watched films that we had missed out on or were shunned by the spotlight, like Dil Daulat Aur Duniya, The Train -- a well-made, campy film with a great score.
And you found these films on DVDs?
Most of them are available on DVDs because there is a great interest in old Hindi cinema. Of course, many of them are on YouTube channels, including Aradhana and Amar Prem.
And the timing worked out well, because in the '90s many of these films were not available since VHS was a dying medium. Ten years ago, it would have been practically impossible to track Aurat or Red Rose.
It is fascinating in three years from 1969 he had so many hits.
In 1969 three of his film were playing to house full boards at the same time -- Aradhana, Do Raaste and Ittefaq. He was the first Hindi film star who had golden jubilee hits in non-Hindi speaking places like Madras, Hyderabad.
Seventeen hits in three years is a record no one else has achieved. I think Salman Khan had eight or nine hits after Maine Pyaar Kiya. But Rajesh Khanna's Haathi Mere Saathi , released in 1970, made more than a crore (Rs 10 million) in its theatrical run.
So I am trying to understand the superstar, whose career does take a nosedive after Amitabh Bachchan's angry young man starts to dominate the industry in the 1970s. He was also becoming difficult. In the book Sharmila Tagore says that she stopped working with him since he was always late.
His success was largely because of him. He is the first superstar in post-independent India who doesn't have baggage of the past.
If you look at the second generation of stars -- Rajendra Kumar or Manoj Kumar, they were still trying to ape Dilip Kumar. Shammi Kapoor was trying to outdo Dev Anand.
In that sense, Rajesh Khanna is unique and he carved a place for himself.
His downfall has many factors associated with it. After 17 hits to sustain the euphoria everything had to be in line. He had to deliver the films, the fans had to be excited, and there shouldn't have been any alternate option, like Bachchan.
In 1973 Rajesh Khanna had six flops -- Joru Ka Ghulam, Dil Daulat Duniya, Mere Jiwan Sathi that usher in his downfall. But the next year he has four hits including Apna Desh, Aap Ki Kasam and Daag.
But the industry also changed between 1973 and 1975. In 1973, you had Zanjeer, Bobby and Namak Haram. But in 1975 there were Sholay, Deewar, Nishant, Khel Khel Main, Choti Si Baat and Rajnigandha.
And Rajesh Khanna, the biggest star, released films like Bundlebaaz and Maha Chor in 1975, and both films flopped.
Salim-Javed had become a force and they were involved in the casting as well. Gulshan Rai who produced Deewar, was keen that Rajesh Khanna played a role in it. Even Yash Chopra agreed.
But the story goes that Salim Khan and Javed Akhtar said that either you cast Bachchan or you don't get the script. So his not being the first choice changed the perception of the star.
Why did that perception change? People do have flops and they do come back. What was it in Rajesh Khanna that so soon people didn't want to cast him?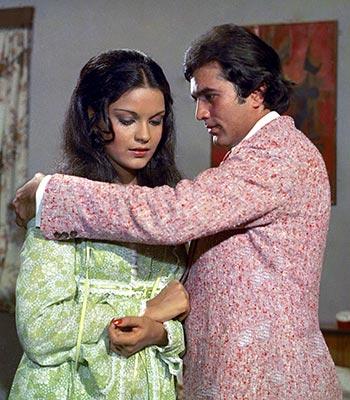 Image: Rajesh Khanna and Zeenat Aman in Ajnabee.
You know the saying that one should be nice to people on your way up, because you will meet the same people on your way down. He did snub a lot of people the wrong way. He was not the only star having late night drinking sessions and couldn't report on time.
Even Shatrughan Sinha could never report before 11 or noon. But because Rajesh Khanna was so big it got magnified.
After those flops he did have his set of directors and producers who were interested in him. He was getting work. But his work was not as successful as that of Salim-Javed and Amitabh Bachchan as a combination.
And he couldn't handle his failure, his downfall.
I mention it in the book that he didn't understand that this was just a phase. He achieved and lost his superstardom before he was 30 years old. And who does he have for a life partner? 15-year-old Dimple Kapadia. I don't think he had a close net of friends who could speak their mind to him.
He perhaps thought the hits would last forever.
His 17 hits from the early period follow an interesting template. In every film he does not overshadow his co-star. The women have neatly etched roles -- in films like Kati Patang and Amar Prem. Also, those films had great supporting actors.
And by the time he tried to change the course, he took a long time to understand how the industry was changing. Between 1976 and 1980 he misses out on good films and his only hit is Chaila Babu. He was lost.
In the 1980s he started working in multi-star cast films, because that had become the norm and until then he had never done a two-hero film. The first film was Kudrat and by then it was too late. Whereas, if you look at the first 10 years of Amitabh Bachchan he was only working in multi-star films.
And what happened to him then?
I thing basically he had been so big that it didn't make sense for him to go ask for work. He had a good year in 1983 with Avtaar, Souten and he starts to believe he is going to come back.
And what does he do then? In a single year, 1985, he has 14 releases. But he didn't capitalise on that. It is sad.
For a long time he was trying to be relevant. He became friendly with non-film people. He joined politics in 1990 and was in MP from 1991 to 1996. And he spent a lot of time in Delhi.
In an interview with a writer he says he is looking for that Jatin Khanna. And Bachchan was becoming more and more relevant in those years. So the loss of identity haunted him.
There is also the question of how much of an actor Rajesh Khanna was. Bachchan delivered solid performances in his films.
But you forget that in the history of Hindi cinema no one but Rajesh Khanna played a grandfather at the age of 40. That was in Avtaar. Rajesh Khanna did Swarg in 1989 where he played his age and the film was a success. He had started playing Balraj Sahni-kind of roles without putting on too much make-up.
But after the success of Swarg he joins politics. He could have capitalised on the new space he had created in Hindi films with that one role.
Bachchan is struggling at this time, but then he acts in Hum, where he plays a Rajesh Khanna-kind of character in Swarg, but a little more flamboyant. And the film is a bigger success. He then takes a sabbatical and is lost until Mohabattein happens.
But look how fate works against Rajesh Khanna. He acts in Aa Ab Laut Chalein, which had a horrible script. If it had worked, Rajesh Khanna could have reinvented the template.
Mohabattein reinvented the idea of a superstar who could move to a different age bracket. Amitabh Bachchan continues to benefit from that and now Rishi Kapoor is also going in that direction.
Of course, Rajesh Khanna was a limited actor, but his stardom did not allow the actor to develop. Even at his peak a film like Dushman is not burdened by Rajesh Khanna's presence. In Namak Haram and Aap Ki Kasam he never seemed bothered about losing his stardom.
But when Souten was made he almost stopped the shooting by four months because he wanted Sawan Kumar to change the climax. He became insecure much later.
Which are your favorite Rajesh Khanna films that you can watch again and again?
Namak Haram and Aap Ki Kasam. Perhaps a little bit of Amar Prem.
And do those films still stand> They don't feel dated?
No, not at all. Amar Prem may feel a bit dated, but if you see Aradhana today it works well. Namak Haram is far more relevant today.
MUST READS: