What thrills the award-winning director of thrillers like Kahaani, Kahaani 2: Durga Rani Singh and Badla?
Chilli Chicken, of course!
Sujoy Ghosh is a pleasure to talk to, as he shares interesting insights into his life and movies with a slice of humour.
"I assess the quality of a country by the quality of its Chilli Chicken," he says, drawing the laughs.
That's not to say, of course, that his deeper, serious side doesn't peek out.
"My proudest film is Kahaani 2 because I spoke about something I really wanted to talk about. I took a stand that I'm very proud of," Sujoy says of the Vidya Balan-Arjun Rampal hit that dealt with child abuse.
He finds it hard to pick a favourite from his filmography that includes films like Jhankaar Beats, Aladin, the Kahaani movies, the short film Ahalya and, most recently, Badla.
Yet, he can't help but add, "I loved Amitabh Bachchan in Badla and Vidya in Kahaani. I don't think I'll ever stop loving them."
Ghosh tells Ronjita Kulkarni/ Rediff.com about all the things that THRILL him!
Chilli chicken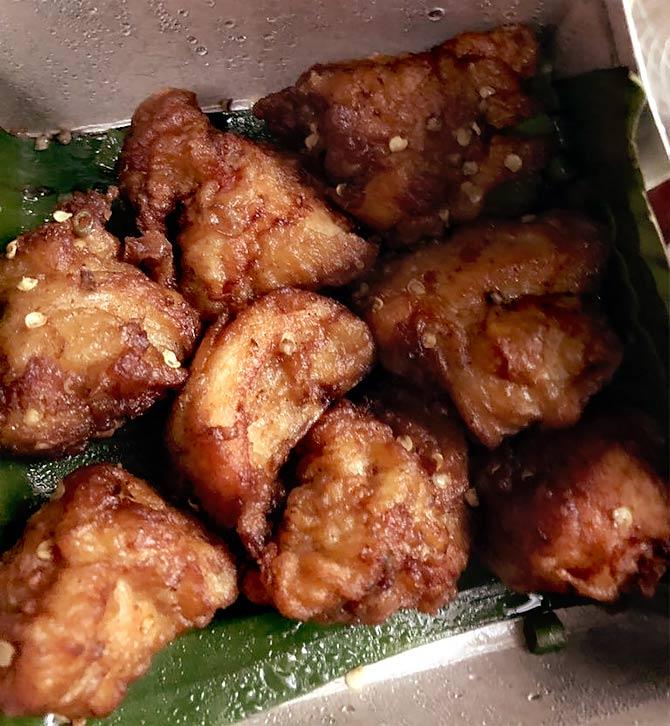 I get very thrilled by Chilli Chicken!
Whenever I go to Kolkata or anywhere in the world, I assess the quality of the country by the quality of its Chilli Chicken.
If you can't make good Chilli Chicken, then you have to work harder.
Whoever invented the Chilli Chicken should be given the Nobel prize, the Pulitzer, Oscar... sab de do!
Food thrills me most in life.
All the hard work that we do is to put food on the table.
People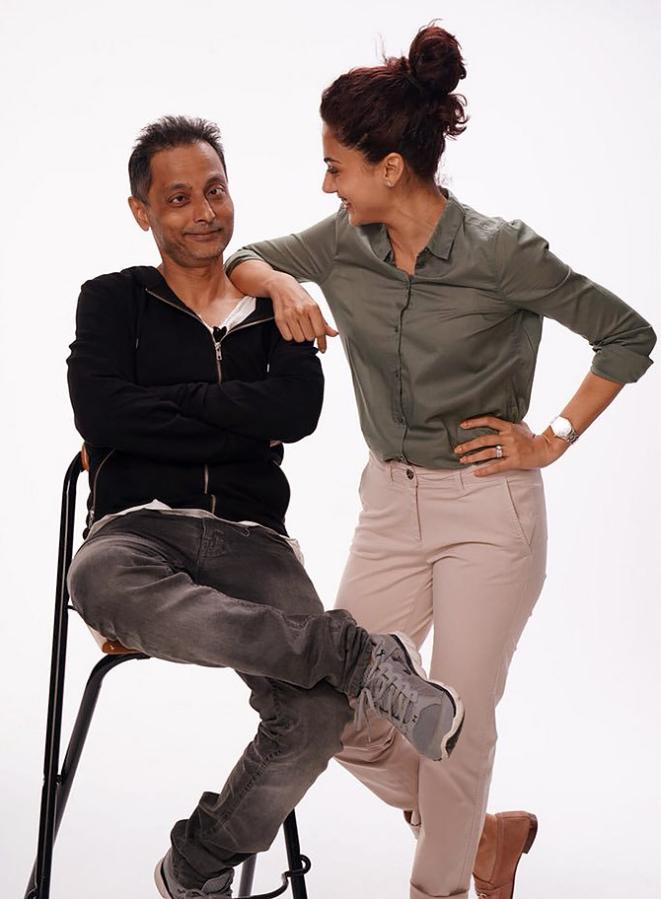 I like watching people... but not in a stalker kind of way.
I like seeing their approach to things, like the way you sip a cup of tea versus someone else.
That helps me to build a character in my films.
I like to see how they talk, how they react to something, how they cope with things like happiness and failure.
Books
Books and graphic novels are a part of my life.
I was reading The Case That Shook The Empire by Raghu Palat and it was quite interesting.
I like graphic novels because they help me visualise.
They help me to learn how to express.
Watching a good film
Films are an pre-condition, I can't even put them on this list. That's in the blood.
But watching a good film or series thrills me.
It also involves a lot of jealousy; thoughts of why didn't I make that?
I was watching The Family Man and that really made me jealous ki Raj and DK ne kitna achcha banaya.
I really want to watch Dream Girl now.
The thrill of accomplishment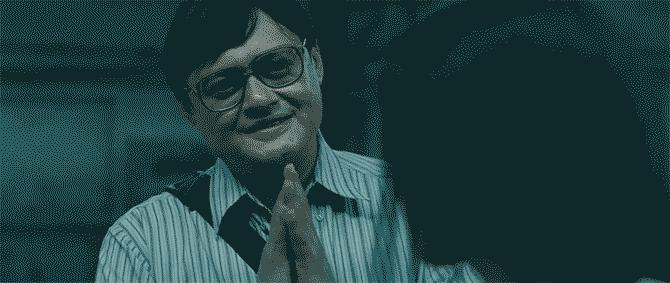 I still remember a very complicated scene in Kahaani that we were doing, when Bob Biswas pushes Vidya Balan off the platform just as a train approaches.
And Vidya insisted on doing it herself.
I had only one tension that if she falls, who will complete the film? (laughs)
But when you finish a scene like that, you feel very happy.
It's the thrill of accomplishment.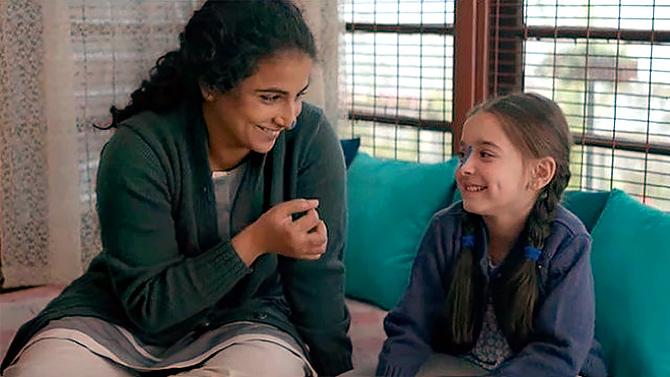 The most difficult shot I have done in my life -- and I didn't even know how to do it -- was in Kahaani 2.
There's a scene where Vidya has to dig the truth out of a little girl.
They are sitting together and Vidya talks about this man, who 'touched me here, touched me there...'
The kid is listening to her and she slowly opens up.
She sees that Vidya has gone through the same experiences as she has and she starts agreeing.
It was a very simple scene but I really didn't know how to do it.
For people who have gone through this, it's a very traumatic thing. We had to do it without trivialising it.
I know people who are still living under that trauma.
So when you accomplish something like that, and feel you have done it right, that's a thrill.
Directing Amitabh Bachchan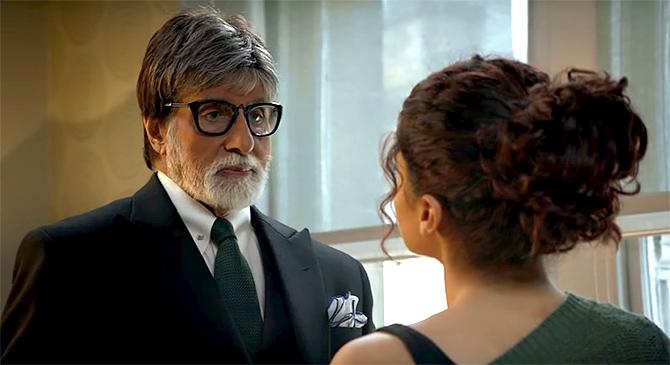 Mein hota kaun hoon Amitabh Bachchan ko direct karne wala?
I don't direct him.
When Sir says go sit there, I go and sit there (laughs).
He is so amazing!
You just have to be with him and talk, talk, talk.
Then he will give you some amazing shots, and we'll be just sitting there and thinking, this is why we've joined the films.
During Badla, he would scold me, why are you giving me so many dialogues? How am I supposed to learn so much?
Then he would read and come and say those dialogues.
Nobody delivers like Amitabh Bachchan! Ab tak koi paida nahin hua.
In the last scene when he's going and Naina (Taapsee Pannu) says thank you, he says, 'Draupadi...' and then he comes forward and continues, 'Draupadi ne Yudhisthir se kahan tha...'
He says his lines and then goes.
Then suddenly, he turns around and says, 'Ya.'
That 'Ya' was his.
It was not in the script.
But with that one 'Ya', he completely changed the scene. And that shows who Amitabh Bachchan is.
Only he knows why he said that because I never asked him to.
That 'Ya' made that character say so much more, like I have come here, I have won and now I'm going back.
That 'Ya' was like a f*** you.
Giving us the thrills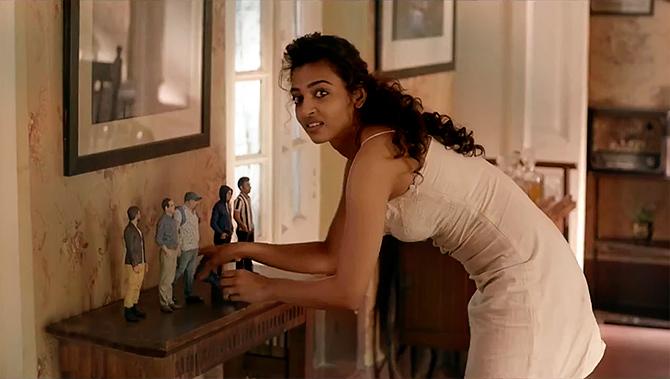 I'll tell you why Ahalya worked.
I have a different take on fear.
I feel you are as scared as the amount of fear you put into your head.
The fear is inside you, not outside.
It's not there in the dark room. It's inside what you imagine about the dark room.
It's like that character Bob Biswas in Kahaani.
A lot of people were scared of him because they didn't know how to place him.
He looked so normal (and yet, he was a contract killer) and that f***** their heads.
Like, if a police comes to catch me, I would know because of the uniform.
But if this man is coming to kill me, I would not even expect such a person to.
That is scary.
Anything unknown is scary, right?
Ahalya also worked because of the myth, which the audience could relate to.
And, of course, they never saw it coming.
Radhika Apte was too good. I'm so glad she got an Emmy!
And I got to work with Soumitrada (Chatterjee). That's one thing off my bucket list.