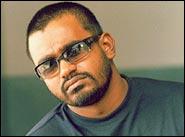 E
ver since his first film
Kaadal Kondein
became a huge hit,
Selvaraghavan
evokes a lot of respect in the southern movie business.
It took him nearly two years to make his next film.
7-G Rainbow Colony, made in both Tamil and Telugu has created a lot of excitement in the Tamil and Telugu industries. It will release today, October 15.
A mechanical engineer, Selvaraghavan took time off from editing the film and spoke to Contributing Special Correspondent Shobha Warrier about his films, dreams and life.
Kaadal Kondein

was critically and commercially successful. The expectations from your second film, 7-G Rainbow Colony, are very high. Are you nervous?
| | |
| --- | --- |
| | More on rediff.com! |
| | |
Actually,
7-G Rainbow Colony
is my third film. Though my name is not listed in the credits as the director,
Thulluvatho Ilamai
(another huge hit) was also directed by me.
We were financially in a bad shape then, and we had to sell the film. Unlike today, the industry did not encourage newcomers and new directors then. The stars ruled the industry. The truth is, each and every frame of Thulluvatho Ilamai was mine. The entire Tamil industry knows this.
Coming back to the question, yes, it makes me nervous. And scared. I do not know what the audience expects from me. I do not know whether 7-G Rainbow Colony is what they expect from me. I just hope that the film and people's expectations match. I have made this film as honestly as I made Kaadal Kondein.
Many commercially successful directors tend to repeat their success formula. Did you try to make a film very different from

Kaadal Kondein or did you follow the same pattern?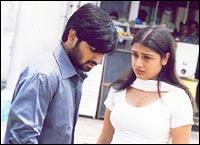 7-G Rainbow Colony is very, very different from Kaadal Kondein, which was technically advanced. There, the story of a mentally disturbed guy was experimental. It concentrated more on what was going on internally. You won't see many guys like him in society but the hero of 7-G is an average guy with whom youngsters can identify.
Nobody wants to make films on below average, middle class guys; either the heroes are geniuses or physically strong enough to beat up 100 people! My hero is a normal guy who cannot score more than 50 percent or 60 percent in school and college. If you go to any classroom, you will see that only 10 percent to 15 percent study really well, while 65 percent to 70 percent fall short of something, and at least 15 percent to 20 percent fail.
Nobody is interested in making a film on them, and these students always suffer from inferiority complex. Just think, is there a life for them? They don't finish the course in the stipulated time. If at all, they get a degree, they don't get a job. Finally, if they get a job, it will be just average, just like what they are. Does anyone love them? If you go to a college and observe, you will see that only successful guys, either academically or financially have girl friends.
7-G Rainbow Colony is the story of an average guy. I felt his story also needs to be told.
You mean people like him are everywhere...
Yes. You walk on the street for a mile, you may bump into at least 50 or 60 of them. I would say 70 percent to 80 percent of the guys you meet in Chennai are like my hero. I want to make them understand that they are also interesting though they consider themselves a failure. I want to tell them that even if they are not interested in studies, they should be interested in something else, and they are capable of discovering that.
We middle class people are made to believe that we have to get up early in the morning, go to school and college, study well, get a good degree and then work. Until you turn 22 or 23, nobody gives you a chance to decide what you want from life. Unless your talent comes out early in life, it will never happen. This is the character in my new film.
From where did you pick this guy?
He's me, and nobody else. It is my story. I went to an engineering college and was okay in my studies. From the very first day, I knew engineering was not what I wanted to do. I passed out with just 70 percent. I can never become one of the best mechanical engineers in the country.
Then I wanted to become a guitarist. But there was no magic in my guitar. I knew from my birth that I was just an average person, and I couldn't discover any talent in me. There are a lot of things I can't do but there are some things I can. I can play cricket well but I will never be able to go beyond Tamil Nadu level.
I tried around 12 to 15 things when I was studying engineering; it was a kind of soul searching. Finally, I found my talent. That was writing; only writing gave me satisfaction. I enjoyed writing.
Were movies never in your mind? Your father is a filmmaker.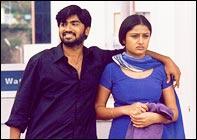 We were never part of the film world though my father was a filmmaker. Our world was different from our father's. Two of my sisters are doctors, and I am an engineer. Ours was more of an academic family, and not a film family.
From writing to directing movies, how did it happen?
What I wrote were not stories but screenplays. I enjoyed visualising.
Now, everybody says I am lucky to have got my first break in a home production. The truth is, I had tried at several places. From 1997, from the year I passed out as an engineer, I was knocking at all doors. Nothing worked out.
Then, we were in a very bad financial position. My father had to sell our house. And we had only one film in the making. My father couldn't bear the pressure. So he asked me whether I would direct the film. That was how I wrote the script of six school students and made Thulluvatho Ilamai. Dhanush, my younger brother was the hero.
The movie was the biggest hit of that year but people labeled it as a soft porn film.
It was not a soft porn film. They said that because they had not seen mouth to mouth kisses on screen till then. I made a film that was close to reality. The problem is, we live in a closed world. I said then, 10 years from now, everybody will make movies like this. Four years after, that is what is happening. See, when a newcomer does something daring, people attack him but when established filmmakers do it, they accept. Even critics.
In Hollywood, and in Europe, you have real critics who understand what cinema is. There, the critic has an understanding of the medium. Here, anybody can be a critic. You don't need any knowledge or qualification to be a critic. Now, anybody can stop a film showing in a theatre under some excuse or the other.
Will

7-G Rainbow Colony also shock people like Kaadal Kondein did?
I don't think so. This film is a simple bilingual -- in Tamil and Telugu. So the incidents should be identifiable to both the audiences.
If you walk along the streets of KK Nagar in Chennai, you will witness all that you will see in his film. I have made it in such a way that you should not feel that it was a movie. You should feel as if you are walking in a housing colony which you are familiar with.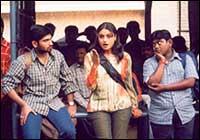 I have lived in KK Nagar for nearly 10 years, and it is from all those experiences that I wrote the script. Almost 75 percent of the characters you see in the film still live there. My friends are all there as characters. Some of my friends wrote to me, 'Don't show that incident. See, I am going to get married!' It was all the fun that we had as youngsters in a colony.
The title has created a lot of excitement in Chennai.
When the producer heard the title first, he was shocked. 7-G is the number of the heroine Anita's house, and the colony is Rainbow Colony. I managed to make the producer see my point of view about the title. I never expected it to create such excitement. I have done my job honestly.
Were you not supposed to make

Kaadal Kondein in Hindi for Boney Kapoor?
Yeah. But now, I have some commitments here. I had signed to make this film before I was approached for the Hindi film.
I will make Oru Naal Oru Kanavu next with Dhanush, Sonia Agarwal and Namita before I start the Hindi film. I can't talk about the other projects that I would be doing in Hindi because nothing has been finalised. If 7-G Rainbow Colony doesn't do well, I may not even have a Tamil film! Let's see how it is accepted. I want to finish my assignments here and then move to Hindi.
Does that mean you want to make films hereafter in Hindi?
Ultimately, I want to make films for a global audience. I like challenges and get restless in one place after a while. I am not interested in the material trappings that come with films. What I am interested in and passionate about is films and filmmaking.
Selvaraghavan's photograph: Sreeram Selvaraj