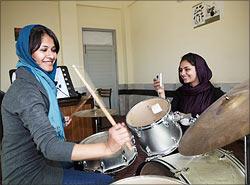 Three teenage girls have made a brief documentary called The Kabul Cards, which shows a much more cheerful side of Afghanisthan's capital, Kabul. It has broken the stereotype of bombed out sites and terror attacks the world associates with this war-ravaged country.
Cinema can be a catalyst to drive social change. This is what three Afgan teenagers have done with the medium, giving us the refreshingly candid documentary
The Kabul Cards
.
The film was screened in the newly introduced 'Kabul Fresh' category at the recently-concluded Mumbai Film Festival (MAMI), which showcased eight different films in an attempt to highlight new voices in Afghan cinema.
The 17-minute
Kabul Cards
, shown earlier at the Busan International Film Festival, is a highly personalised perspective on civilian life in conflict-ridden Afghanistan.
It chronicles the routine life of three girls living in the capital city, which is much like the life youngsters live elsewhere and very unlike the images of the war-torn city we are used to seeing on our television screens.
The girls hang out at shopping malls and cafeterias, and have fun filming their activities with a tiny camera which Sadaf, one of the directors, says, "made me feel empowered, almost like carrying a weapon".
They go around the streets interviewing ordinary folk -- bakers, tailors, electricians -- and ask them what they have to say about their country.
The film succeeds brilliantly in making its point -- that there is another side to this country than warring warlords, al Qaida inspired terrorism and suicide bombers.
In many ways, it is a normal city. Terror may loom large but that is not everything the city is about. In the Kabul we see, men go to work and girls shop and drive just like in any other city.
Street harassment, however, is a major problem and it deters women from moving freely. By 9pm, it is dangerous to venture out.
To draw attention to this problem is one of the core intentions of Kabul Cards.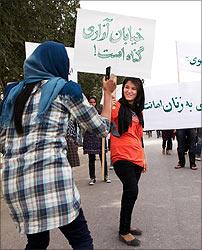 Nargis Azaryun, one of the directors of the film, is 18 years old and works for a Kabul-based NGO called Road to Equality and Development. The other two directors are Sahar, 16, who is still in school and her elder sister Sadaf, 19, who studies music at a city university.
"The idea is to film Kabul with a different perspective, one that breaks the image created by the international media," says Nargis. "The film has succeeded in bringing to the attention of the State and the Human Rights Commission the problem of street harassment faced by Afghani women on a daily basis."
With a wisdom far beyond her years, the youngest of the three, Sahar, says, "If you want to bring change in a country like Afghanistan and live to see it as well, you need to have courage to do things. Otherwise, there are all sorts of people who create all sorts of problems. Luckily, we had Christoffer and Anders to support us."
Sahar is referring to Norwegian producer Anders Somme Hammer, who financed the film along with his partner Christoffer Naess, who also helped them technically with recording and editing.
The two men were planning to make a film about Kabul that portrays the country in a genuinely positive light. The girls went through a week-long workshop in handling cameras before they put the equipment to professional use.
"The camera makes us feel very powerful. Men are afraid and ashamed to show their faces because we could film them harassing women and show it to their families. It is like a weapon for us," says Nargis.
"Some of them apologised and said they will never do such a thing. The camera is like a gun to scare away the boys," Sahar says laughing.
They chose cinema as the medium to make their point because, says Nargis, "People get very influenced by movies. So I will say cinema is truly the best medium to drive social change. It's as good as literature, even better, because not many people in Afghanistan can read."
Although Kabul Cards presents a welcoming, optimistic side of Afghanistan, people must surely face some dreadful challenges on a daily basis?
Nargis hesitates, but Sadaf is more confident. "There is one thing about Kabul. When I leave my house in the morning, I don't know if I'm going to return back home and our parents are mentally prepared. This is true for every single person living there."
Nargis says the firing doesn't bother them so much now because they have become accustomed to it.
"We have got so used to the bombings that it is now a part of our daily routine. During our exams, we don't get disturbed by loudspeakers playing music, but by the explosions. But escaping it is not our idea of living although we could secure a visa and safely study abroad," says this gutsy young woman.
We pick up on that thought: wouldn't it be better to migrate to a safer country and enjoy a better quality of life?
It's Sahar, the youngest, who answers unhesitatingly: "We want to see a changed Kabul. If the youth flees the nation, who is going to bring about that change? We are going to live in a safe Kabul, one that has been transformed by people like us.
"And one day it will be a living reality for us because the bombing and the firing cannot stop us in any measure. We go beyond all of it. There are a lot of opportunities abroad for us. But if we go, who takes care of my country?"
Point noted.
Their Mumbai experience has been a rewarding one. The response to their film is overwhelmingly positive and the girls are having a ball.
They like Mumbai, which they are visiting for the first time. They spent a day around the Gateway of India and shopping on Colaba Causeway. Going on the Mumbai Darshan seems to be next on their itinerary. Also pending is a visit to the beauty salons of the city.
"There is not much of a difference between Kabul and Mumbai. Same kind of people, same kind of crazy traffic," Saraf casually observes.
"We are ardent Bollywood fans!" they chorus. "From Paakeezah to DDLJ to English Vinglish, we are fully aware of what happens in Bollywood films. In fact, Afghanis speak Hindi only because they have learnt it through Hindi films."
Their kohl-lined eyes glow with fearless passion and the beautiful faces reveal palpable excitement at discovering something new. The spirit is terrifically inspiring and the courage, something to applaud loudly.