When Ashutosh Gowarikar announced that his next film, after the Aishwarya Rai-Hrithik Roshan starrer Jodhaa Akbar, would star the hot pair of Harman Baweja and Priyanka Chopra, he made waves.
He also sparked off a string of Internet searches when he further announced that his next film, What's Your Rashee?, would be based on US-based Gujarati writer, Madhu Rye's trend-setting novel Kimball Ravenswood.
Rye, who has lived in New York for some 29 years now and is a US citizen, is a mix of many parts: Moody, reclusive and witty. When he began writing novels, short stories and plays more than four decades back, he brought in characters who had elements of sensuality, wit and weaknesses.
His works started an era in Gujarati literature, and flourished within it. Rye's world was never soft and solemn; his men and women were real and driven by passion and lust; they were practical, material. Their stories were relevant to the times and, today, they are as relevant, since Rye pins his characters to emotions that are timeless, eternal.
The other broke his self-imposed seclusion for a hilarious encounter with Sheela Bhatt, over dinner in downtown Manhattan. Excerpts: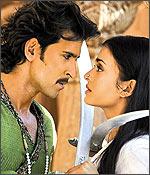 Ashutosh Gowarikar is making a movie called What's Your Rashee? That, I can understand. But that film is based on your book, called Kimball Ravenswood -- and that title I don't understand!
It is a local train terminus in Chicago, around which there is a heavy concentration of Gujaratis. It is also my novel's locale.
How is a novel with such a bland title going to appeal to the people?
You look as young and comely as when I first saw you in Los Angeles.
What on the earth does that mean?
Appeal -- it's all in the eyes of the beholder.
Eyes of the beholder, yeah? So will your Gujarati-centric novel, when translated to screen, appeal to the all-India beholder?
The charm of the Gujarati language can be transferred to the body language of the actors. The story of a man falling in love with many women is universal, I'd think.
Is it true that you stole the plot from ...
Yes, I stole it from Barack Obama. We go a long way. He secretly wants to write romances in Gujarati. He could not write it under his own name.
What is your secret desire?
I'd love to act opposite Tabu or pair up with Saif Ali Khan in a mega film stolen from Shakespeare.
Quit being flip -- don't you acknowledge, halfway into the novel, the influence of Kurt Vonnegut and others?
Sure, also Henry Fielding -- only to the extent that the 'narrator' unexpectedly intervenes in the action of the novel. Anyway, that whole 'acknowledgment' bit is also a literary device, which may or may not be part of the fiction.
Come again? Translate that into English?
The Narrator, or the Author, wants to narrate all his failed affairs with American women. He converts all his sad stuff into spicy and happy stuff in the novel. Halfway into the story, his characters feel lost, so he comes, deus ex machina, to the rescue. This device is used by Vonnegut, and Fielding before him. Except for that, the entire yarn is my own glorious invention.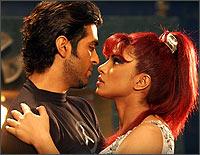 Is the story autobiographical?
All I write is autobiographical, in that everything I come up with is based on something I experienced at some point in my life. I simply change names, dates, events, and fabricate a story.
Ever wanted to write for the screen, or for television?
For screen, TV, commercial jingles, ad copy, whatever. Writing is good for me. Even writing for, er... a journal, you see.
Tell me about the process of writing this novel.
I'd just returned from my first trip to the United States and was having tea with the late Bhupen Khakhar, the painter. Bhupen and I had performed scores of improvisational skits for the entertainment of our Baroda friends like Suresh Joshi, Jeram Patel and Ghulam Sheikh.
We were talking about Gujarati young men with green cards shopping for a bride in India, and the astrology connection. I later work-shopped the idea in our drama workshop in Ahmedabad. Then I returned to the States and wrote this novel when I was living in the Kimball Ravenswood area.
How did Ashutosh Gowarikar come to select your story?
He consulted an astrologer and the times seem to be propitious for a 'frothy' romance written by a writer born in simha rashee.
Is that the sun sign Leo?
No. Hindu astrology is lunar. So a rashee is a moon sign.
Do you agree with Ashutosh's description that it's a 'frothy' romance?
No. It is side-splitting tingly comic, sure, but it is also a profound study of human nature. It is driven by devilish characters. In my mind, it even doubles as a cunningly crafted sex thriller.
What are your expectations from the director? Is it true that you wanted to do the lead role?
Yes. But the director would rather eliminate the narrator's character altogether.
Were you upset?
He did say he may let me do a walk on.
Will the NRIs (non-resident Indians) relate to such a story more than the audience in India?
Not according to the astrologer -- both will relate equally and endearingly.
You wrote this decades ago. Don't you think the story is now dated?
Have you heard of a story called Jodhaa Akbar?
Come on, that is history, this is society. Indian girls these days turn up their noses at NRI boys. My question is, will the story appeal to the changing society?
I am quite sure that the director and the screen-writer will update it with Facebook and MySpace and SMS and the rest.
Aren't you worried that they might make drastic changes to your work?
I hope they do.
Seriously?
When I wrote the novel, I did all sorts of literary gymnastics to underscore that I was a serious writer and not a stand up comic. However for the mass media, it is best that they take out all that and go straight for the love story.
Will you be writing the screenplay, and if not, how can you stay away and watch them decimate your precious creation?
I am paid to stay away.
Ketan Mehta in the TV serial and Naushil Mehta in the play made debatable alterations in your story. Doesn't it hurt you as a 'creator'?
I suppose change of medium warrants necessary changes in the depiction. That said, not all changes are aesthetically satisfying. Anyway, I have not seen the TV serial nor the Naushil play. I hear they both were well received. So that is that.
What's that 'that'?
Sometimes directors succeed in transforming the words into visuals, sometimes they end up adding more words or redundant visuals. What is that 'that' is, what succeeds. 

Has anything else of yours been transferred to TV or the big screen?
A play of mine was made into a tele-film, Kisi Ek Phool Ka Naam Lo. A short story of mine was adapted as a student film, Saral And Shampa. One entire act of a play of mine was commandeered into a film many years ago without my knowledge. So there could be more such instances.
Do you think the young audience of today will get the humour of your characters?
If not, I hope they will be swept off their feet by young Harman and Priyanka.
Are you happy with the choice of Priyanka and Harman to play the main characters?
Boisterously. Of course, I do not know anything about them. But if the director and the astrologer are happy...
Over the years, how have your fans and readers reacted to Kimball Ravenswood?
I live in the USA, oceans apart from my 'fans and readers'  so I learn little about their reactions. Sometimes editors kindly throw an occasional bone of praise to keep me in good humour.
Tell me how the novel was received...
The novel was first serialised in Gujarat Mitra daily, and there have been two hard cover and four paperback reprints so far. Ketan Mehta based a TV serial on it, and two play versions in two languages have been spun out of it as well. It is 'required reading', I am told, in two universities of Gujarat. And to top it all, a fine journalist such as you is having dinner with me. I'd say I am content.
Yeah? What more can the novel do for you now?
Why, a Broadway musical, an Italian opera, a Telugu teledrama, a Hollywood bonanza ...
Ashutosh says he bought out all available copies of your novel. Is that true, and will that make you rich?
It was a joke -- like I joked that he consulted an astrologer. Anyway, even if it were true, it wouldn't have made me rich. Gujarati books are published merely a thousand copies at a time.
Will this film make you rich?
Sure, I have been promised four free tickets to any show anywhere in India.
Is it not true that you have been paid the highest royalty so far?
If it is not true, it is well invented.
So it is true?
After Saraswatichandra, perhaps this is the second or third or fourth Gujarati novel to be made into a Hindi film. It may well be true. The thing is I do not know a thing about this industry and I really do not care.
Won't you give me a hint of how much money you got?
No, and I won't ask you what year you were born in.
If you wrote a similar novel in today's circumstances, how different would it be?
I will not write a 'similar' novel. If I write 'another' novel, I will find out how different it will be when it happens.
Are you writing a novel at this time?
Two years ago I wrote the first chapter of a 'companion' novel . This film thing is a validation of sorts. I may now finish it soon.
Can you get me a walk-on role in the film?
That is a topic for another dinner.