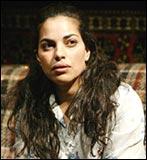 As a Palestinian wife and storekeeper in Detroit, Kareema faces a number of challenges. But nothing is more daunting than when her estranged sister suddenly arrives in America after being exiled from Kuwait after the first Gulf War and in a few days starts having an affair with Kareema's husband.
Sarita Choudhury, who had a passionate love affair with Denzel Washington in her debut movie Mississippi Masala about 13 years ago, plays Kareema in the new off-Broadway hit, Roar. Written by a Palestinian American, Betty Shamieh, the film features Annabella Sciorra (The Sopranos) as her conniving sister.
For several years many people have been wondering where Sarita's career has been going. After doing lead roles in films like Mississippi Masala and Kama Sutra, and a small but important part in The House of Spirits, Choudhury hasn't done a significant film in more than five years.
But all that is in the past now. Roar, which is running till May 8, has been directed by Marion McClinton (King Hedley II), one of the big names in American theatre, and has received many excellent reviews.
The part-Indian, part-English actress wants to do another play before working in a film. The 37 year-old believes that being on the stage makes her a more mature and disciplined artist and going back to the movies with her new experience can only enhance her career.
Excerpts from an interview with Arthur J Pais:
Many people remember your nude scenes in Mira Nair's Kama Sutra. What do you feel about nudity in that film? What are your feelings about nude scenes now?
I was lucky to have a female director who was tasteful. Actual nudity in the film was less than its sensuality. Mira is very good at creating images that can get confused for nudity. I only believe in doing a nude scene when I trust the director. Usually up to the day before I am convinced I will say 'no' because my heart is full of fear. When I see French movies, I realise how normal it is for other cultures.
You have played half-a-dozen nationalities on screen, including a South American and Bosnian. Do you actively go around looking for such roles?
Left to myself I would only play an Indian. But the reality was that there were hardly any Indian characters I could play in the films made in England and Hollywood. So I had to learn how to disappear into a variety of characters.
What was crucial to playing a Mexican or an Arab?
I knew that if I didn't do accents and mannerisms properly, I did not have any role. I knew 15 years ago that it was important for me to play various nationalities. I would not have had a career otherwise.
Were you a good mimic as a child?
I have always loved doing accents. I have lived with my parents in a number of countries, including Italy and Jamaica. My brothers used to make fun of me — about how fast I could acquire an accent. I would live in England for couple of months and come back with an English accent. When we were in Rome, one of my closest friends was an Arab girl from Lebanon. Now in Roar, I play a Palestinian Arab.
Now every day for several hours you must have an Arab accent.
It takes me no time to switch on to the accent. For me the accent exists only in the lines I would be using on the stage. Few minutes before I enter the stage, I am not thinking of the accent, but how I am going to emote. I would be speaking with my normal accent till the moment I am ready to enter the stage.
Surely there will be more accents to do?
A writer called Myra Bairstow has offered me the role of Frida Kahlo in an off-Broadway play. It is called The Rise of Dorothy Hale. Dorothy is the woman Frida painted when she came to New York.
What interested you immediately about the play?
To play Frida has been my dream for many years. This is an intriguing play. When I was growing up as a teenager, I used to look at Frida's pictures and I thought I looked like her. Frida loved dancing. Dancing has always been a big thing for me. But I wondered how I would ever get to play Frida without being a Mexican. Now it is happening.
Roar is being staged in a small theatre with just about 99 seats. You have been in films that have been seen by several million. How does it feel to act for a small audience?
I go about doing my work passionately. The play has received excellent reviews from The New York Times and many other publications. One doesn't know where it will go from here. One doesn't know who is in the audience. It could be a filmmaker or a writer who is looking for an artiste for yet another play. I respect the people who come to see the play and I want to give them the very best, performance after performance.
You have worked on stage before. But Roar was quite another thing, an eagerly awaited work. Were you nervous to face a live audience?
I was nervous the first two nights. But you think of what you are going to do and you want to do it really fine.
You are now a mother and have appeared in half-a-dozen films and many TV shows. How have you matured?
[Chuckles] Had someone offered me a play like Roar about five years ago, I would have hesitated to accept it. I would have probably said no.
Looking back at your early years in the movies...
When you are new in the business, you are excited. People offer you all kinds of roles and you go around accepting them, without knowing what exactly your strength is. As I said, if someone had asked me to play an Arab woman on stage a few years ago I would have said no.
Why would you have done that?
I might have felt inadequate. For example, playing a mother to a teenager. I am actually younger than my character.
How do you manage stress?
I go to dance classes. I do yoga. That helps too. I have noticed for long that I get nervous when I am bored.
How long have you been living in New York?
For about eight years. I have been enjoying it very much.
What have you been enjoying most?
New York allows you to be what you want to be. You can take your own time here, despite the city being so busy. You don't have to lose your identity here. I enjoying riding my bicycle, enjoy attending readings, love seeing good films and plays.
What is the best advice you have had from your movie directors?
I would say: Listen and watch your actors in the scene with you instead of coming into the scene with a complete pre-planned notion. I believe homework is necessary, but not to the exclusion of allowing the 'moment' to happen. Also, in general, to go for what you want with all your heart. There is so much rejection in this business; you cannot guess what people want, so just go fully with who you are.
Do you have any regrets?
When I was 20 I thought I would be 20 forever. I was a bit lazy and did not pursue things too intensely. Ten years went by quickly with some good work but a lot of missed opportunities.
What would you tell young aspirants who are interested in a stage and movie career?
The main thing is to do whatever you love — be it dancing or reading — when you prepare for your career and go through it. Unless you enjoy life passionately, you cannot be a good artiste. Practise what you like, be it sports or dancing.
How does that help you before the camera or on the stage?
The passion makes you a strong and sharper person. You are never lazy. While you are preparing for your part, you are always responsive to challenges.
Do you watch Indian films?
I love Indian movies. I have had no time for any movies lately, but a good movie is a good movie. Dil Se... is my favourite. I love Manisha Koirala.
Photo: Carol Rosegg