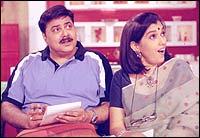 When the television channel Star One was launched, it was meant to be the Hindi counterpart of Star World.
A few months down the line, Star One has met with reasonable success.
A large share of the credit goes to the weekly sitcom Sarabhai v/s Sarabhai, starring Satish Shah, Ratna Pathak-Shah, Sumeet Raghavan, Rupali Ganguly and Rajesh Kumar (The show airs on Monday, 9 pm with a repeat show at 11.30 pm. You can also catch it on Tuesdays at 12 pm and Sundays, 6.30 pm).
A visit to the sets makes one realise why the sitcom is so successful.
Teamwork is undoubtedly the main ingredient behind the serial's rising TRPs.
Sarabhai vs Sarabhai is the story of a typical upmarket Malabar Hill (in Mumbai) family.
Saahil (Sumeet Raghavan), a cosmetic surgeon with a golden heart, can never say no to the two women in his life -- his wife and his mother -- which is why he typically tends to get caught between them.
While he struggles to play peacemaker, his father, Indravadan (Satish Shah), loves to pit the two women against each other. He then sits back to enjoy the ensuing drama.
Sahil's la-di-dah mother, Maya (Ratna Pathak-Shah), wants her lifestyle and her family to reflect the standards of her society. Her biggest stumbling block is her rather middle class, melodramatic daughter-in-law, Monisha (Rupali Ganguly), who looks to save a rupee, clinch a bargain or grab a freebie wherever she can.
The other players in the tale are Sahil's brother Roshesh (Rajesh Kumar), a mama's boy and a wannabe actor waiting for his mom to find him the right bride, Sonya -- Sahil's sister whose life revolves around tarot cards -- and her husband Dushyant (played by the serial's director, Deven Bhojwani) who is obsessed with gizmos and loves explaining anything and everything in the greatest possible detail.
Says Satish Shah, "We work as a family in the serial. The ambience is so nice that we hardly feel tired after a day's work. Atish Kapadia (the scriptwriter) has a fantastic sense of humour which is reflected in the excellent script."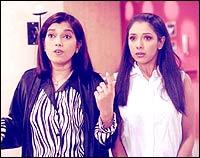 Satish feels the character of Indravadan is very close to what he is in real life. "I don't feel I am acting when I am shooting for the serial!" he grins.
Ratna agrees. "I enjoy working for this serial. Since the story is set in upmarket Malabar Hills, you need a producer who is willing to spend on the sets, create the right ambience and relate to the story in general. You cannot play a posh character in a shabby set! I am happy that Hats Off Productions has taken care of these issues."
The production values are evident in the huge set built at Mansukhani Industrial Estate near Kanjur Marg, a central Mumbai suburb.
Though it consists of two rooms, a corridor and a lift, the look on screen -- courtesy the camera effects -- is of two different worlds. Red dominates Saahil and Monisha's home, while Indravadan and Maya's domain is dominated by  blue and green.
Once on the set, there is no way one can miss the designer candle stands in all the rooms. Every element has carefully designed by art director Omung Kumar, known for his sets in Sanjay Leela Bhansali's Black and in television serials like Kaun Banega Crorepati.
Located at two ends of the living room (which is common for both the Sarabhais) are two concept kitchens. But what strikes you most is the backdrop of the famous queen's necklace on Marine Drive.
Satish explains, "The backdrop is lit up during a night sequence and the lights switched off during a day scene to give you the real feel of Mumbai!"
In keeping with the colours of the room, Satish was wearing blue jeans and green T-shirt for the day's shoot.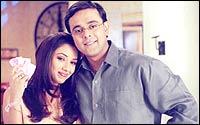 A rather dishevelled-looking Rupali Ganguli rushes in wearing jeans and short kurta. It takes her a while to settle down. "I did not expect this role; frankly, I was rather surprised when it was offered to me. This is my first comedy role; I played a vamp in Sanjeevani," she says.
Rupali feels she is lucky that her first comedy serial is a success. "It might sound clichéd but I am a lot like the character I am playing. Like Monisha, Rupali in real life is also carefree, superstitious and unkempt."
Rajesh Kumar, who plays Roshesh, is quite pleased with his role as well. "I have been playing emotional characters throughout my career," he says. "This is the first time I am acting in a comedy. I was quite surprised when I was made to change my hairstyle during the shooting! And, let me make it clear (he smiles), I am not like Roshesh at all. The only similarity is that I am a mama's boy off-screen as well!"
Sumeet Raghavan was missing; he was in the US for a show. But the crew were all praise for him as an actor and human being.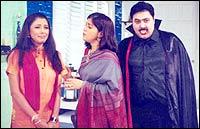 Deven Bhojwani, the director of the serial, has dabbled in comedy as an actor as well -- he was part of the hit soap Dekh Bhai Dekh. Says Bhojwani, "I am very lucky to have got the opportunity to direct a serial like this. The entire crew has been extremely supportive."
JD, the producer, adds that on April 18 and 19, there will be a crossover between two serials, Instant Khichdi and Sarabhai v/s Sarabhai. "The serials are very different from each other. While the first one is very downmarket, Sarabhai v/s Sarabhai is extremely upmarket. We are trying to make the twain meet!"
Bhojwani, Kapadia and JD have been best of friends for more than two decades and the camaraderie is evident. Our visit to the set visit ended with a delicious Gujarati lunch!