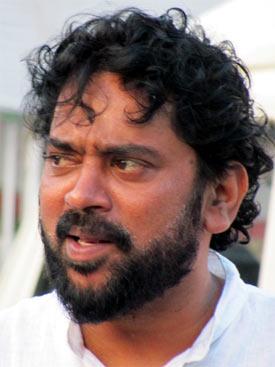 Ace cinematographer and filmmaker Santosh Sivan is delighted by the government's decision to honour him with Padma Shri. The recommendation for the honour, he claims, came from within the film industry.

"I understand that it was Graftii, former students of the Pune Film Institute Of India, who recommended my name for the honour," Sivan says. "It feels good to be recommended by people who know my work rather than by politicians. These are people whom I've worked with and who understand what I do on screen."

Then he adds, with a laugh: "Every time something like this happens, when I am suddenly recognised for my work, I wait for a new level to capture my creativity. I am not much of a planner. When I directed Tahaan, (a film about Kashmiri militancy), I was suddenly asked to work in collaboration with the United Nations. So it's important for me to spread my wings beyond cinema."

The Padma Shri gives Santosh more power to do what he believes in. "I am now empowered to expand my voice in cinema and outside. When I was nominated as a member of the American Society Of Cinematographers, I was empowered. It allowed me to do the cinematography in Hollywood films and vote for the Oscars."

Santosh was unable to vote this year for the Oscars. "It's very difficult to do from here. You've to watch the films under the strictest of secrecy. And if news gets out that you're watching Oscar films, then you are in trouble. I have to be there in Los Angeles and see almost 80 percent of the films to be eligible to vote."

Santosh says he is divided in his vocations as cinematographer and director. "The line dividing the two jobs gets blurred but cinematography is more organic and personal. In direction, you have a lot more organisational work to handle. You can't forget the film after pack-up. Direction is far more challenging. I am getting ready to release my new political thriller Ceylon in Tamil and then Hindi. I've also shot a separate 90-minute English version of the film. I don't want it to to look like an art-house film. There're elements of art in it but I've made sure the Tamil-Hindi version is two hours long. Otherwise, it won't get a proper release in the Tamil Nadu theatres."

In the meanwhile, Santosh has started work on his new Malayalam film. "It's called I Am Not Sita. It's a modern contemporary film with new actors, all talented theatre actors."

As a cinematographer, Santosh is currently a shooting a big-budgeted Tamil film Anjan in Mumbai directed by Lingswamy, featuring Suriya, Manoj Bajpayee and Vidyut Jamwal.
Says Santosh, "I like to surprise myself and do different things. But I don't want to do everything that comes my way. If one wants to project oneself as a brand, one has to be particular about what one shoots."
Santosh has cut down on cinematographic work for outside directors. "I do the camerawork for the occasional blockbuster. It gives me the funds to direct my small movies. My small films are a very big thing. My career is like the little terrace in my Mumbai flat which I've turned into a vegetable patch. Since it's small and manageable, I am very particular about everything that grows in my garden."
In the picture: Santosh Sivan. Photograph: Creative Commons/Thachan.makan