'I am going to direct a film for him.'
'He thinks I will make a good film.'
'For me, that in itself is an award.'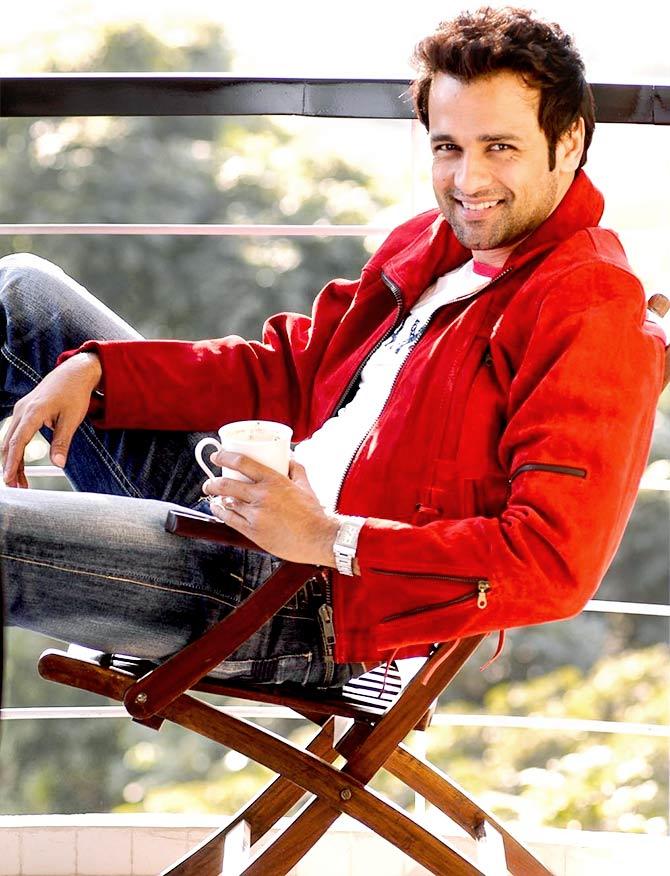 Photograph: Kind courtesy Rohit Roy/Instagram
Rohit Roy -- who was last seen in Kaabil and recently finished Bouma Detective, a Bengali Web series -- has seen several ups and down in his showbiz career.
Rohit takes Rediff.com's Patcy N along the journey of his life. The first of a two-part interview"
You are from Nagpur. When did you come to Mumbai?
Actually, we were from Mumbai. My mother went to have us (,give birth to Rohit and his elder brother Ronit) in Nagpur. Later we moved to Ahmedabad where my father's business was .
I went to St Xavier's school and later to St Xavier's college. My brother (Ronit Roy) did engineering in Surat, ran away from home and came to Mumbai to become a hero. He lived with Subhash Ghai, my dad's best friend.
I was very good at studies and scored 96 percent in my GMAT (Graduate Management Admission Test). My scores went through the roof.
I came to Mumbai to get my US visa as I was going abroad to do my MBA. I did not want to become an actor.
I had admission with quarter fees paid at the Ross School of Business in Ann Arbor, Michigan.
But my visa application got rejected. They (US consular officials) thought I would not come back. I was depressed.
I didn't know what to do so I returned to Ahmedabad, studied some more. I re-did all my papers and applied again after two months. Again, my visa application got rejected.
While I was in Mumbai I went along with Ronit to Kunal Kapoor's office.
Kunal (Shashi Kapoor's eldest son) asked me what I would do now. I told him I would look at business schools in India. I had passed the initial examination at Symbiosis Pune and had to go for the group discussion.
Kunal asked me, 'What will you with an MBA? Sit in an office and push some papers. Join me'.
I told him I had no idea about the work. He told me, 'Your brother also did not have any idea', so I joined him as an assistant.
I worked for Kunal for an year and within that year I started modelling. I got my first break while I was working with him so I never really had to struggle as such.
Your first film Gaata Rahe Mera Dil did not release...
The film with Shilpa Shetty did not get made, it was our first film, it was a fantastic story.
Ronit and I were going to act in the film together; it would have been 20 years before Kaabil (where the brothers acted together in a film for the first time).
We shot about four reels of the film and unfortunately the producer ran out of money. I was very sad.
Jazbaat was the first film which I signed that got made. It was directed by Anant Balani who had launched Raveena Tandon in Patthar Ke Phool. When I signed the film I thought I had arrived.
But Jazbaat released exactly in two theatres: One in Girgaum in Mumbai for two shows on Friday and one show on Saturday and another theatre in Surat. The film was out of the theatres by Sunday.
It was very unfortunate the way my career started.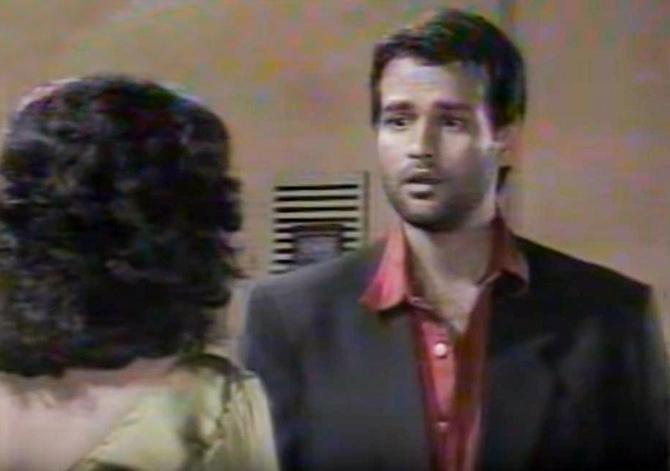 IMAGE: Rohit in Swabhimaan.
You became popular with Mahesh Bhatt's Swabhimaan. How did that happen?
After Jazbaat did not work, I went to America. This time I got my visa.
Then my uncle told me so many people try their luck in the film industry. You have a toe hold in the industry, don't you want to give one more shot?
I thought that made sense. How many people actually get a chance in the industry being a random stranger?
So I decided to come back.
Someone from Plus Channel had called Mansi (his wife Mansi Joshi) for Swabhimaan.
I overheard her conversation with the gentleman. I told her I don't have any work and asked if I should try.
Mansi -- who was not interested in television -- said I should try. I called, went for the audition and got selected. The rest is history.
VIDEO: Did Kunal Kapoor get Rohit and Mansi together? Watch the video to know...
Video: Hitesh Harisinghani/Rediff.com
IMAGE: Rohit and elder brother Ronit. Photograph: Kind courtesy Rohit Roy/Instagram
WATCH: Rohit tells us about Ronit's struggle and how he rose like a phoenix from the ashes. Video: Hitesh Harisinghani/Rediff.com
Since Ronit and you both do television, do you compete or compare?
Never! He is growing older and I am looking younger; the gap is increasing. He has become more like my father now.
The reason there is no competitiveness is because I am very confident of what I am.
Forget my brother, I don't compete with anyone else.
I only compete with myself, I look at my last work and I think I should better that.
Every time I do a good piece of work I think how can I do better than this, which different roles can I do?
In my mind I am quite arrogant and self assured.
I know I am good at something and I know I am bad at something.
What I am good at I am trying to better and what I am bad at I am trying to improve.
In Dus Kahaniyan you directed a segment with Naseeruddin Shah and Shabana Azmi, Rice Plate. Why didn't you think of direction after that?
It is not that I don't want to direct. But I couldn't do it. It is all destiny. I strongly believe that destiny and god have a better plan for me.
Shabanaji has been hounding me for the last seven years. They wanted me to make a film immediately after that (Rice Plate).
After Dus Kahaniyan, Javedsaab said, 'Stop everything and make a film'.
He tried his best to give me a script; he took me to music sittings lekin jab koi cheez nahi hone wale hoti hai woh nahi hoti (Things don't work out if they don't have to). However much you try it won't happen. I guess the time was not right.
I am going to direct a film now for Sanjay Leela Bhansali. I waited for long, but I am working with the best producer. He is the most creative man I have met.
Every minute I spend with him I learn so much. It is not that he talks films; he talks about everything, but his passion, his drive towards cinema is so great that it rubs off.
Somehow he has taken a liking for me, thinking that I will make a good film for him.
For me, that in itself is an award. I have a great script which has been given by them (Bhansali's production company).
I can't talk much about the film, but it is a good film and an emotional story. It is a musical.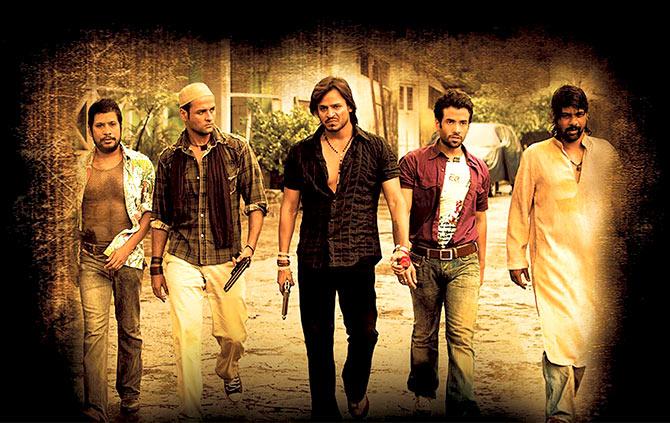 IMAGE: Aditya Lakhia, Rohit, Vivek Oberoi, Tusshar Kapoor and Shabbir Ahluwalia in Shootout at Lokhandwala.
What went wrong with your movie career?
Maybe my choice of films wasn't good.
A lot of films I did for my friends were a mistake.
Maybe I made some wrong decisions. Do I regret it? Yes, I do.
I regret not being serious about my work because I was so full of myself.
Everybody was telling me my career would go high up and I started believing that.
When I did Swabhimaan, those three years people went crazy and I didn't understand it.
In all this craziness I went crazy. I would walk in and out of shows.
One day I would think 'mazaa nahi aa raha hai (I am not enjoying this).' The next day I wouldn't go for the shoot.
I was not serious about my career. I did a film called Plan, but I had no plan in life.
I think I was not ready. I came in too early, I was too young.
I was not prepared. I got opportunity, but by that time (other) actors were coming in totally prepared.
I was extremely awkward. If you see my clips from Jazbaat, I can't believe I acted that way and that they actually finished that film. It was an embarrassment (laughs).
Mansi always tells me I did not know how to act when I did Swabhimaan. She said you are not an actor, you don't move your eyes.
In hindsight I know I was not a good actor at that time. But I was telling myself I am a damn good actor because people liked my work.
The one thing I regret is not listening to my wife.
I should have listened to her, improved and concentrated on my work.