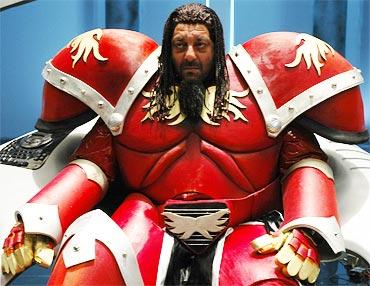 Sanjay Dutt is one actor who has undergone a complete makeover and experimented with different looks for his films.
Right from Khalnaayak to Kaante, Luck to the recent Blue, the actor has always surprised the viewers with a trendsetting new look and style.
Sanjay takes charge once again, after losing the extra weight for Knock Out; the 50-year-old actor is looking trimmer and fitter. He will be seen in a completely new avatar a la 'Mogambo meets Hulk' for The Game, an upcoming TV concept from Pepsi. Ranbir Kapoor too has a part to play in the game.
One will get to see Sanju Baba play the 'Game Master', sporting long hair and dressed in a red bulky suit with exaggerated shoulders and feet. The rubber suit that was specially designed for his character weighed over 5 kgs and took the actor over an hour to get ready.
But the uber cool actor that he is, he never complained. Instead, he took charge and worked with the stylist to get the correct look and act right.
Besides, he often stunned the production team with his quick single take and shot delivery. Sanjay has been famous for his negative and grey roles but in The Game he will be seen as a 'bad man' with funny undertones.
So watch out for Sanjay Dutt as he confronts Ranbir Kapoor in The Game on March 27.