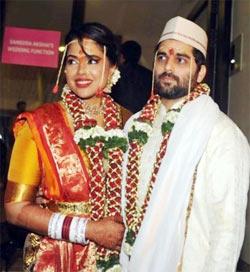 Actress Sameera Reddy is now Mrs Akshai Varde.

The wedding, held on January 21, was so sudden that even her closest friends were not aware of her plans.

Sameera explains, "Months of painful planning causes so much stress for the parents. The couple itself is in agony over every issue from clothes to guests to their future together. Akshai and I were supposed to marry in April but then we decided to take the plunge right away.

"My sister Meghna was down from abroad with her baby, and so was Akshai's sister. They wouldn't have been able to travel again in April. Besides, the pundits kept saying January 21 was an auspicious day," she adds.

Sameera says it was a perfect wedding with just close family and friends.

"My sister Sushma arranged everything in just 10 days," Sameera says. "(Designer) Neeta Lulla was asked to get me either a traditional Maharashtrian or South Indian sari with no accessories and jewellery. I had spent 11 years of my life decking up on screen. For my wedding, I wanted a minimalist look. We finally opted for simple South Indain sari. I guess that was the 'Reddy' side of asserting itself."

Sameera and Akshai are both Maharashtrian Brahmins. And they share a penchant for motorbikes.

"Akshai has his own range of mo'bikes. That's how we met. I love mo'bikes and riding them is my passion. Akshai saw me whizzing past on this really mean macho machine. I think he was impressed. Our relationship started there. We have known one another for years. Akshai is well-known in his own field but not part of showbiz. I think that was very important for me. I wanted to marry outside the film industry," Sameera adds.
"My only condition was that we should exchange wedding vows silhouetted by the sunset. Now where to find the sunset in Mumbai? Sushma was going mad until she suggested the terrace of my own apartment. That's where we exchanged wedding vows at exactly 6.30 pm," she continues.
Post-wedding, Akshai took the guitar and sang an Eric Clapton song for his bride.
There were no celebrities at the wedding, except for industrialist Vijay Mallya. "Vijay Mallya is related from my mother's side and gave me away," says Sameera.
Though the wedding was perfect, the honeymoon would have to be postponed.
"Akshai has to attend to an auto-expo in February. We'll go on our honeymoon after that. It will be a biking trip!"
Photograph: Abhijit Mahmunkar