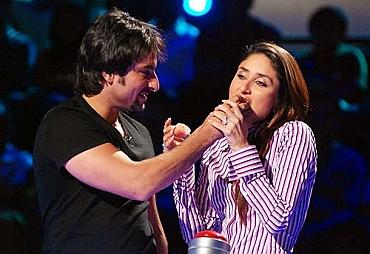 The sprawling Pataudi Palace in Pataudi (Haryana) will come alive to the tune of Shehnai when cine actor Saif Ali Khan marries Kareena Kapoor, his sweetheart of many years on October 16 this year.
Sources have confirmed that the marriage which has been under heavy speculation for long now is likely to be fixed for October 16 while the mehndi and sangeet will take place on October 15.
The two day festivities will be hosted by mother and yesteryear's Sharmila Tagore at the Pataudi, the traditional seat of the Nawab of Pataudi. After the death of Mansoor Ali Khan Pataudi last year from ILD (a lung disease) Saif has been "anointed" as the new Nawab while his non-actor sister Saba is in-charge of the wakf properties and would be looking after all the religious ceremonies which were under the charge of the former Nawab.
It is learnt that the entire Kapoor khandan is expected to attend the wedding and they would be staying in Gurgaon. This is the first wedding for Kareena, and the second for Saif who has two children from his earlier marriage.
A number of the late Pataudi's cousins who are settled in Pakistan, including two former foreign ministers are expected to attend the celebrations while politicians from the Congress, actors from Bollywood, actors and directors from Bengali cinema from where Sharmila began her film journey and some close friends of Pataudi from the cricket world are also expected to be on the guest list.
The high-profile wedding which has been under scanner for some years  now, is expected to generate a great deal of interest, but sources said that because of the death of Nawab of Pataudi, Sharmila wants to keep the festivities muted.
But despite that, the festivities will be high voltage including a rock band, as well as qawwali singers from across the border.