Television channel 9X has launched a reality show that also sounds relatively new. Vodafone Yeh Hai Jalwa is a dance show that showcases not only television stars, but also common people from different walks of life.
Nine celebrities -- Ronit Roy, Shweta Tiwari, Varun Badola, Rosa Catalano, Rohit Roy, Prachi Desai, Hussain Kuwajerwala, Rakhi Sawant and Sharad Malhotra -- will lead teams comprising of five members each. Popular TV ladies Smriti Irani and Saakshi Tanwar will host the show.
Ronit Roy, best known for playing Mihir Virani in Kyunki Saas Bhi Bahu Thi and Mr Bajaj in Kasautii Zindagi Kay, follows up his Jhalak Dikhla Jaa attempts by shaking his legs for this new dance show. He spoke to Rajul Hegde about the new show.
Tell us about Yeh Hai Jalwa.
It's a unique dance show. It will have nine teams, and a celebrity from Indian television will mentor each team. Each team with have six participants -- one celebrity and five people from different walks of life. I will lead white-collared workers in the Bindaas Bosses team.
You have danced in Jhalak Dikhla Jaa earlier, and now you are mentoring a team. How does it feel?
Over the last six months, I have learnt a lot about dancing. I don't think myself as a mentor but as a part of the team.
What strategy are you going to use to train your team?
I enjoy dancing, I dance for myself and I don't like to get into any kind of politics. I plan to share my knowledge with my team, because I know it takes a lot to be a dancer. We will try to bring out something exclusive every week. We normally practice for six hours. Most of my team-members are working, so we meet up in the evening for rehearsals.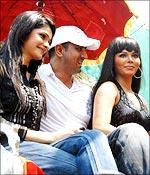 Tell us something about the team?
We have two boys and three girls in the team. They all are hard working. They are undergoing physical training to remain fit. The first two-three episodes, I will teach the basics and then let's see. They have also got a good platform to show their skills.
How did the selection happen?
I selected people who knew a little bit about dancing, and are flexible. I didn't want people who are stiff, because we don't have much time and it takes years to teach a non-dancer. The team I have selected has people who are very keen on learning, and it's all for their betterment.
There are so many reality shows coming on television. Don't you think it is becoming monotonous for the viewers?
You should ask this question to the viewers. I would say that viewers have a choice.
What is the USP of the show?
The USP is the line-up of celebrities mentoring laymen. Dancing is freedom, an artist's medium that can display emotions. I plan to put my best foot forward with my team and enjoy this experience.
There are no judges in this show?
There is no bigger jury than the people who will be watching our show on television. Having viewers as the jury on the show will ensure that the participants concentrate on the them (TV audience).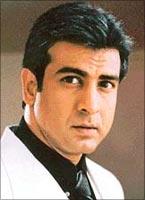 Is there any pressure on you with dancers like Prachi Desai, Rakhi Sawant and Shweta Tiwari?
Who is not a good dancer? Hussain, Rohit Roy, Varun are all good dancers. It is very difficult to point to one of the participants as a tough competitor.
You have already shot for an episode. What has the experience been like so far?
Wonderful, it's a great experience. The channel and production house are very supportive, and we are all having fun.
In this show you are competing against your brother Rohit Roy. How does it feel?
I am a person who lives in reality. Every moment is real for me and that reflects in my performance. Currently, I am not thinking of who will win or lose but only about providing the audience with a good performance every week. At the end of the show someone has to win. If it's me I will be happy, and if someone else I will still be happy.
Will it make a difference to the show because Sakshi and Smriti are the hosts?
I am not here to gauge anyone. We have a fabulous team; popular faces as hosts and a line up of celebrities who will provide participants with tough competition. It's surely going to be a big show.
Can we expect more drama since Rakhi Sawant is there in this show?
No comments.