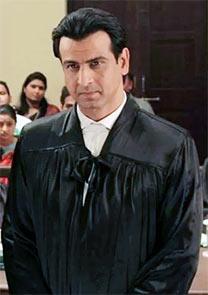 With Ram Kapoor opting out of his long-running serial Bade Achche Lagte Hain to focus on a movie career, rumours are rife of television's other ruling star Ronit Roy also bidding adieu to the small screen.
Apparently, Ronit Roy has served notice on the makers of his long-running serial Adaalat, as he wants to concentrated on his film career.
Say a source close to the project, "Ronit has done Adaalat for four years now. We think he's getting restless. He has been critical of the serial and has been expressing his displeasure to the makers. We have good reason to believe he is wrapping up his commitment towards Adaalat as he wants to build his career in cinema specially after Ugly -- the film which he plays the main lead -- releases."
When contacted, Ronit rejected the suggestion that he was leaving the show.
"It's been on air for four years and we all feel that Adaalat should go to the next level," he says. "The dissatisfaction that you speak of is due to our desire to improve the quality of the serial. We are raising the bar. We will be shooting better scripts, trying to get in more writing talent, better actors, and better production values."
Ronit reveals that the parent channel Sony Entertainment Television intends to take Adaalat to the next level. "The channel's plans have been shared with me in confidence. So it would be unethical of me to talk about them. All I can say is, Adaalat is not going anywhere."
Ronit says he will never give up television. "Television gave me a new lease of life. I was reborn as an actor on this medium. How can I abandon it? How can I disappoint my audience?" he asks.