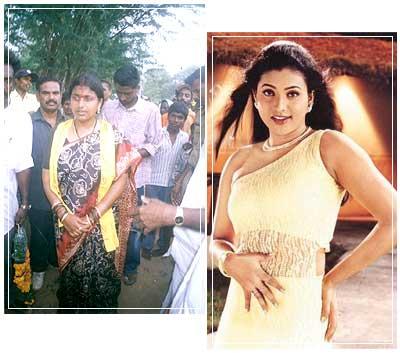 Think Roja and you would think gorgeous smile, luscious lips, limitless joy.
You would remember her matching Prabhu Deva step for step; clad almost always on screen in skirts, shorts, and low blouses; looking fresh and divine.
Then she decided to stand for election.
Rumours say she has a brother who borrowed a lot of money misusing her name and she is called to court frequently. Apparently, she believes that once she becomes a politician, people will think twice before suing her. Also, she can then put her brother in his place.
And then you come face to face with the actress. One word strikes you when you see her campaigning in Nagari, the southernmost district of Andhra Pradesh: letdown.
The heavenly Roja of the big screen turned out to be a sweaty, exhausted, ungainly figure in a sari. You could be excused for not believing that you were actually seeing the actress in the flesh.
Roja had had to walk in the unforgiving sun around the village that must have spanned a kilometre. She was mobbed and garlanded every 25 feet. With the temperature in the soaring 40s, she soon tired.
She said no more than "Vote for cycle [the Telugu Desam Party symbol]."
No local issues, no state issues, no national issues. Only the symbol.
She appeared all at sea, with no script but her presence of mind to rely on.
After about 500 metres, she called her car and whizzed off.
Some more thoughts strike you: she will probably win. But it is unlikely that she will visit Nagari again. So what will she do with the vast amounts of money that she will get to develop her constituency?