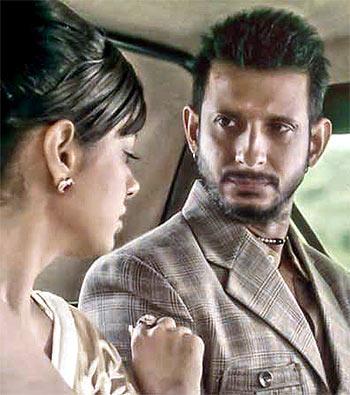 Lots of love songs in the horror movie, 1920 London, writes Aelina Kapoor.
After being stuck in the cans for a long time, 1920 London is ready for release.
Directed by Tinu Suresh Desai, the horror film is written by Vikram Bhatt and stars Sharman Joshi and Meera Chopra.
The opening track Aaj Ro Len De is put together by Sharib Sabri. Playing the triple role of a composer, lyricist (along with Toshi Sabri and Kalim Shaik) and singer, Sharib doesn't intend to break any grounds. Instead, he follows a template for this sad-happy song.
Sharib Sabri makes his presence felt once again in Azeem Shirazi-written Rootha Kyun, sung quite well by Mohit Chauhan and newcomer Payal Dev. The girl has been heard before in films as varied as the Grand Masti title song and Bajirao Mastani (Ab Tohe Jane Na Doongi). She does well again here, and gets the romantic quotient right.
It has been a while since one heard a chartbuster from Shaan and if Sharib's composition and Azeem's lyrics in Tujhko Mein is any indication, he will have to wait for a while. Though this one is a harmless love song, the vintage element doesn't allow it to cover much distance.
Kaushik and Akash from J.A.M. deliver Aafreen with Prashant Ingole that turns out to be the best song of the album. With a catchy hook to it, this one keeps reverberating in one's mind, courtesy KK's powerful and impressive voice. It is good to see Antara Mitra coming on board as well and together they deliver a potential hit.
The music of 1920 London keeps you engaged for most part and promises to gel well with the film's narrative.
Rediff Rating: