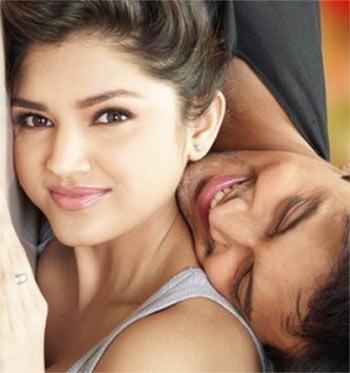 As the protagonists fall in love in The Perfect Girl... Ek Simple Si Love Story, you and I fall out of love with the film, warns Paloma Sharma.
Erstwhile animator Prakash Nambiar's The Perfect Girl... Ek Simple Si Love Story lives up to its promise.
The film is really simple.
In fact, it is so simple that you just cannot take it seriously.
Jay (Teeshay) is a 35 year old doctor, who quit a career in medicine in order to be a filmmaker. But so far, he has neither made a film nor any money.
His career choices cause him to have a falling out with his overbearing father while his indulgent mother believes that all her son's problems will end if he gets married.
Because that is totally logical. Totally.
The film soon (read: conveniently) forgets that Jay is a broke 35 year old, who lives on his parents' kindness and has made nothing of himself despite ample opportunity.
Instead, it chooses to focus on how his non-existent love life needs to be fixed in order to fix him as a person.
One night over a couple of drinks with his friend, and hours of philosophising about women, Jay reveals he hasn't even been with anyone in the last 14 years since he's already fallen in love once and cannot see himself with any girl but the one he met on a bus stop in Paris when he was 21.
Unsurprisingly, a flashback follows and we meet the girl of Jay's dreams, Vedika (Tara Alisha Berry).
As the two of them fall in love with each other, you and I fall out of love with the film as it progresses.
Deriving 'inspiration' from Richard Linklater's Before trilogy, The Perfect Girl sees the two strangers
turn into friends and part as lovers.
Although rom-coms have a relatively less scope for suspense, one cannot excuse The Perfect Girl on the basis of genre for the sense of predictability that weighs it down, as the 100-minute long film progresses.
Shiva Bayappa's precise cuts cannot make up for the film's unstructured scenes and rambling, pointless dialogues. Although Bayappa does his best to cut it short, The Perfect Girl feels like it runs on for hours.
Girish Kant's lush cinematography lets the not-so-wealthy amongst us to enjoy Goa for the cost of a theatre ticket. Kant uses natural light to illuminate delicately designed frames and paint pretty pictures on the cellulose canvas -- pictures that Nambiar fails to take advantage of.
Teeshay and Tara appear to be good actors but the characters assigned to them are difficult to relate to and emotions jerk from one gear to the next without much link. The bonding between the protagonists seem not only fake but down right ridiculous.
The Perfect Girl makes cheap attempts at humour. Besides, the film insists that women hold the sole right to causing heartbreak.
A shinning example of this can be found right in the beginning of the film where Nambiar spoofs the anti-smoking commercial that cinema halls are obliged to play before any screening. During the spoof, the doctor asks why some patients got sick enough to be admitted and you'll hear explanations like "girlfriend ke kharche se pareshaan" crop up. "Ladki patana," the spoof harps on, "sehat ke liye hanikarak ho sakta hai".
The Perfect Girl has caused a crater to form on my desk because I keep hitting my head against it as I recount this less than perfect slow poison of a film to you.
Rediff Rating: