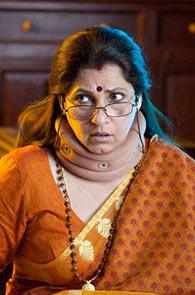 Raja Sen says What The Fish is an abysmal effort.

I haven't ever really had the reason to think about it, but I suspect I could be called pretty biased in favour of movies with the word "fish" in the title. (Yes, yes, bring on the Bengali jibes.)

Be it the eternally cool Rumble Fish, the fake-Facebooking documentary Catfish, Andrea Arnold's evocative Fishtank, Tim Burton's marvellously magical Big Fish and, head and shoulders above them all, one of the finest comedies in all of English language cinema, John Cleese's flawlessly plotted and deliciously cast A Fish Called Wanda.

The reason I reflected on this odd fondness for films of a piscine bent was Gurmmeet Singh's What The Fish, an abysmal effort and a complete blot on the fishy escutcheon.

There is a solitary gag -- that of a fish who is never fed, with disastrous results -- and this is repeated over and over and over again, ad nauseum.

As ideas go, that one smells particularly unhygienic.

Dimple Kapadia, in possibly the most forgettable role of her career, shows up as a cantankerous aunt, and while one must feel bad for her being in a film this mediocre, I'd like to assume she only shot her scenes -- there are but a couple, really --
in a day, and got paid well.
By themselves, the performers aren't bad: Manu Rishi Chaddha, Manjot Singh and Anand Tiwari can always be counted on to act themselves out of whatever paper bag the script may be made of, (and the young lady who plays Gopa was really rather good) but there truly is no meat to this misadventure.
It doesn't interest, it doesn't amuse, it doesn't matter.
Which is a pity cause genuine fun could have been had here.
It's rare to see a Hindi film bereft of a heroic character, and not just does this film not have a singular true protagonist, but it features a slew of exclusively selfish characters, almost all of whom lamentably take the aforementioned fish for granted.
There could have been some truly vicious invective here, instead of which we're merely given many an accent, all in the name of quirk.
It's one thing for moronic characters to take a fish for granted, but entirely -- and unforgivably -- another for a director to do the same with this audience.
Fry it again, director.
Rediff Rating: