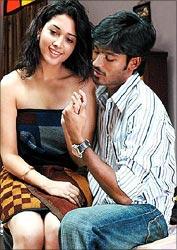 Pavithra Srinivasan feels Tamil film Venghai is an overdose of rural action. Post YOUR reviews here!
The standard formula for director Hari's film goes something like this: Take a couple of hundred
aruvaal
s or scythes, add liberal doses of a fiery hero who bashes men and speaks in a monotone about home, values, and family ties. Then mix well with four or five of Devisri Prasad's songs which sound the same, throw in a couple of tea-spoons of glamour in the form of a dazzlingly white heroine, bake in the oven of sentimental melodrama, and serve spicy hot -- with a dash of comedy sprinkled on top.
It works sometimes. In
Venghai
, though, a Vijaya Production (received with victorious yells by the audience), it doesn't. Hari pretty much goes with the same formula, with large doses of action, and all you can think of is how soon will it end. But first, the factors that actually make some parts of the film watchable.
Raj Kiran. As unlikely as it may seem, this middle-aged man who plays Veera Pandi, wealthy landowner and father figure to numerous villagers, manages to be righteous, just, and fair, without sounding like a caricature. With numerous men at his beck and call, he wields a power that's almost unheard of, with everyone willing to lay their lives at his feet in an instant. And yet, his love for his son Selvam (Dhanush) is a wonderful thing. His tension and anger when he sees his bloodied and battered son, and wants instant retribution, is a nice touch. Such human reactions warm your heart.
The plot-point that connects Radhika (Tamannaah), Selvam's love-interest who, at first simply ignores him and later falls for him, was a smart move, considering how under-utilised heroines usually are. Unfortunately, considering the build-up it is given, this dissipates soon enough.
When he is not mouthing his dialogues in a monotone, Dhanush's acting is quite good. When he opens up and lets his emotions show, whether it is love for a woman or affection for his father, he really does make you sit up. His screen-presence is one factor that keeps you in your seat.
The pity is that the disadvantages rather outnumber the plus-points, beginning with the tired story-line. We are back in
the rural wilds of Tamil Nadu that abound in sharp weapons, death, and destruction. Scythes (the preferred weapon of destruction) are raised, blows are given, blood splatters and this sequence is repeated every five minutes. Even worse is the justification for all this mayhem that director Hari puts into the mouths of his leading men: "It's wrong if your raise an
aruvaal
to kill, but you can use it to defend yourself" – and then back they go hacking everyone in sight without remorse. Every plot twist is predictable. Hari doesn't seem to have been able to concentrate on any one angle and the story goes in every direction without purpose.
By now, Prakashraj must be tired of roles like the one he is called upon to play in
Venghai,
of the stuttering Rajalingam, a minister whose sole aim in life is to destroy Veera Pandi and Selvam, a la
Ghilli
. Nothing else seems to matter. He makes several staggeringly idiotic moves and is foiled every time despite the enormous power he wields.
None of Devisri Prasad's numbers ever stay in your mind (despite their previous collaboration,
Singham
, being a hit). And then there's Tamannaah, who usually appears neatly attired in classy dresses but suddenly takes to wearing skimpy clothes that display her midriff. She looks so dazzlingly white that you want to reach for your sun-glasses.
Ganja Karuppu is supposed to provide some comic relief but his idea of a joke is so lewd and crass it has you squirming in your seat. Equally wasted is Charlie, who makes a welcome return to the big screen, but is given little opportunity to display his talent.
There are fewer punchy dialogues but the ones that do exist make you laugh: "
Paruppunna mundhiri, padhavinna mandhiri
!" is a hilarious example. No wonder Dhanush sleepwalks through most of his part looking bored.
Vetri's camera-work and V T Vijayan's editing manage to scrape through largely because there is not really much for them to do. Secondary characters like Urvasi, Ponnambalam
et al
barely make an impact.
Hari does have a knack for conveying sentiment and emotion in his stories, but it is so overlaid with unnecessary bloodshed, repetitive action and predictable plot twists, that after a point you lose interest.
Venghai
is an overdose of rural action.
Rediff Rating
: