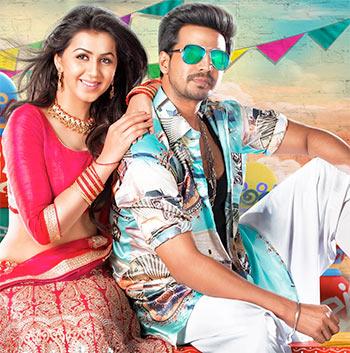 At 2 hours and 20 minutes, the film seems painfully long and tedious, feels S Saraswathi.
Director Ezhil appears to be fixated on mindless, rural-based romantic comedies with a non-existent plot.
After disasters like Desingu Raja and Vellaikaara Durai, the filmmaker has now come up with Velainu Vandhutta Vellaikaaran, starring Vishnu and Nikki Galrani of Darling fame.
Also essaying a significant role in the film is comedy actor Soori, who has become a regular face in Ezhil's films, and the hilarious Robo Shankar.
The film is produced by Vishnu in association with the director's home banner, Ezhilmaaran Production.
Velainu Vandhutta Vellaikaaran revolves around a bunch of silly and greedy politicians trying to outdo each other to win a ministerial post.
Jacket Janakiraman (Robo Shankar) is an MLA, who is the favorite of a senior, ailing minister. All the other members of the party hate him as Janaki considers himself the minister's natural successor.
Just before his death, the minister reveals the whereabouts of a Rs 500 crores treasure to Janaki, asking him to use his ill-gotten gains for the benefit of society so that the minister's many sins are washed away.
Unfortunately, Janaki is involved in a bad car accident and the trauma to his head causes him to regress back to his childhood.
Meanwhile, we are introduced to the protagonist, Murugan (Vishnu), Janaki's right hand man and a problem solver. He is in love with Archana (Nikki Galrani), an aspiring police officer.
To get her a police posting, Archana's father entrusts Rs 10 lakhs to Murugan, who gives it to the minister just before his accident. But with Janaki behaving like a 10-year-old, reciting rhymes and eating lollipops, Murugan becomes the suspect.
The second half of the film is all about the silly hunt for the Rs 500 crore treasure, and Murugan's attempt to get back the Rs 10 lakhs for his lover.
The usually subtle and understated Vishnu is not typically seen as a commercial hero. And though he makes a convincing attempt, he does seem a little over enthusiastic in his all new avatar.
Nikki Galrani's introduction scene shows her flying around, tackling the bad guys midair and, later, donning the khaki. However, her role has nothing substantial to offer.
Soori and Robo Shankar provide some entertainment with their excellent comic timing, but even their acts seem repetitive and tiresome.
The background score by C Sathya is unremarkable, with fast beat songs irritatingly popping up every few minutes.
At 2 hours and 20 minutes, the film seems painfully long and tedious. There are some brief moments of fun, but the humour seems mostly forced and the narrative scarcely moves forward.
Technically ordinary with over-the-top music, weak screenplay and poor editing makes director Ezhil's Velainu Vandhutta Vellaikaaran is a forgettable film that is not worth your time.
Rediff Rating: