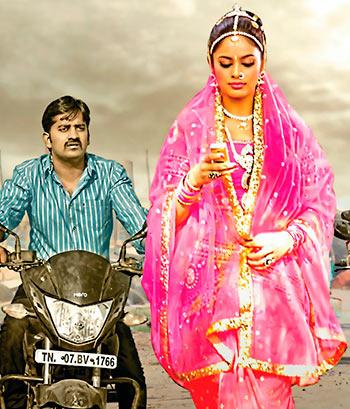 Despite the poor technical support and the monotony, Radha Mohan's Uppu Karuvaadu leaves you with a smile, says S Saraswathi.
Director Radha Mohan's Gouravam, about honour killing, was a major disaster at the box office. So, the director opts for a breezy comedy for his next release.
Uppu Karuvaadu, starring Karunakaran and Nandita Swetha, attempts to portray the ordeals of a struggling director.
Chandran (Karunakaran) is a passionate filmmaker trying to make a name for himself in the industry. But all he has to show for his 15 years of struggle is a film that was a total disaster and another that was shelved midway.
He gets his third opportunity on the condition that the producer's daughter Maha (Nandita) is cast as the heroine. Chandran is forced to accept and along with his team of associates -- Ilango (Chaams), Karthik (Narayan Lucky) and Stephen (Doubt Senthil) -- begins rehearsals.
To their dismay, they realise that Maha just cannot act. To add to that, she throws temper tantrums and runs to her mother at the slightest provocation.
The second half is all about whether Chandran can fulfill his dreams
The director gives us an insight into how a script is developed during its initial stages; the scene discussions among the assistant directors is hilarious. Every character in the film has its own quirky trait and everyone excels, especially Senthil and Chaams.
MS Bhaskar, who plays the producer, Mayilswamy as the production manager and Elango Kumaravel, who has worked with Radha Mohan in almost all his films, provide able support.
As for the lead actors, Nandita of Attakathi fame gives a delightful performance as an immature and narcissistic diva. Her glamorous avatar is quite unlike her usual girl-next-door characters.
Equally convincing is Karunakaran, who is slowly proving himself in a wide variety of roles.
Music by Steve Vatz is average; the songs are boring and tiresome.
Cinematography and editing also could have been better. The film drags at times, especially post interval. Also, some scenes are repetitive.
Watching the film, you realise how unexciting the glamorous world of cinema actually is. Until it finally comes together, the film-making is not all it is hyped up to be. In reality it can be quite drab, banal and monotonous.
What works for the film are its characters and their eccentricities, the perfectly chosen cast and the situational humour that keeps the audience in splits throughout.
Despite the poor technical support, monotony and deliberate pace, director Radha Mohan's Uppu Karuvaadu leaves you with a smile.
Rediff Rating: