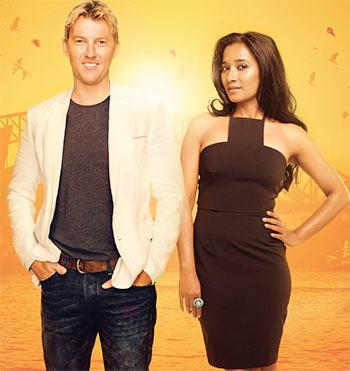 UnIndian is worth a watch if you love feel-good romcoms, feels Namrata Thakker.
After conquering the world of cricket, former Australian fast bowler Brett Lee tries his hand at acting.
Directed by Anupam Sharma, UnIndian is a cross-culture love story which is funny in parts and watchable, thanks to its not-so-long run-time.
The story follows any other romantic comedy: a boy meets a girl, they fall in love but of course, their happy ending doesn't come easily.
Set in Australia, Will (Brett Lee) is an Aussie-English teacher and Meera (Tannishtha Chatterjee) is a single working mother.
When Will sets his eyes on Meera at a Holi party, he instantly falls in love.
But he is not Indian enough for her and hence, their love story cannot have a happily-ever-after.
But Will refuses to give up easily and decides to learn Hindi and much more about the Indian community. His best friend TK (Arko Das) is an Indian, and comes to his rescue.
On other hand, Meera's parents are adamant about fixing her up with a nice Indian guy.
Can Will win her over? Watch the film and see. And yes, this is a recommendation if you love feel-good romcoms.
Brett Lee may have bowled over many with his cricketing skills but where acting is concerned, he has a long way to go. He needs to bring in some variations to his expressions.
Having said that, Lee has a good screen presence and he did manage to keep me glued to the screen for most part of the time. And the way he does Salman Khan's Kick dance moves is absolutely hilarious.
His co-star Tannishtha Chatterjee plays her part well, and stands out in the film. But no surprises there.
Supriya Pathak, who play Meera's mother, is quite funny but doesn't have much screen time.
The rest of the supporting cast -- Akash Khurrana, Pallavi Sharda, Gulshan Grover and Arko Das -- are just about okay.
UnIndian reminds me of cross-culture films like Bride and Prejudice and Bend It Like Beckham.
While the first half of the film is easy on the eyes, the second half has a lot of melodrama, making it boring.
The film isn't void of typical Bollywood clichés either but the endearing romance between Lee and Chatterjee makes UnIndian a decent watch.
Rediff Rating: