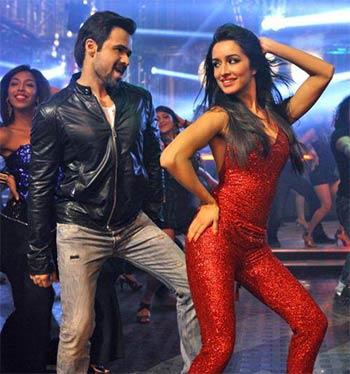 Much as you try to like this film, you end up feeling sad as the Ungli turns limp, says Prasanna D Zore.
Director Rensil D'Silva and dialogue writer Milap Zaveri team up to dish out an inane thriller that lacks originality as well as a solid plot.
Ungli is about four friends -- Abhay (Randeep Hooda), Maya (Kangna Ranaut), Kaleem (Angad Bedi) and Gautam alias Goti (Neil Bhoopalam) -- and their brave attempt to clean the system of corruption in their unique vigilante style.
The friends are united by a tragedy that befalls their friend Rajeev (Arunoday Singh).
That makes them wear masks, roam the streets of Mumbai at night, kidnap corrupt officials in a van, video tape their acts of wrongdoing and send the tapes to news channels to expose the system and change it for the larger good.
In the process, they become known as the Ungli gang.
D'Silva does try to inject a sense of thrill by introducing Sanjay Dutt as ACP Ashok Kale (who his immediate superior calls 'Kali'; what an effort to convey that the superior doesn't know the local dialect!), who in turn seeks help from Nikhil Abhyankar (Emraan Hashmi) to arrest the Ungli gang because Abhyankar is one of those cops who thinks like a criminal.
But that's about it.
The plot turns flaccid, banal and as straight as your ungli once Abhyankar infiltrates the gang.
One expects a cat-and-mouse game to follow this development, some twists and turns to make you reach the edge of your seat, but you end up feeling disappointed.
The gang sets about to clean the system and does it without any hiccups.
One must make special mention of Zaveri's dialogues. Nobody can beat this hilarious 'Aansoo-on se sirf whiskey dilute hoti hai' as Abhyankar sets about encouraging Kale to take the fight against corruption to its logical end.
Of the cast, only Randeep Hooda shows some guts and style in essaying the role of a crime reporter-turned-system-cleaner but his ungli (I mean effort) falls flat as they go about exposing corrupt pension officials, traffic police and the wheeler-dealers who broker police transfers for a fee.
There is not much to comment on Neha Dhupia's role as a television anchor-cum reporter who first takes the initiative to scoop the details about the Ungli gang and later whimpers that her boss yells at her because she has failed to make any inroads. So much for characterisation!
The worst part of Ungli is the way the climax unfolds.
The vigilantes go about exposing the Dayals -- Mahesh Manjrekar and his son Rajat Kaul -- without the latter doing any ungli to repulse the four friends. The scene just begins and ends in a blink-and-you-miss moment!
Ungli begins with a bang and that's about it!
Rediff Rating: