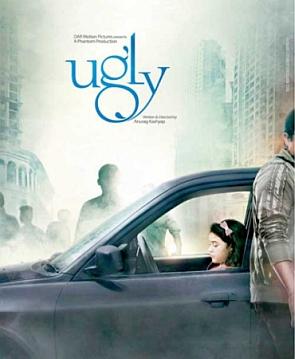 Ugly -- a constantly riveting, ticking timebomb of a film -- is by far Kashyap's finest film, says Raja Sen

The cop wants to know how caller ID can display the picture of the person calling.

It is a nightmarish situation, with your daughter kidnapped, your wife unaware, and you panicking in a police station, desperate to get things moving in... well, in some direction. Any direction.

And the cop wants to know about smartphones and caller display pictures. It is best, you think, to just show him so he can stop picking needlessly at this minor detail, so you decide to take a picture of him. At which point this Inspector straightens his policeman peak-cap and poses for the phone camera.

This moment from Anurag Kashyap's Ugly is an absurd but pitch-perfect sequence, one of existential exasperation and harrowing helplessness.

A little girl has been kidnapped from a car and here we are all of us -- victim, friend, audience -- standing at a police station, watching an Inspector smile into a phone. The horror is kafkaesque, and yet, because of the way the director plays it, entirely relatable, macabre to the point of being satire and yet chillingly all-too-real.
Ugly -- a constantly riveting, ticking timebomb of a film -- is by far Kashyap's finest film.

It is a visceral, frequently surprising ride, a dark thriller (not for the faint of brain or the morally queasy) that surpasses the shadowy greatness we witnessed in Kashyap's masterful Black Friday several years ago.

Ugly works even better perhaps because here, unencumbered by the need to stick to facts, he can give his characters and their demons free rein over the proceedings.

All we know is that a girl has been kidnapped. We think we know things around that, but Kashyap surrounds us with enough moving pieces (and their furtively shifting motives) for us not to be certain of anything else.

The girl's father is a desperately struggling actor, her mother is a whiskeyed-out wife too jaded to lift an eyebrow, and her new father is a tough-as-nails police chief who hates the actor his wife used to be married to. And that's just the simple bit, Ugly is all about wheels within wheels.

The films could have been a gripping enough police procedural, but it is in these frisky, fickle motivations that the film finds its odd, brutal rhythm.

Every character in the film looks to be hiding something, everybody's lying to somebody around them, and as things heat up and masks are worn and discarded, Kashyap makes all his characters supplicate in front of the deity of Opportunism.

This is where the storytelling excels, in shifting gears and making you root for one character, then another, then another, without ever pointing in the obvious direction.

Just like a chase sequence right before the police station sequence I mentioned earlier, nothing here turns out like you expect -- and there are things that may well make you gasp.

The performances are striking, but it'd be criminal to not single out three in particular: Tejaswini Kolhapure, who, as the mother of the kidnapped child, wears the hangdog look of surrender so hauntingly it hurts; Girish Kulkarni, playing the sharp but frustrating police inspector and grounding Ugly into a very real zone; and Vineet Kumar Singh, playing a slimy casting director who has lots to hide up both his sleeves.

Ronit Roy is solid as ever as the cop who doesn't mind cracking a few harmless skulls if they lie in his way, and Rahul Bhat does well as the actor so convinced of his own star-quality that he's already changed his name.

Kashyap's cinematographer Nikos Andritsakis (who has previously excelled with Dibakar Banerjee films like Shanghai and Love Sex Aur Dhokha) composes frames that appear highly natural and yet are highly dramatic frames.

The actor's blue-walled little house, for example, is shot almost as if a graphic novel was the storyboard, all blues and blacks and a disarming use of contrast to hide details that might otherwise tell too much.

Kashyap's use of visual motifs -- bindis on a mirror, scratches on a car -- is present here but in more blank-verse style than overtly poetic. The result is a cinematic universe so teeming with possibility that, like Fargo, it could have a television show living within it.

This is, in many ways, Kashyap's least indulgent film, because, having cooked up a meaty plot, he chooses not to obscure it with style and gravy, but instead thicken his pot with intrigue.

Then again, sculpting a film this dark and twisted, a nearly nihilistic film, may well be called a work of misanthropic indulgence in itself.

There are a couple of moments where he goes overboard, one of which accompanied by a song and celebration, but where would the fun be in an Anurag Kashyap film without flourish?

Ugly is a tale of torment, masterfully woven around the universally urgent trigger of a disappearing minor — and yet where, in the larger scheme of things, that kidnapping itself becomes, I daresay, a minor detail. Genius.

Rating: