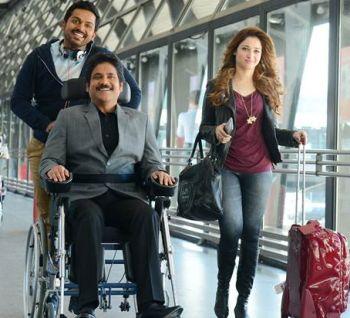 Karthi and Nagarjuna are perfectly cast and share a great chemistry, feels S Saraswathi.
Director Vamsi Paidipally's Thozha starring Nagarjuna Akkineni and Karthi has been simultaneously shot and released in Telugu as Oopiri. And, the film definitely strikes the right chord.
It is the remake of the critically acclaimed and hugely successful French comedy-drama The Intouchables that portrayed the beautiful friendship between a quadriplegic billionaire and his less-privileged caretaker.
Karthi plays the role of fun loving, laid-back Seenu, working and earning a living for the first time in his life. His effortless spontaneity keeps the momentum of the film going despite the run time of nearly 3 hours.
The charismatic Nagarjuna is perfect as a middle-aged billionaire, Vikram, who is bound to a wheelchair after a paragliding accident.
The film has little scope for him to showcase his lover boy image, but there are moments when the seasoned actor bowls you over with his natural charm.
The film deals with how Seenu and Vikram slowly bond, complementing each other perfectly.
Seenu is thrilled with the opulence and grandeur surrounding Vikram, while it is Seenu's casual acceptance and simple pleasures that endears him to Vikram.
There is a lot of fun, but the emotional bonding between two completely dissimilar personalities, from different social backgrounds and lifestyles, is beautifully woven into the narrative.
This is no drab and dreary tale of two disadvantaged individuals, but rather one of hope, love and finding happiness. The director maintains the right balance between sentiments and the easy camaraderie and philosophical musings shared by the duo.
Prakash Raj, who plays Nagarjuna's friend and legal advisor, adds to the fun and his scenes with Karthi are simply hilarious.
It is the various sub plots packed with mother, brother and sister sentiments that seem totally out of sync with the narrative.
The film could have been crisper and more meaningful without the irrelevant cliché ridden drama and the mandatory item number and love song.
But that takes nothing away from the essence of the film. Karthi and Nagarjuna are perfectly cast and share a great chemistry.
There is an unpredictability in the nature of their relationship with a delightful twist that that keeps you smiling throughout.
However, Tamannaah who plays Vikram's personal assistant Keerthi, adds little to the film. Anushka Shetty and the lovely Shriya Saran make brief cameo appearances.
Despite the unnecessary masala additions, great performances, a refreshing screenplay and some stunning visuals make director Vamsi Paidipally's Thozha a breezy, fun-filled entertainer that is definitely worth your time.
Rediff Rating: