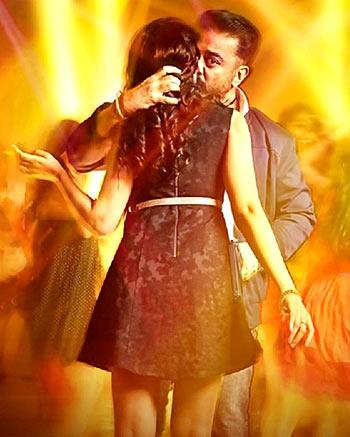 Thoonga Vanam is definitely not your regular thriller, writes S Saraswathi.

Kamal Haasan's Thoonga Vanam is an adaptation of Frederic Jardin's French thriller Sleepless Night.
Directed by Kamal's long-time associate, Rajesh M Selva, the film revolves around the cocaine mafia and Narcotic Bureau.
The film opens with an exciting drug heist staged by two senior officers CK Dhiwakar (Kamal) and Mani (Yugi Sethu). They flee with over 10 kilos of cocaine but their joy is shortlived.
Dhiwakar's young son is kidnapped by Vital Rao (Prakash Raj), a dangerous drug dealer, who is under pressure to deliver the drugs to someone higher in the chain.
Dhiwakar is now desperate to return the drugs and free his son. But redemption is not easy and he gets sucked deeper and deeper into the mess. He gets investigated by two other officers of the bureau, Mallika (Trisha) and her colleague (Kishore).
With both the good and bad guys after him, Dhiwakar is slowly running out of time.
Almost the entire film has been shot inside a nightclub, where everyone appears to be chasing the other, without any success. Most of the fight sequences are shot in the kitchen.
Thoonga Vanam is definitely not your regular thriller.
Director Rajesh has chosen not to stray from the crux of the story. There are no songs to mar the narrative nor does he waste time on unnecessary emotions. But there is plenty of humour to keep you entertained.
Kamal, who gets himself injured in the very first scene, appears almost exhausted throughout. He is not your one-man army with a mission to decimate his enemies.
There are no undue theatrics and the fight sequences have been intelligently shot.
Prakash Raj has proved over and over again that he can play the perfect antagonist. He injects the right menace, while adding a light humour to his unpredictable antics.
Trisha makes all the right moves and even looks the part, but her character has little to offer in the film. She keeps disappearing and appearing at odd intervals along with Kishore and Asha Sarath, who plays Kamal's ex-wife.
The film's only downside is the lack of pace. There are no edge-of-your-seat or nail-biting moments. It is a deliberately-paced film that fails to convey the sense of urgency or the underlying danger that could have made it more exciting. In fact, the narrative appears to be happening in almost real time.
Nevertheless, the intriguing plot, good performances, Ghibran's innovative background score and camera angles of Sanu Varghese make director Rajesh M Selva's Thoonga Vanam worth a watch.
Rediff Rating: