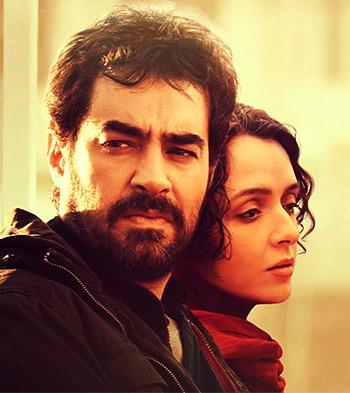 Sukanya Verma gives her reasons for watching The Salesman.
Asghar Farhadi's gift to anticipate danger in ordinary scenes and pick on unspoken torment around a narrative stoked by ambiguity lends his cinema a frightening authenticity.
The Salesman, which earned the acclaimed Iranian filmmaker his second Oscar for Best Foreign Film early this year, delves deeper into the process of repression and ideals of honour in a patriarchal society while challenging its viewer to confront a moral dilemma as pressingly as its protagonists.
Farhadi addresses its potential for trouble right at the onset when Emad (Shahab Hosseini) and Rana (Taraneh Alidoosti), a married couple in their mid-30s, scramble out of their crumpling apartment, along with a host of panicking neighbours, of a building that's irreversibly battered by the construction next door.
The emerging cracks on the glass window offer a foreboding sign of what lies ahead.
Emad and Rana are actors in Teheran's theatre group staging a version of Arthur Miller's famous play, Death of Salesman, from which the film draws its title and belated metaphor. On the insistence of a senior co-actor, the newly homeless husband and wife agree to shift to an unoccupied house, oblivious to the notoriety associated with its enigmatic erstwhile occupant.
Strewn in understated symbolism, Farhad's technique provides artistic dimensions and emotional nuance to the complexities of The Salesman. It's most effective when Rana's oversight gives access to an unwelcome intruder causing inexplicable horror. Farhadi withholds on the visual of violence but documents its seriousness in a stressful aftermath and sharp disclosures.
Taraneh Alidoosti's face is a well of evocative expressions in how deep it plunges to bring out Rana's anxiety and empathy. But more than her humiliation and healing, The Salesman focuses on Emad's wounded male pride and irrational desire for retribution.
Shahab Hosseini, who won at Cannes for his brilliant portrayal, renders the concerns in Emad's bitter masculinity and temper with remarkable confusion and pity.
The Salesman is entirely viewed from his perspective and decline.
From someone who humoured the teenagers in his art class and attributed a woman's unease in sharing space next to him in a car pool to possible bad experience, to a seething snoop capable of uncharacteristic callousness, the incident has dented Emad's psyche and marriage in more ways than one.
Farhadi hits on this mounting tension most explicitly in a heart-breaking dinner scene where even the most delectable food leaves a bad taste in the mouth. Except what Emad is yearning for is far more toxic even if totally understandable.
What follows is a tense, thrilling, touching third act that seeks to distinguish between instinct and impulse, vengeance and indulgence, sin and virtue, pardon and punishment.
The answer you walk away with is the person you are. That's the genius of Farhadi -- everyone discovers something bittersweet about themselves within or watching his true to life creations.
Rediff Rating: