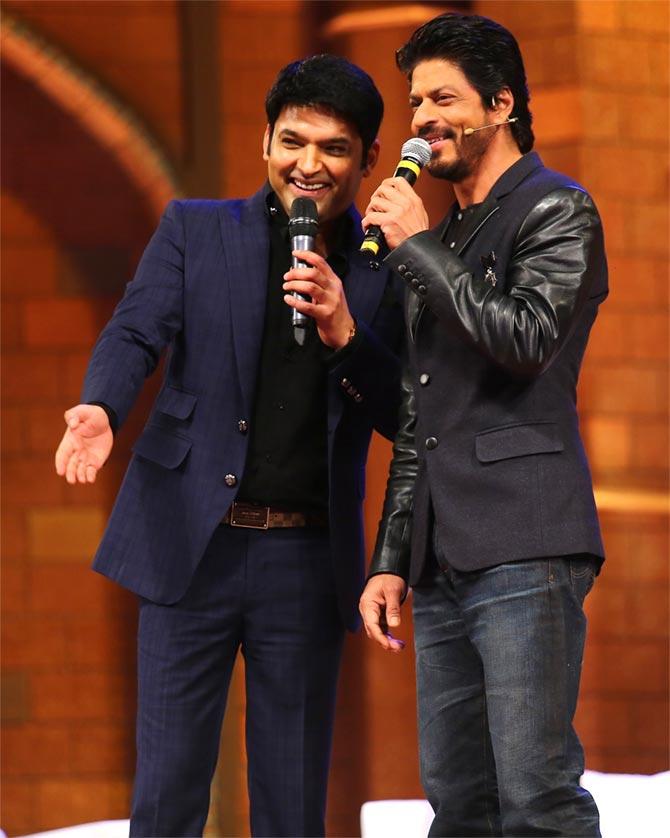 Kapil Sharma and his team is back but not with a bang, feels Namrata Thakker.
Kapil Sharma is back on the small screen after a not-so-long hiatus.
His latest offering The Kapil Sharma Show premiered over the weekend and though superstar Shah Rukh Khan was part of the opening episode, the show didn't start with a bang. At least, not for me.

Of course, there were a lot of digs and comic punches but something just did not work.
Maybe Kapil and his team tried too hard to make sure that they did not disappoint their fans. In the process, the whole show seemed scripted.
Also, all those jokes on Arvind Kejriwal did not seem funny after a point.
King Khan added the much needed tadka by poking fun at himself and others. His charm is indeed infectious and can make anybody's day.
If it wasn't for SRK, the Saturday episode of The Kapil Sharma Show would have been simply average.
I did not find Ali Asgar or Kiku Sharda hilarious either. Their chemistry and comic timing was off and the act looked rehearsed.
Sumona Chakravarti, on the other hand, was pretty good as Kapil's bubbly, childhood friend. Sumona may not play Kapil's wife any more but she is still the butt of all the jokes, not that I have any complaints.
The only other person, besides Shah Rukh, who was funny was Sunil Grover. This man is brilliant when it comes to comedy.
From flirting with SRK to dancing on Jabra fan, Sunil Grover made up for all the loopholes the first episode had. It's a visual treat to watch this man on screen. Making people laugh isn't easy but Sunil Grover does it effortlessly even when he is just standing in a frame, doing nothing.
Baaghi actors Tiger Shroff and Shraddha Kapoor made their appearance on Sunday. The show had a few more additions in the form of Rochelle Maria Rao and Suresh Menon.
Rochelle, as the sexy nurse, was supposed to add some eye candy but she hardly made any impression on me.
Menon, as the owner of Mohan Latrine Services, was funny but there were times when the jokes were just crass.
Chandan Prabhakar as the tea stall owner was pretty okay. However, his character hardly had any screen time. Like Sunil Grover, Ali Asgar is very good when it comes to comedy. That's why his Dadi act in Comedy Nights With Kapil was such a big hit. But as Kapil's blind Nani, Ali Asgar didn't pack a solid punch.
Kiku Sharda's act, as a cop, wasn't effective as well.
Again, it was Sunil Grover who stood out in the show. As Dr Mashoor Gulati, the actor cracked me up more than anybody else on the show did.
The guest celebrities, Tiger and Shraddha, were fun only when came on stage to dance or sing.
Kapil was better in the Sunday episode, as he seemed calm and in control.
While The Kapil Sharma Show isn't bad, it sure has big shoes to fill considering how successful their earlier show Comedy Nights With Kapil was.
Rediff Rating: