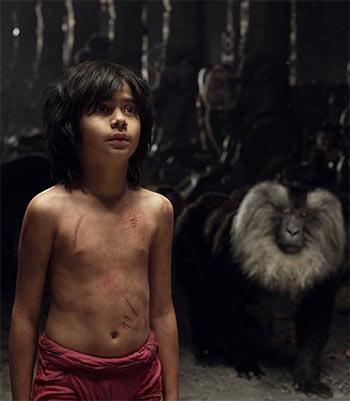 Relive your childhood or enrich your kid's but revisit The Jungle Book you must, stresses Sukanya Verma.
Watching Disney's live-action take on Rudyard Kipling's The Jungle Book is bound to evoke a myriad of sentiments among anyone whose childhood has imprints of Mowgli and gang. But for first timers too, it's a treat they simply cannot afford to miss.
It's the sort of spectacle where your senses savour in the details for as long as it lasts and sulk over the inevitable return to civilization.
And so instead of writing a conventional review, I thought I'd share the seven emotions I experienced most keenly while watching Jon Favreau's breathtaking adventure.
Nostalgia
I was only a knee-high tot when my mother first took me to, I am not sure -- either Mumbai's Sterling theatre or (the now defunct) Strand -- to watch The Jungle Book on big screen. Although it came out in 1967, Disney re-released it in the early 1980s, along with some of its other animated fare and Ma made sure I caught every single one in theatre.
No kid could have resisted the dazzling vivacity of hues, frolic and warmth of an adorable man cub trying to fit in around his wild friends (Bagheera, Baloo) and wilder foes (Shere Khan, Kaa). I was no different. Besides the Hindi-dubbed anime series, high on Gulzar-Vishal Bhardwaj's combined wizardry in Jungle Jungle Baat Chali Hai, from Doordarshan days only strengthened my association with Mowgli.
Nostalgia hit me hard as I stepped into the movie hall, with Ma once again, to witness The Jungle Book in its live-action avatar. But it's not just me who's grown up. The new version does away with the cutesy razzmatazz to embrace the dark and dangerous tone of Kipling's books.
Awe
The Jungle Book owes much of its success to ingenious CGI.
Be it nature or beast, the raging chemistry between the two, the conflict it produces, the comfort it provides and scenes of Mowgli living on the edge could not be more expressive or authentic.
The majestic elephants showing up every now and then in the tradition of Tolkien's Ents radiating ancient wisdom and supremacy, the fanatical aspirations of an enormous Gigantopithecus or this strange paradox of revulsion and draw the animal world demonstrates towards fire, or what they call the 'red flower' assumes a tangibility that's rare in the realm of fantasy.
Déjà vu
Years ago, Kaa, the giant python terrified me in its cartoon form. And perhaps planted a lifelong fear of snakes.
Turns out, nothing's changed.
Scarlet Johannson's seductive hissing cannot wipe out my heebie-jeebies. Rather one glimpse of her vast slithery form is enough to convince me I am better off covering my eyes while she's on screen. I don't know if all young kids can handle such (U/A rated) ferocity but the ones in my screening did not squeal.
Thrill
Favreau seizes the opportunity to extract a novel texture of action with the different varieties of animals he engages in to create unique set pieces.
The politics and pace of the new Jungle Book is aggressive and revolves around survival. Naturally things get rough for Mowgli conspicuous by his species. Bites, blood and bruises sit not so prettily on his sprightly frame.
And yet there's little to feel sorry about the man cub as he confidently leaps into the mouth of adventure (and on the back of a rushing bison) refusing to bow down to pressure or intimidation. In the 1967 classic, Mowgli is more of a helpless peach in constant need of chaperoning but the one essayed by a fabulous, soulful Neel Sethi is all spunk, scruff and tricks.
The Jungle Book lays constant emphasis on man's advantage to think.
Ultimately, Mowgli's intelligence is his sole weapon whether gathering honey for the free-spirited Baloo or taking on his ultimate nemesis Shere Khan.
Overwhelmed
Special effects can do little if there's no love in labour. The Jungle Book brims with affection, of Favreau for the material, the star voices for the characters they embody and the deep friendship that runs between them.
Idris Elba spills menace as the much-feared tiger Shere Khan, Ben Kingsley's protective instincts permeate through the Black Panther Bagheera, and the two duelling is a long harboured fantasy, only wish it was long drawn out.
Two of its more sensitive protagonists, and their tender interactions with Mowgli left me teary-eyed on more than one occasion. Bill Murray's Baloo doesn't hit a single false note as the bear wearing his heart on his sleeve. Ditto for Lupita Nyong'o's doting wolf mother.
Mild frustration
Watching movies in 3D is problematic in this country. Often, the screen appears so dimly lit, robbing the scenery of all its impact and detailing, it's annoying to say the least. Given the frequency of 3D films, the lack of proper presentation ought to be addressed sooner than later.
A friend in the movie business tells me we aren't short on technology or knowhow, it's just that cinemas cannot help their cheapskate mentality and want to extend the life of the lamp lighting up the screen for as long as it will resulting in downsized luminosity and ruined cinematic experience.
Happiness
There is something timeless and pleasing about the sight of a perky Mowgli playfully perched on Baloo's bulging belly splashing through the stream and humming the iconic The Bare Necessities.
This refreshing and rip-roaring new adaptation recreates the said moment and many others to perfection without compromising its own voice.
Among all the emotions I felt while watching The Jungle Book, happiness tops the list.
Relive your childhood or enrich your kid's but revisit The Jungle Book you must.
Rediff Rating: