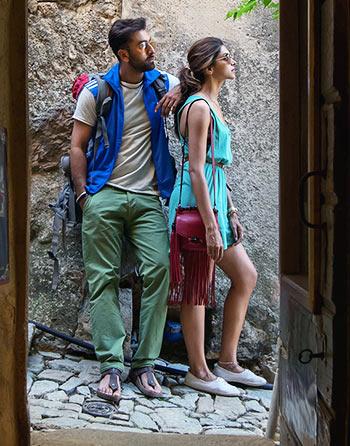 It has been a while since AR Rahman had delivered a popular score for a Hindi film. The Tamasha soundtrack is certainly worth the wait, says Aelina Kapoor.
After giving us Rockstar, composer AR Rahman, lyricist Irshad Kamil and director Imtiaz Ali come together again for Tamasha, featuring Ranbir Kapoor once again.
Deepika Padukone joins the team, and one does not expect anything less than magical.
We get that in the very first song, Matargashti, which is fun and playful.
Mohit Chauhan has been a steady singer for Imtiaz Ali and Ranbir Kapoor over the years, and so it is not surprising to see him sing the first song of the album.
Deepika Padukone gets a song for herself in Heer Toh Badi Sad Hai.
But she gets a male voice, what with Mika Singh singing this one for her with support from Nakash Aziz.
A director's song all the way, it is remarkable to see the manner in which Imtiaz Ali narrates Deepika's state of mind through this foot-tapping song while smartly roping in Ranbir Kapoor. Another good song in the album.
A love song arrives next, called Tum Saath Ho, sung by Alka Yagnik. The veteran singer surprisingly sounds strained. One would have expected a better comeback of sorts for the singer but here, despite the composition being easy on ears, the singing doesn't quite compliment the outing.
Though Arijit Singh comes later in the song, the proceedings aren't elevated to warrant a repeat hearing.
Arijit Singh is heard again in Wat Wat Wat which has Shashwat Singh leading the charge. A bhangra track which could well make it for the celebrations this festive season, this one has a good rhythm, which makes one instantly connect to the sound.
One really looks forward to the camaraderie on play here once Ranbir and Deepika come together on screen. More so, since the much more euphoric 'vengeance mix' is an absolute killer and makes you head straight for that dance floor.
Chali Kahani seems to come out of the blue. A theme track which could well make for a climax outing, one would have expected this one to appear at the end of the album. Nonetheless, this Sukhwinder Singh track is a tamasha outing all the way, as one hears mythological elements on display with age old tales from the past being narrated. Haricharan and Haripriya provide supporting vocals.
The flute starts Safarnama off. A beautiful number sung by Lucky Ali, this song is trult meant for a 'safar'.
The same goes for the instrumental piece Parade De La Bastille, which should aid perfectly in the storytelling of Tamasha.
Tu Koi Aur Hai is also sung by Rahman. A heartfelt song, with supporting vocals from Alma Ferovic and Arjun Chandy, the song deserves to be heard in solitude. A repeated hearing will leave you hooked to it.
It has been a while since AR Rahman had delivered a popular score for a Hindi film. The Tamasha soundtrack is certainly worth the wait.
Rediff Rating: