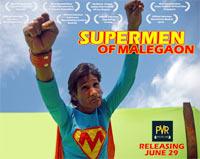 Supermen Of Malegaon is independent documentary filmmaking at its most heartfelt, most sincere, and most enjoyable, writes Preeti Arora
If there is one problem with Supermen of Malegaon, it is the length. At close to 60 minutes, the film proves to be too short. An hour might seem like reasonable running time for a documentary, but this one is so real, so intimate, and so engaging that you can't help but feel disappointed as the credits begin to roll.
Supermen... is independent documentary filmmaking at its most heartfelt, most sincere, and most enjoyable. It follows the trials and tribulations of the real life Sheikh Nasir -- pioneer of such productions as Malegaon ke Sholay, Malegaon ki Shaan, Malegaon ka Superman -- and his entourage of Bollywood fanatics as they go about filming rip-offs of the biggest blockbusters in the movie business.
It sounds a lot like the plot of Michel Gondry's Be Kind, Rewind. Only, that was fiction and this is real life.  Take a moment and let the sheer asininity of that idea sink in.
Supermen of Malegaon is a lot more than a bland documentation of Sheikh Nasir's attempt at adapting the saga of Superman to a small town milieu. It is also a heartbreakingly hilarious look at the personal lives of those involved in the process.
Would you ever visit Malegaon just for the sake of it? Probably not. But, watch this film and you just might. You will want to meet Nasir the director, Farogh the writer, Akram the photographer/editor/ actor/ musician. You'd like to have a little chat with them over chai and exchange numbers. You end up wanting very desperately to be a part of something as special as they are. There is a word for that. It's called inspiration.
There is a part in the film where Sheikh Nasir claims he isn't a plagiarist. He explains why, and the explanation makes no sense. But you don't care, and you shouldn't, because whatever they're doing in Mollywood (as this niche industry of Malegaon has come to be known), it definitely feels like that's what they're meant to be doing.
They make full length films on ridiculously low budgets, their means and methods and equipment are unprofessional. But they do it with such dead seriousness you wouldn't dare raise a finger at their endeavours.
They teach us a very simple lesson, one we've heard so many times it's become a cliché: If you want to do something, you can. And for once, it doesn't sound trite or hackneyed.
Faiza Khan's success as a director lies in her ability to successfully earn the audience's support for a band of men who make films that none of us would ordinarily watch. To depict the passion of their lives without letting the grim reality cast a veil of depression. 
Hats off to her for pulling off what she has. Four years of doing the rounds at film festivals (Supermen… was made in 2008) before finding a theatrical release seems unfair to this film, but it's finally here for all of us to watch.
There are a lot of big names playing in the theatres this week. Forget them. Watch Supermen of Malegaon instead. This kind of film happens once in a decade or less often. And if you don't like it, then it can only mean that films were never really your thing in the first place.
Rediff Rating: